So I've mostly been posting about food and travel but this blog, especially since it's posited at my roots-rock band's website, is also about music.  It was a big change for me moving to the UK, something I never saw in the tea leaves for me but it's been enormously rewarding.  I dare say I've learned more in the last 5 months than I have in the previous 8 or 9 years of my 14 years in Nashville.  Some of that has to do with how narrow the music scene in Nashville can actually be for a place that calls itself Music City.  That's not a knock on the people or my fellow musicians but maybe just reality.  With so much of the town centered around music commerce it's natural that art, in all its musical forms, can sometimes get lost in the shuffle.  There's a tremendously diverse community of musicians in Nashville from jazz to blues, country and rock but less venues for left-of-center forms and actually less venues for any form that doesn't necessarily appeal to tourists.  Lower Broadway was a ghost town when I first came to Nashville and now you can't even venture down there without losing your patience and your wallet to park for instance.  There are some great clubs for indie music but virtually none save for converted church spaces or after hours coffee shops for improvisation.
In London improvisation is taken quite seriously, if not seriously attended and has a long, storied history.  You will get 20-50 folks at any particular event, probably half of those are musicians in the genre, and though there are only 5-6 main venues for the music at least there's that which is more than most cities.  What's more interesting perhaps is the dedication, study and community of the people in the improvisation scene.  I know it may seem weird for a roots-rocker to delve into this stuff but my close friends and fans have known about my passion for this for at least the last ten years and I've been very fortunate to collaborate with many of my idols in the field from Giuseppi Logan to Cooper-Moore, Thollem McDonas, Frode Gjerstad, Jessica Lurie, Martin Kuchen and many others.
For me it all begins in London with Eddie Prevost and his workshop group every Friday (except in August) at the Welsh Chapel near London Bridge/Westminster.  At 8pm each week you never know who will show up and what wild and wooly instrument they might pull out and what incredible sounds (or not!) they may pull out of it.  Frankly, that's half the fun.  However most of the time it's rather brilliant and inspiring and it's usually a great group of regulars who couldn't be nicer and more supportive.  I have heard from some that this can be a "clicky" and insulated group but I don't see that.  They do take their craft and dedication to Eddie's principles seriously but newcomers are always welcomed wholeheartedly (though some do not come back a second time more to do with the procedure and application of the music than the reception).  They all realize it's not a competition and for this music to grow it needs to be encouraged and nourished and it starts at the top.  Eddie Prevost has dedicated most of his adult life to the advancement and exploration of improvised musics and sound.  He's even written three fabulous books on the subject (more on those later).  Starting with the improv collective AMM Music in the early 60's to today Eddie continues to stretch boundaries and teach us all what it means to never settle, never stop learning and never end challenging yourself.  With a soft, kind, firm hand he guides the workshops for almost 20 years turning out some of the best and most creative improvisors in the UK.  He may not always like what you're doing but he will stand for your right to express yourself and challenge you to the farthest depths to explore how far you can take it.  It's a magical thing.  I try to never miss a week unless I'm physically unable to.  That's how important I find the group and Eddie's work. (If you haven't experienced AMM Music or the Spontaneous Music Ensemble, another pioneering London group, please do check them out.  I don't think you'll be disappointed)
Another key element of the London/UK scene is precisely how it's executed.  Improvisation here is not nearly as manic and chaotic as it's American and Scandinavian cousins.  That's not to say it can't get rowdy and very boisterous at times but for the most part it's very sensitive, dynamic, somewhat delicate and exploratory.  To use the titles of Eddie's first two books, no sound is innocent and minute particulars.  Not very much showing off, instruments are fully explored completely, volume is not used as a weapon (usually) and listening and space are far more at a premium.  I find this to be an extremely great thing.  You can really feel the room breathing when you play in a group and feel the audience breathing with you.  There isn't a lot of showing off or blowing to impress people.  It's very refreshing and to my mind helps the creative impulse.  It's not meant to destroy your humanity but to encourage and embrace it if that makes sense and I have yet to attend a performance around town which has bored me.  How many types of music can you say that about?  It isn't always perfect but it's also never the same and that's part of the journey.
A few books have helped me in my personal understanding as well as my fellow musicians here so it's important to note them in case you wish to explore further yourself in case you don't happen to live in London or don't plan to visit soon (though I highly encourage it if you're into improvisation and just want to visit a great, grand old city).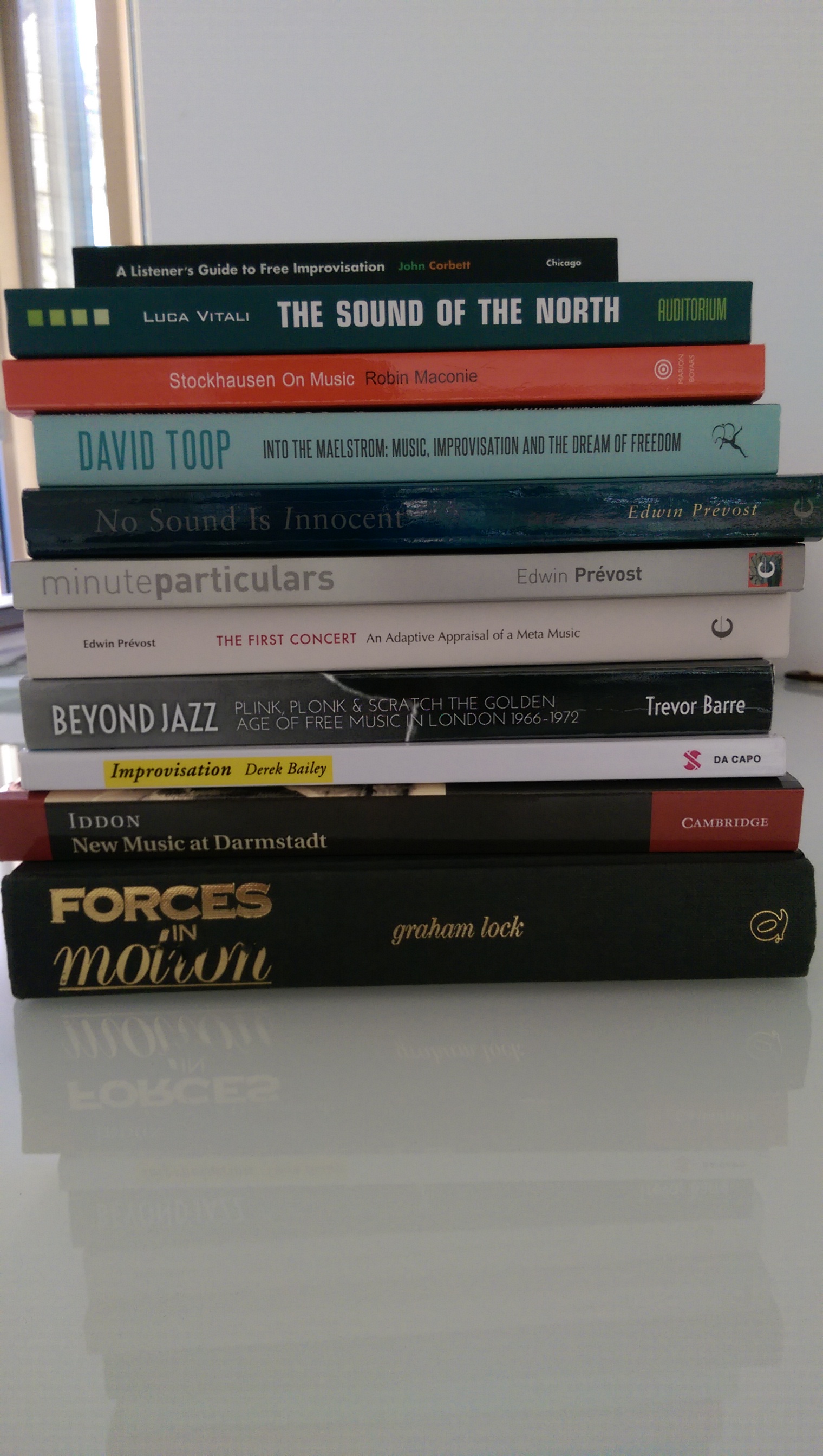 All of these books are essential IMO for understanding free improvisation and where it came from.  Luca Vitali's The Sound of the North is more specific to the Scandinavian scene but no less brilliant.  Forces in Motion is about one of my big heroes, Anthony Braxton.  David Toop and Trevor Barre's books are specifically about the London free improv scene and it's genesis.  If you're a fan more than a musician you may find John Corbett's book very illuminating and what can I say about Derek Bailey?  Genius!  I would also search out the UK-based Wire Magazine which has covered the scene almost from its inception and soon the former newsmag Musics will be compiling all their back issues into a book which should be available by the last week of September 2016.  These are invaluable resources and I'm glad I took the time to dig in and take the plunge.  It was a lot to process but well worth it.  You will find a vast discography in most of these publications that will keep you busy and pleasantly entertained for hours.  Most of the musicians and groups sell directly from their own websites and are very diligent with processing orders and connecting to their fans.  Yes, it's a vast amount of information and you may become obsessed like myself but hopefully it will be as much fun as I've had and rewarding.  Don't say you weren't warned! <G>
Cheers until next time!