Though I mean to concentrate in the coming months exclusively on the UK, Europe and Scandinavia I made a short visit back to Nashville this week and I thought I'd touch on a local Nashville specialty that's becoming a bit of a phenomenon worldwide, Hot Chicken (caps intentional).  Hot Chicken started at Prince's and to me it's still the king.  Hot Chicken in short is a whole heaping of a lot of different pepper spices thrown together all at once.  Supposedly Prince's coat the raw chicken in their proprietary buttermilk preparation before cooking in a cast iron skillet with a variety of hot pepper seasonings but whatever it is they do (the exact recipe is a closely held and guarded family secret) it's a revelation.  I usually go for the medium which is plenty hot enough so you can get some burn but still enjoy the flavor which is tremendous BTW.  Greasy, glowing and succulent.  Served on top of white bread to soak up all the overrun goodness and topped with pickles to cool you out at the end.  You'll wait a while for your order, up to 40 minutes but usually 30 minutes depending on how busy they are but it's well worth it.  The shop is small, isn't fancy and they don't have a lot of seats but tables open up fairly quickly.  Oh, and they don't have air conditioning so be prepared to sweat in the summer both from that and the heat from the chicken.  My buddy Freddy from Norway ordered the hot choice as he's a connoisseur of all things hot and I have some hilarious time-lapse photography of him grimacing as he tried to finish it all while being watched by a local preacher who wanted to see him do it.  That said, my cousin Jamie ordered XX hot and as a friend of mine pointed out from video I shot he wasn't even sweating.  He wants to get double XX next time (you have to ask for it).  Tough stock my Italian side of the family!
My second favorite is a place called 400 Degrees on Fourth Avenue in downtown Nashville.  To me they cook it nice and crispy, juicy, and their hot isn't mouth burning.  Their seasonings are a perfect blend of spicy and savory.  You have to order ahead there too as they often sell out by 1pm for lunch but they have a bit more seating than Prince's and if you're staying near downtown it's much easier than Prince's which is about 25 minutes from the center of Nashville.
Another popular place that's opened in the last few years is Hattie B's, maybe partly due to their advantageous locations on Music Row and second location on Charlotte Ave. in West Nashville.  Hattie B's cooks the chicken first then coats it with their spice combination before cooking a bit more.  It's juicier than Prince's and 400 Degrees which might appeal more to some and their sides are terrific.  You may also have a wait at Hattie's too but thanks to the two locations and plentiful seating it won't be long.  All three of my faves all of course have take out as well.
While I was in Nashville last week it was also "Burger Week", $5. burgers at a bunch of restaurants sponsored by local weekly The Nashville Scene.  While a good idea to promote local cuisine it mostly struck me as a ploy to get more advertising as most of the places offered smaller "sliders" or were places that aren't exactly considered hot beds of culinary magic (Sam's Sports bar for one).  My buddy Steve who's staying at my house while I'm in London tried two places and was hugely disappointed.  For that reason, and due to time constraints as I mentioned this was a brief trip, we stuck to the new hot burger joint Flip owned by a graduate of one of those celebrity chef TV shows.  Flip had gotten some so-so reviews when t first opened so I was never moved to check it out but maybe they were just getting their feet under themselves.  They also had a "slider" as part of Burger Wee but in their case it was a pretty good sized 3.5 ounce patty that would be enough for most people though it's was only $2.75 cheaper than their regular "classic" full-size burger.  Everyone at the table who got the $5. special was pretty happy however but to me the big star was the Porter Road Butcher burger from a local well-respected butcher I've used myself in the past.  Excellent combination of ground meats, tasty apple cured bacon and flavorful cheese that didn't overwhelm the meat.  Fantastic.  One of the best burgers I've had in a while.  Their beef fat fries are also a star.  Perfectly crispy, plentiful and very, very tasty.  Excellent kale cole slaw too and I'm very picky about cole slaw and it was a nice serving size.  They have a lot of nitrogen-infused prissy shakes but I asked for a plain chocolate and they were happy to oblige.  It was pretty good, if a little on the dark chocolate side for me but a little too thick to sip through a straw.  Our waiter was attentive and excellent if a little enthusiastic.  They had taken some hits early on for uninformed staff so this was nice to see.  All in all a great experience and I will be back again to try some of their other varied burgers.  A big thumbs up (though if you're in Nashville and want a burger please try Rotier's, a Nashville staple and tradition.  French bread burgers and old-school charm).
That's all for now but next time I will post about a few more places I've found in London that I really dig you should know about.  Till then here's some pics below of our excursion in Nashville.  Cheers!
The Flip Porter Road Butcher burger: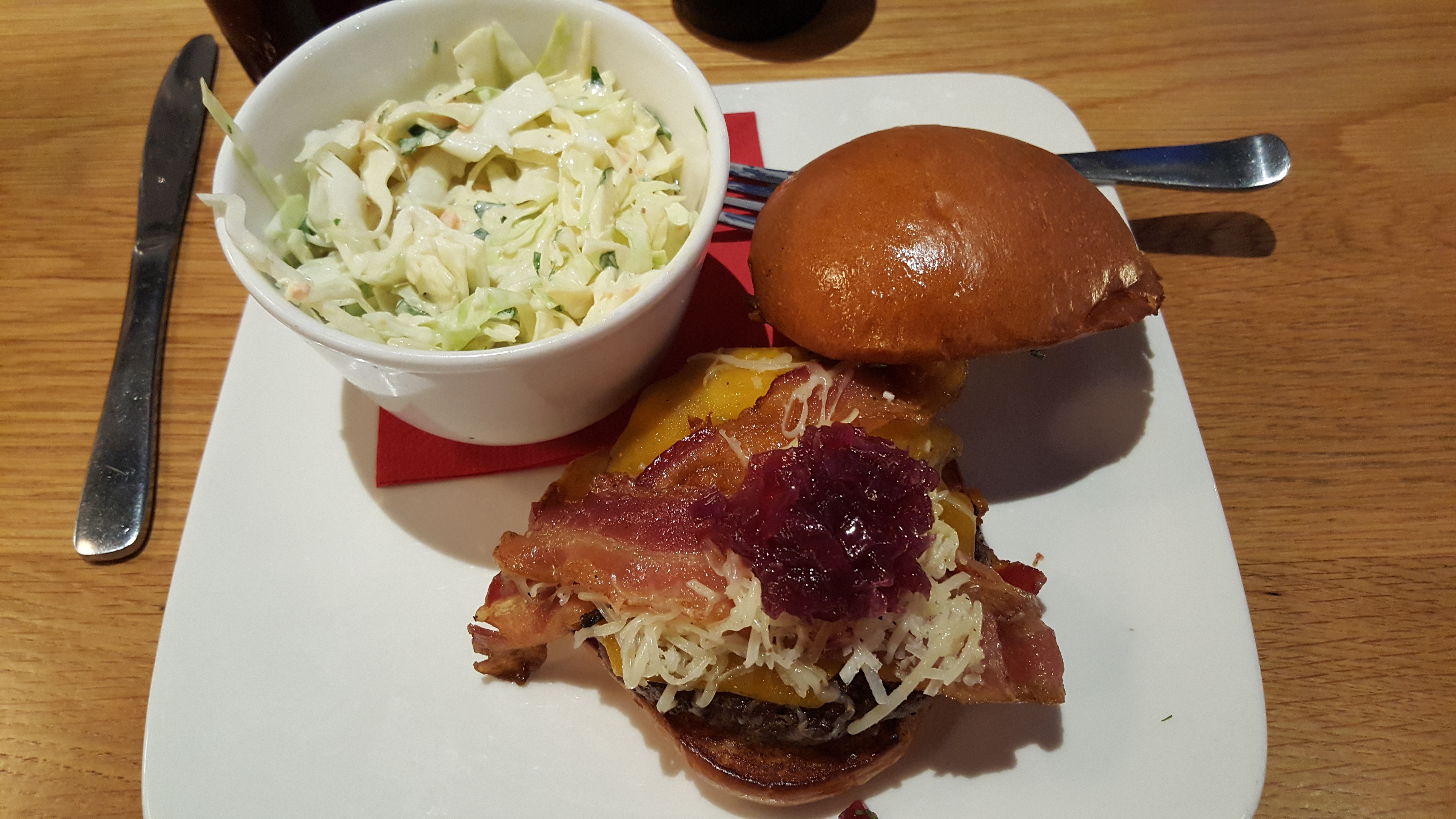 The Flip $5. Burger Week burger special: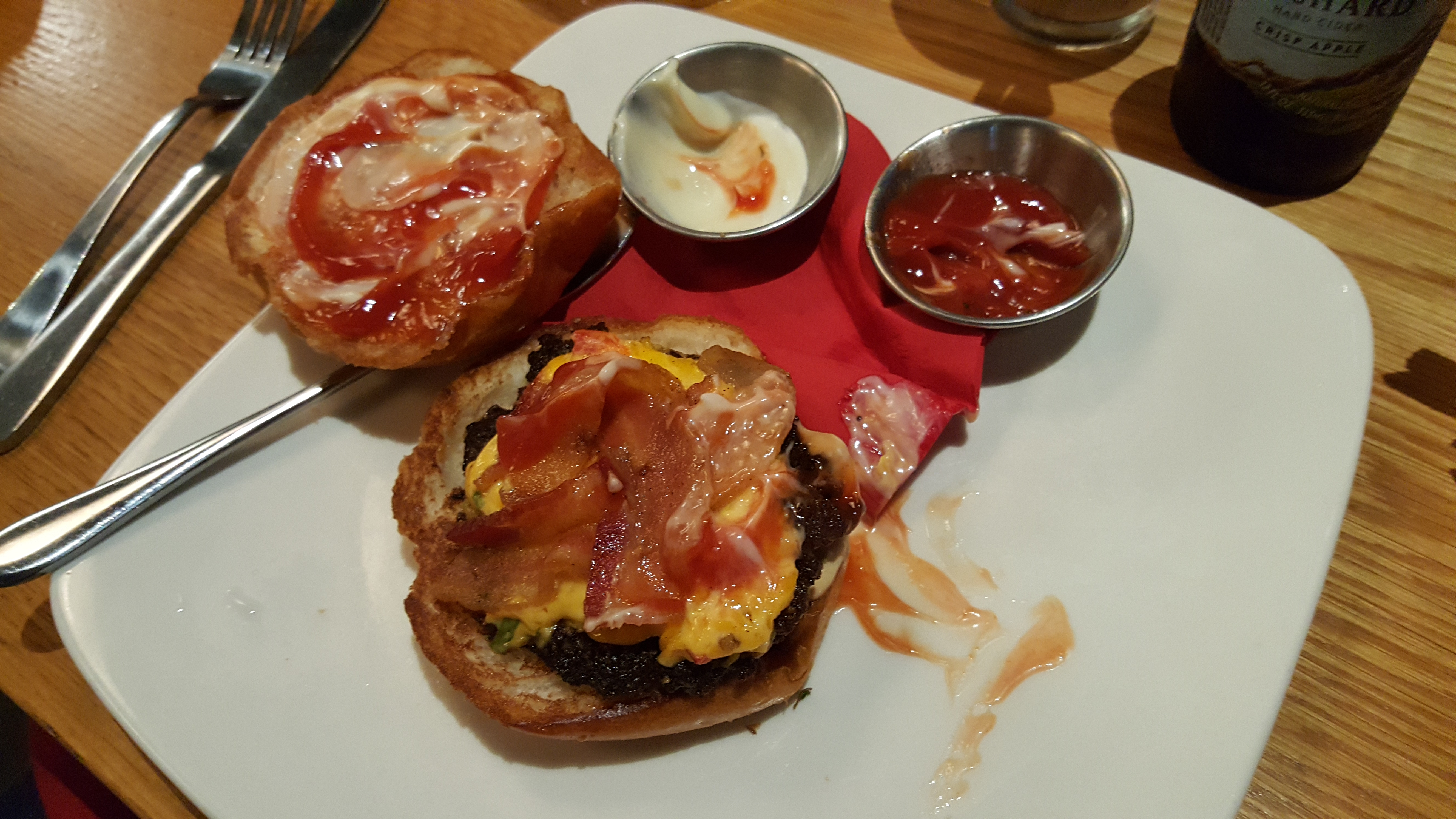 The Flip beef fat fries: