It's been quite some time since I've been able to spend some real hang time, ie: not working, back in my natural habitat (and a while between blog posts--apologies)  but I really enjoyed the week I just spent in NYC.  The weather was absolutely perfect, though a bit hot it wasn't humid, and no rain all week.  That meant lots of walking, a good amount of color on my face and pate and new food adventures.
First stop was the Roxy Hotel in Tribeca and I'm impressed.  Well-designed, plenty of room, 8 floors of rooms, all well-appointed and clean and super friendly and helpful staff.  At the corner of 6th Ave. and White Street it's perfectly positioned for downtown exploration and the nearby Canal St. subway station.  It was very easy to get anywhere I wanted and there were many great food and coffee establishments within reach.  One caveat: it's an open floor plan, courtyard design which means depending on where your room is and what floor the lounge and the music/partying below could be an issue on weekends.  It stops around 1am but if you like to crash before that keep this in mind.  Stick to the upper floors and try to get a corner suite.  Having had two rooms, one on the 4th floor and later in the far corner of the 8th, I can attest to the difference.  There's a free for real movie theater in the basement for guests (outside walk ins pay) and a cozy jazz club called the Django that's a bit more refined than the lounge upstairs.
So...food-
The goal was mostly to try places I had never been, were new and/or came highly recommended but what would a trip to NYC be without the first stop to the legendary (deservedly so) and just flat out awesome Katz's Deli on Houston.  In fact, I barely put my bags down in the hotel and sprinted over there.  Kat's is New York City to me.  The oldest deli in America and maybe the best (maybe??? ha!) it never ceases to blow me away.  Extremely consistent and excellent.  Nothing has changed, not even the pickles (which are my favorite pickles of all time and I'm a pickled food fanatic).  Limited though it may sound I always get the same thing: the pastrami Reuben and a sandwich of my own design, turkey, muenster, chopped chicken liver and cold slaw.  Both sandwiches with copious amounts of Russian dressing.  It had been so long I purposely ate very slowly, taking moderate yet full bites and savored each delectable morsel.  I felt a little like Homer Simpson but it was worth it.  No need for another meal that day I can tell you!!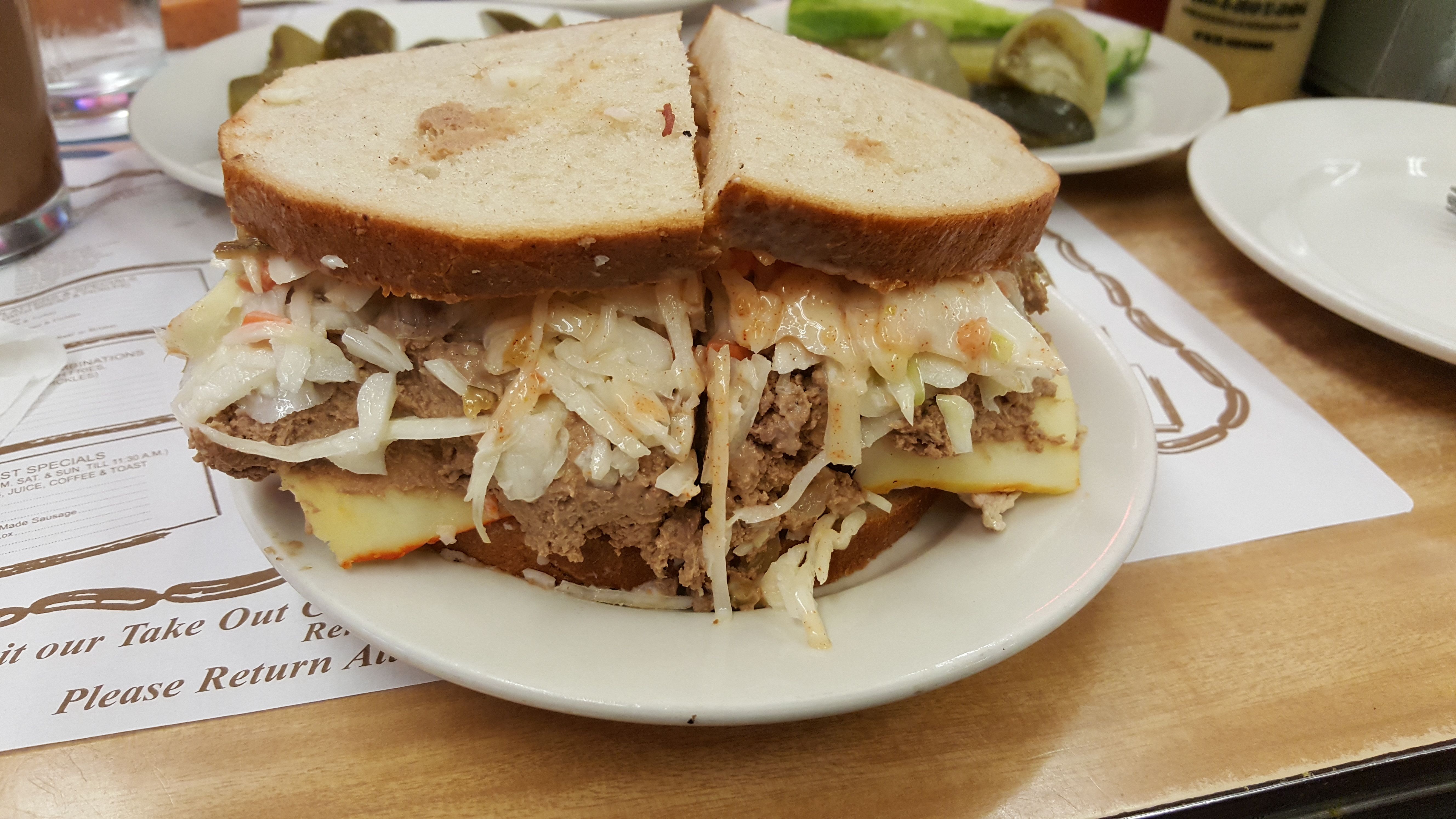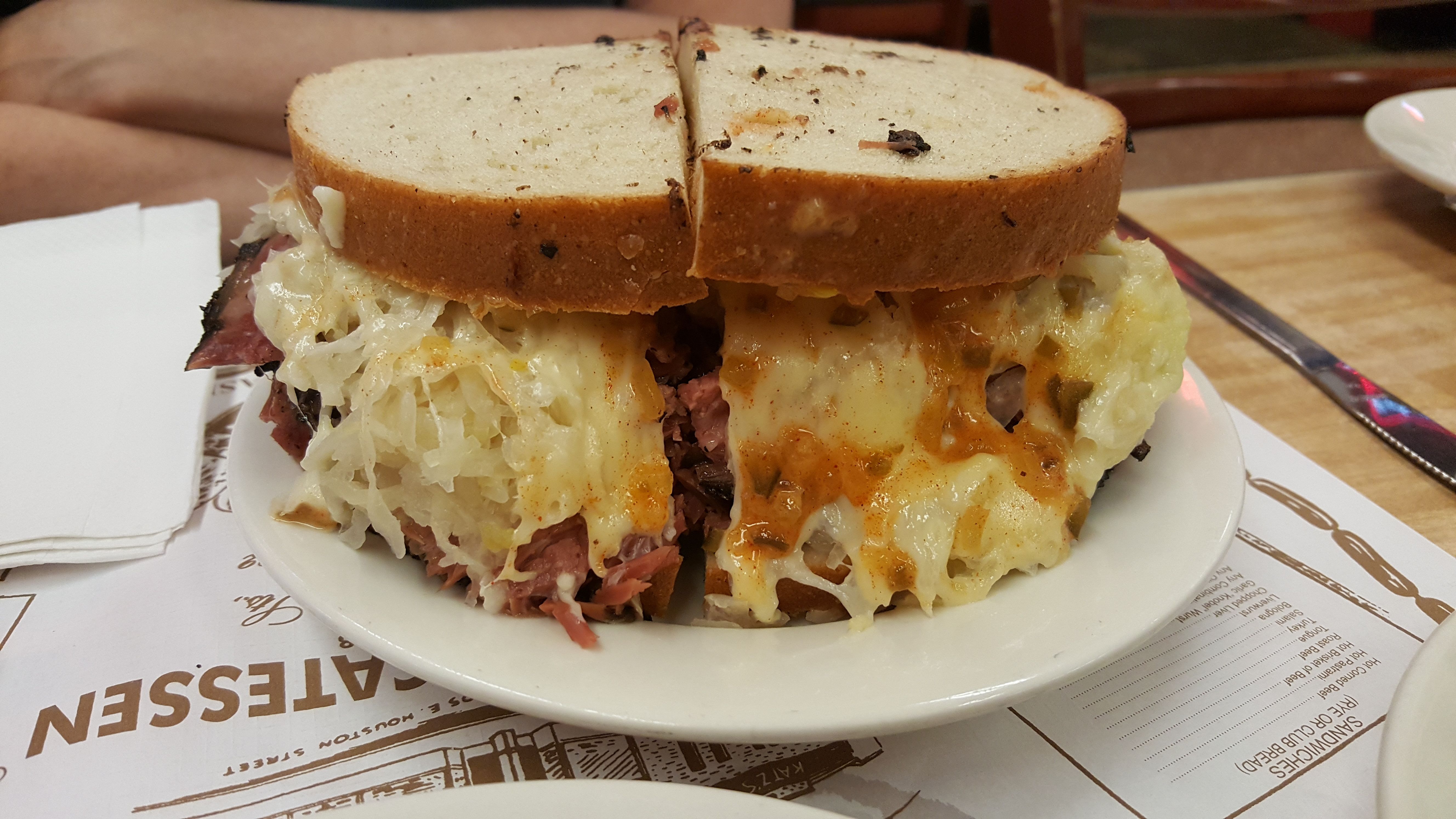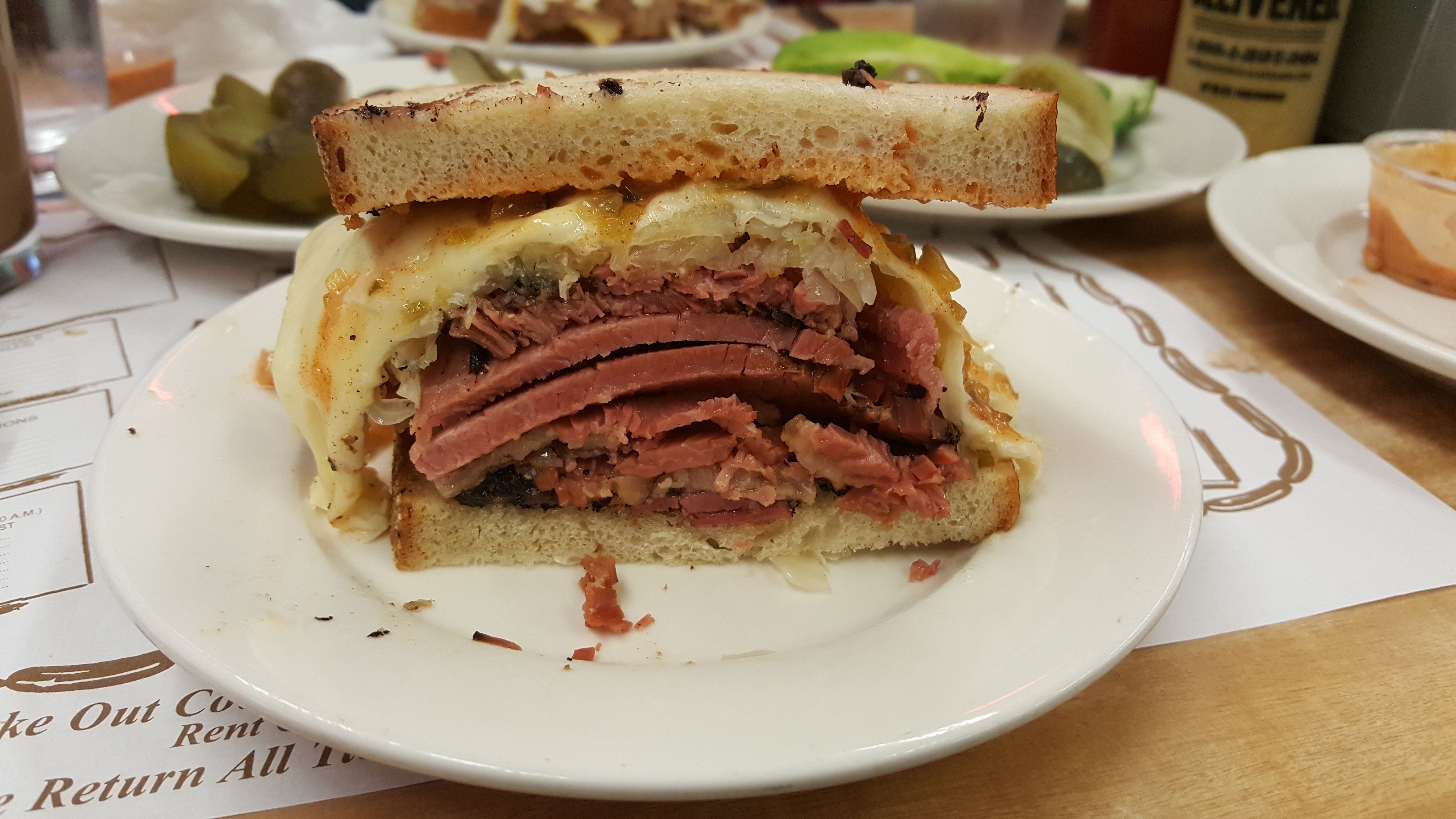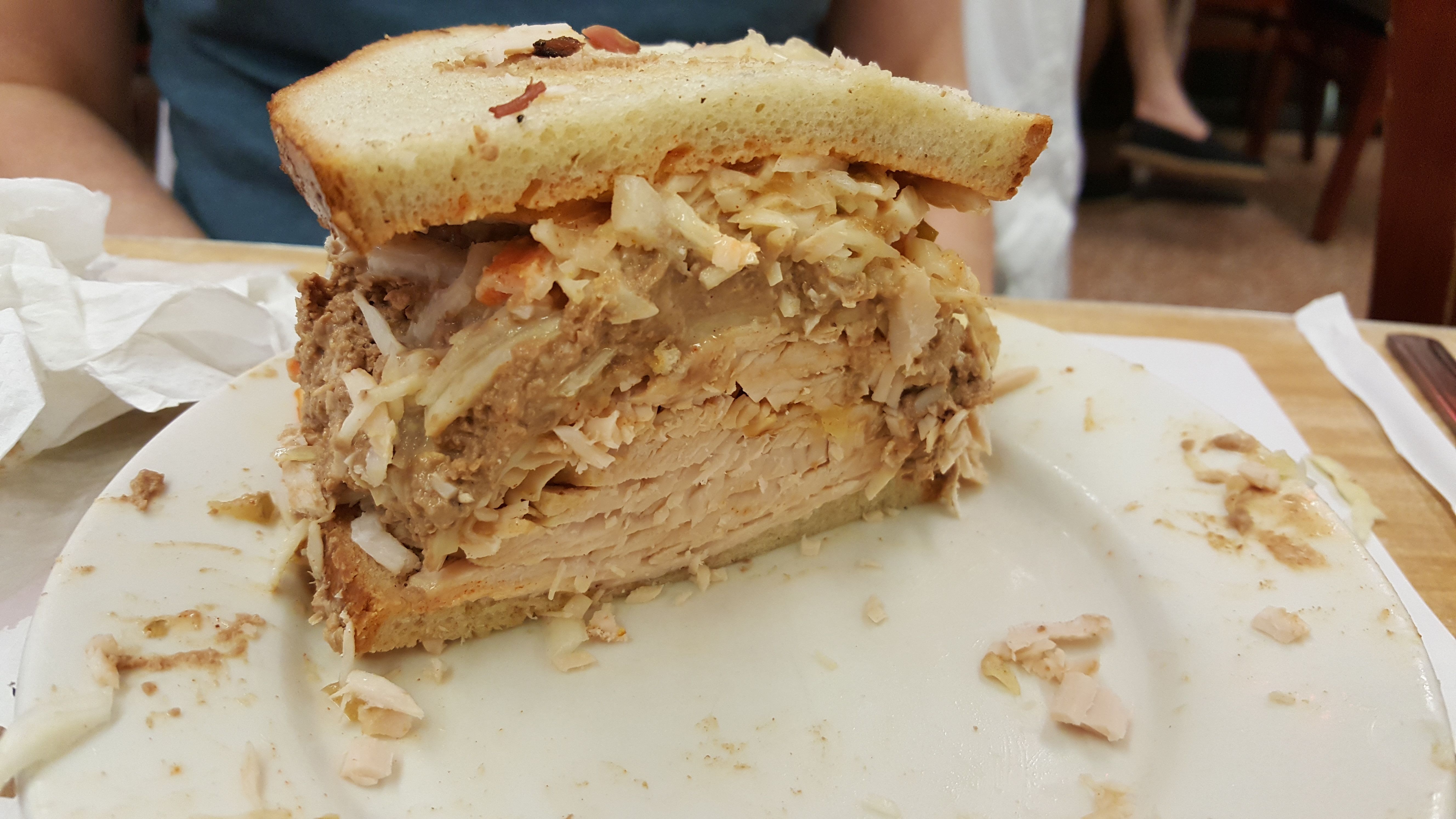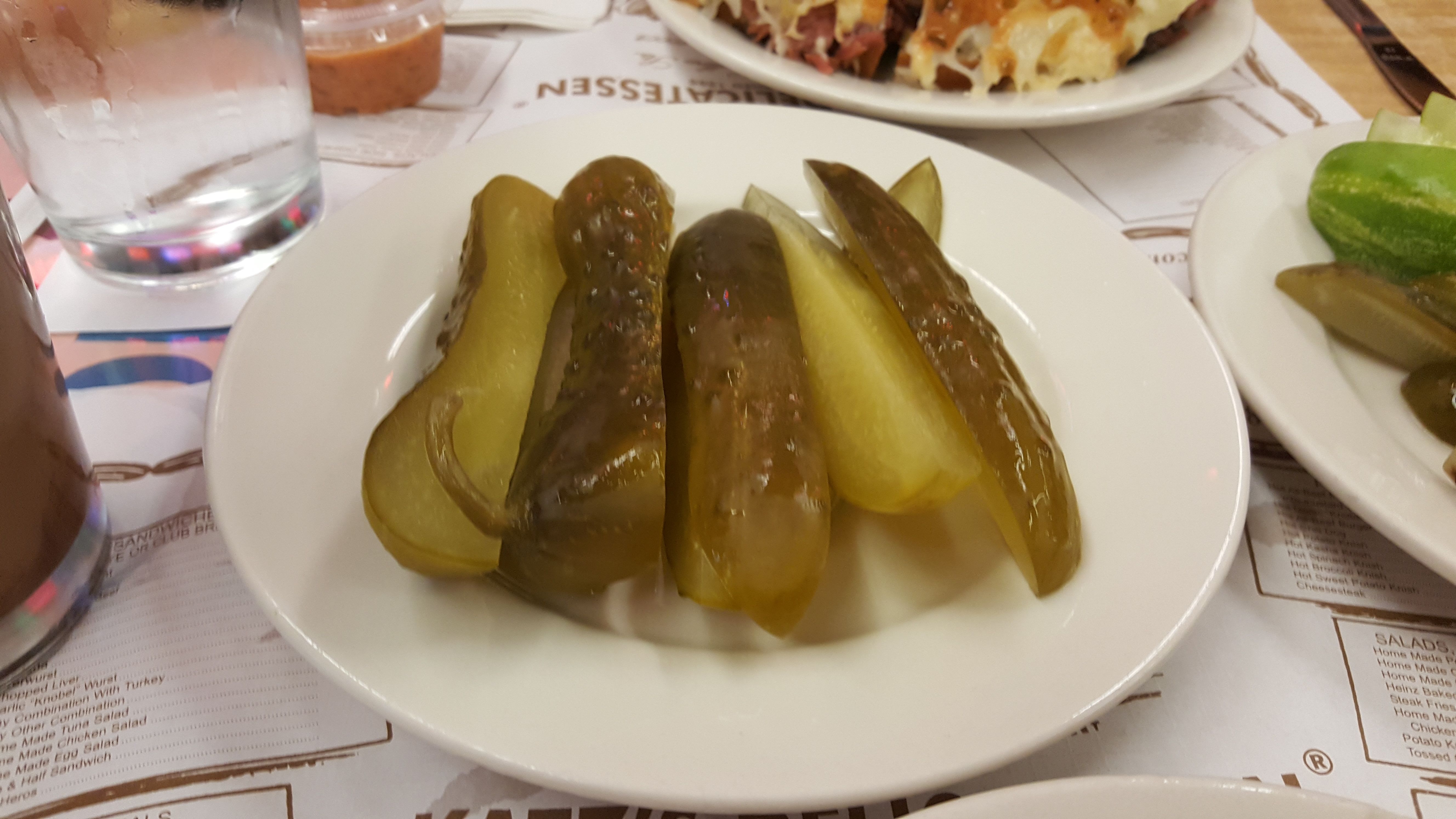 I know, drool right?  Makes me drool just writing about it.
Next up was a stroll around Pier 26 on the water off the West Side Highway (gotta' work off that Katz's no?).  This whole West Side pier system wasn't here yet when I live in this 'hood but though highly commercial it is pretty cool and a nice resource. (My last apartment in NYC before I left was four blocks from the World Trade Center).  Gorgeous day, beautiful pier (sans the "party boat" restaurant/bar that was docked and packed with noisy, drunken preppies), minature golf, beach volleyball, play area for the kids...nice: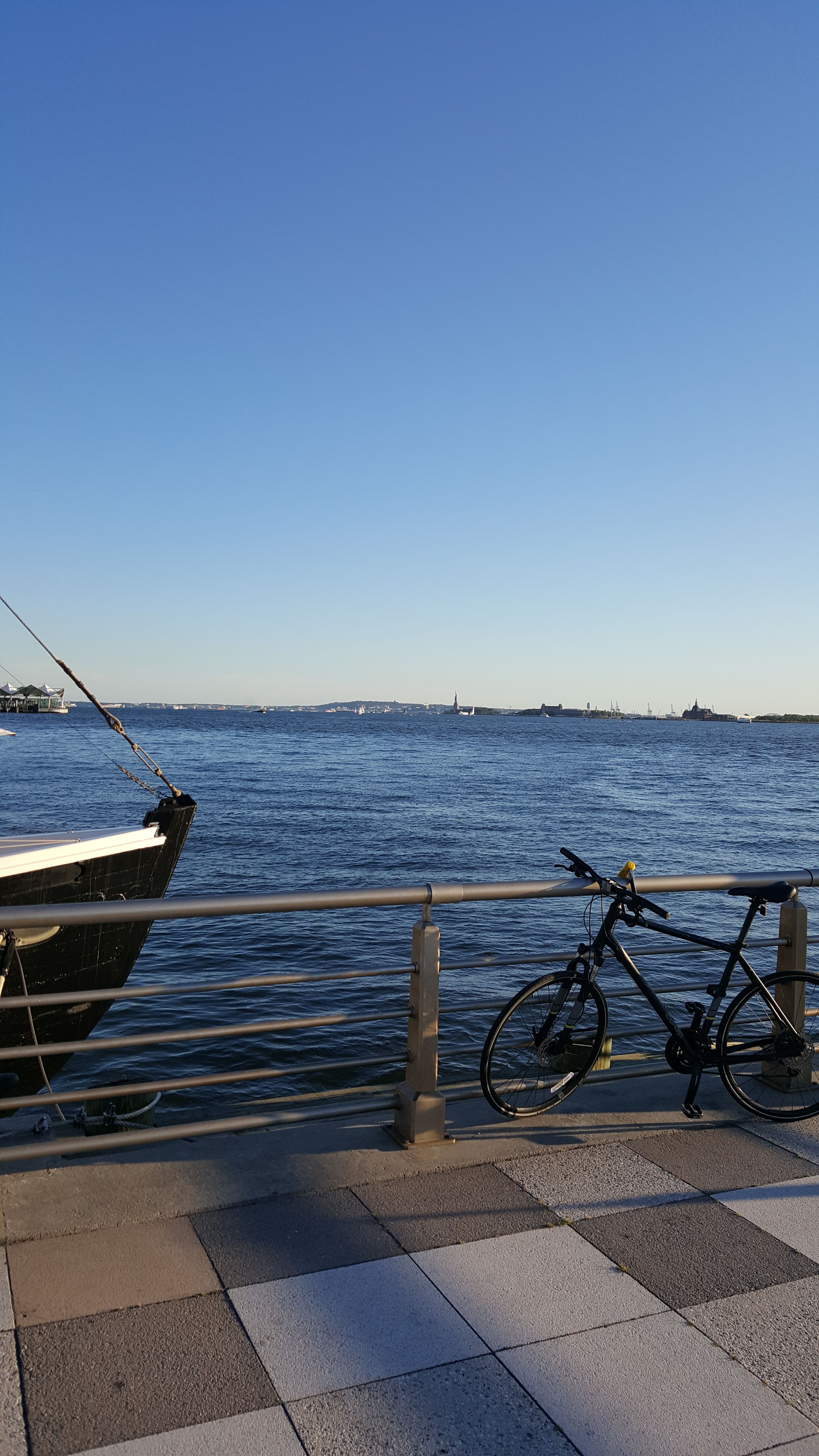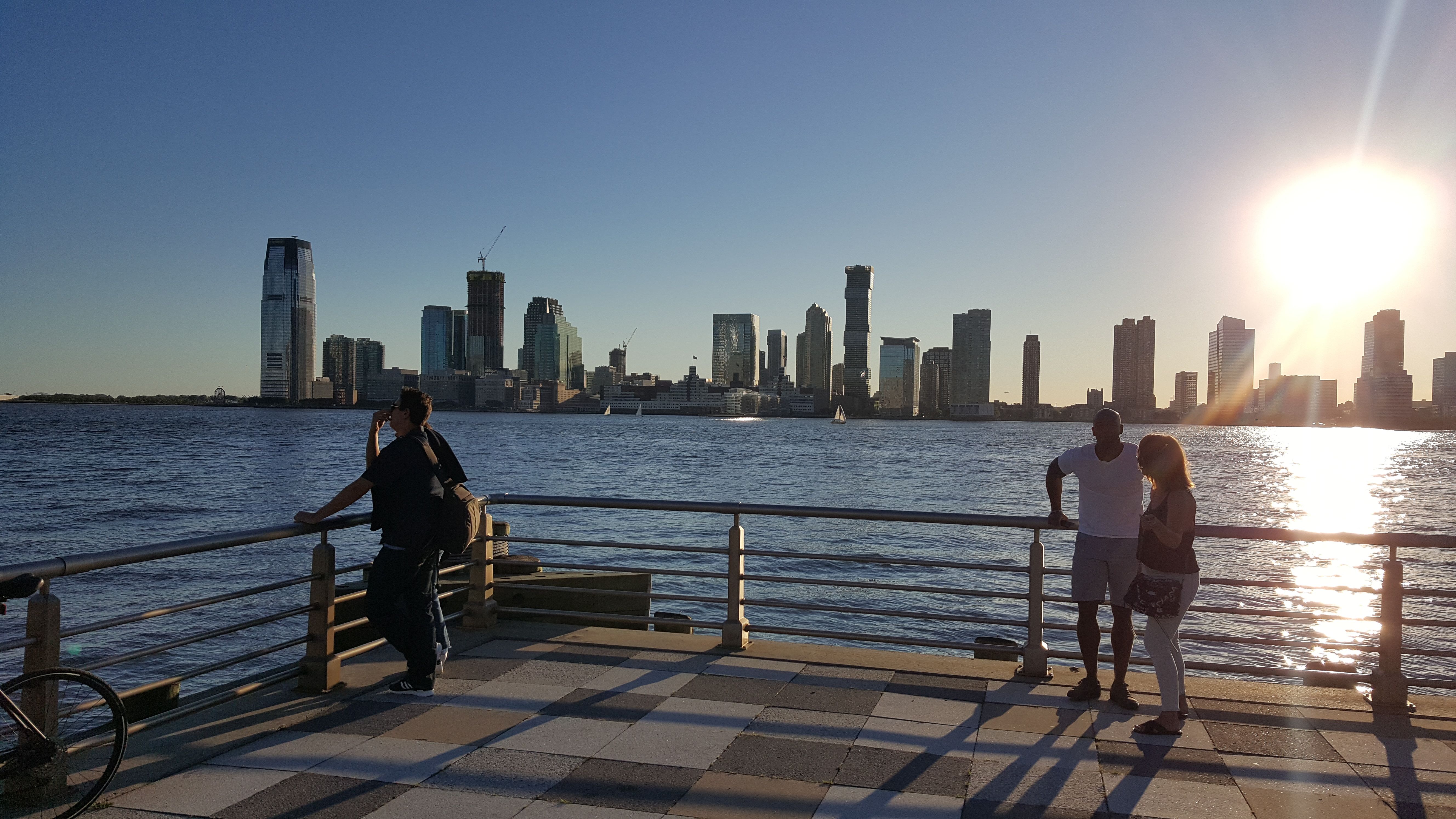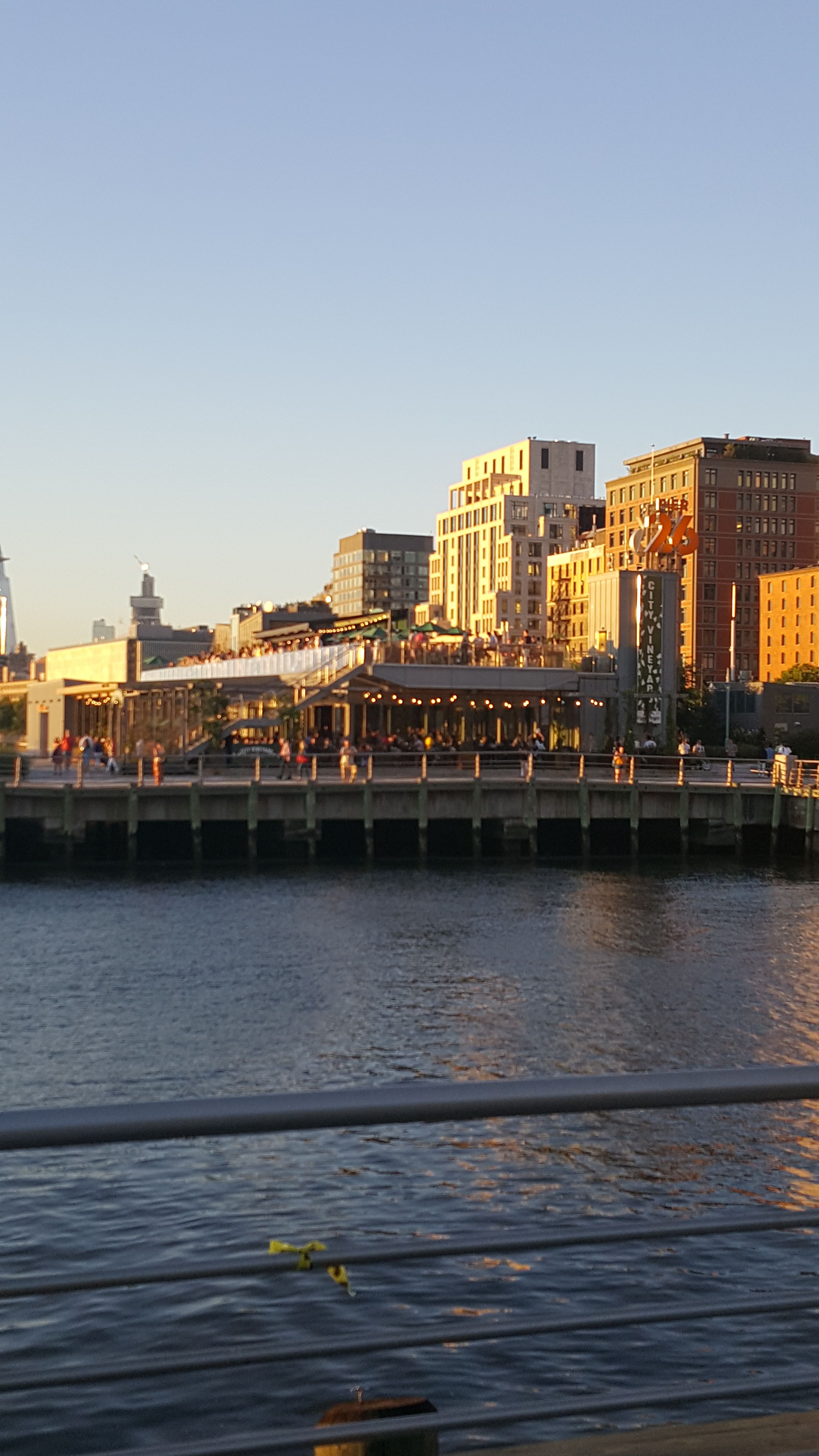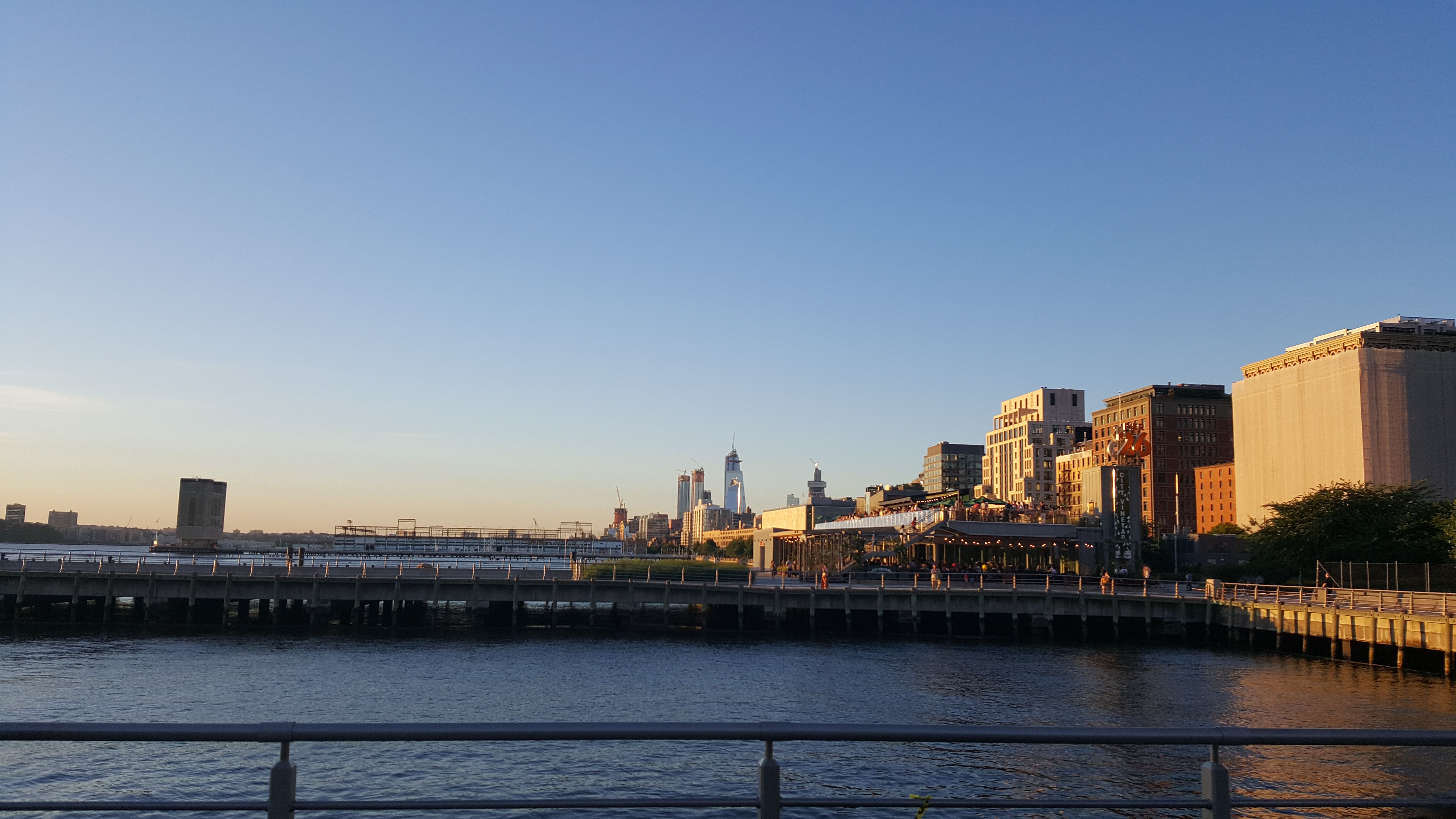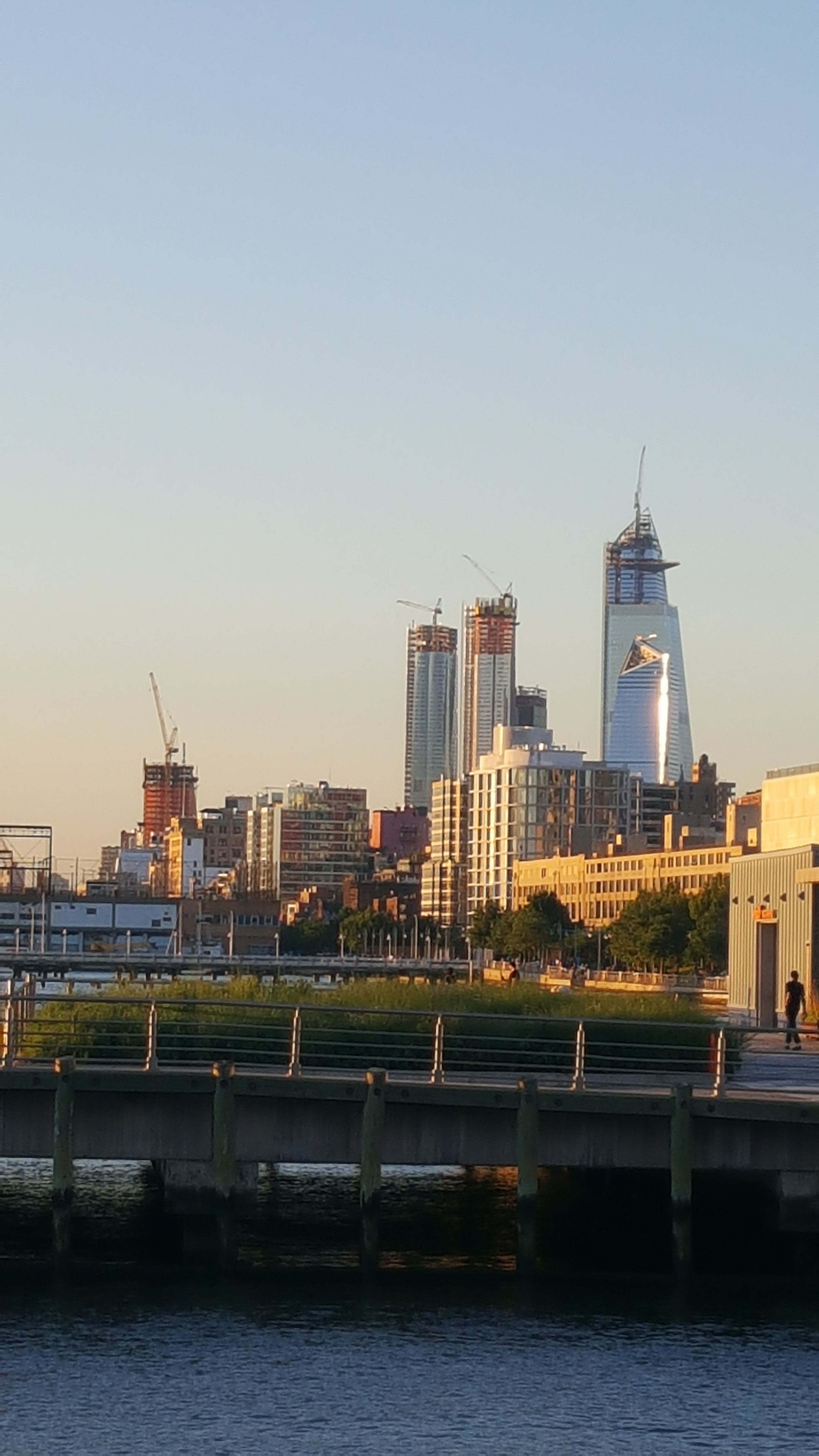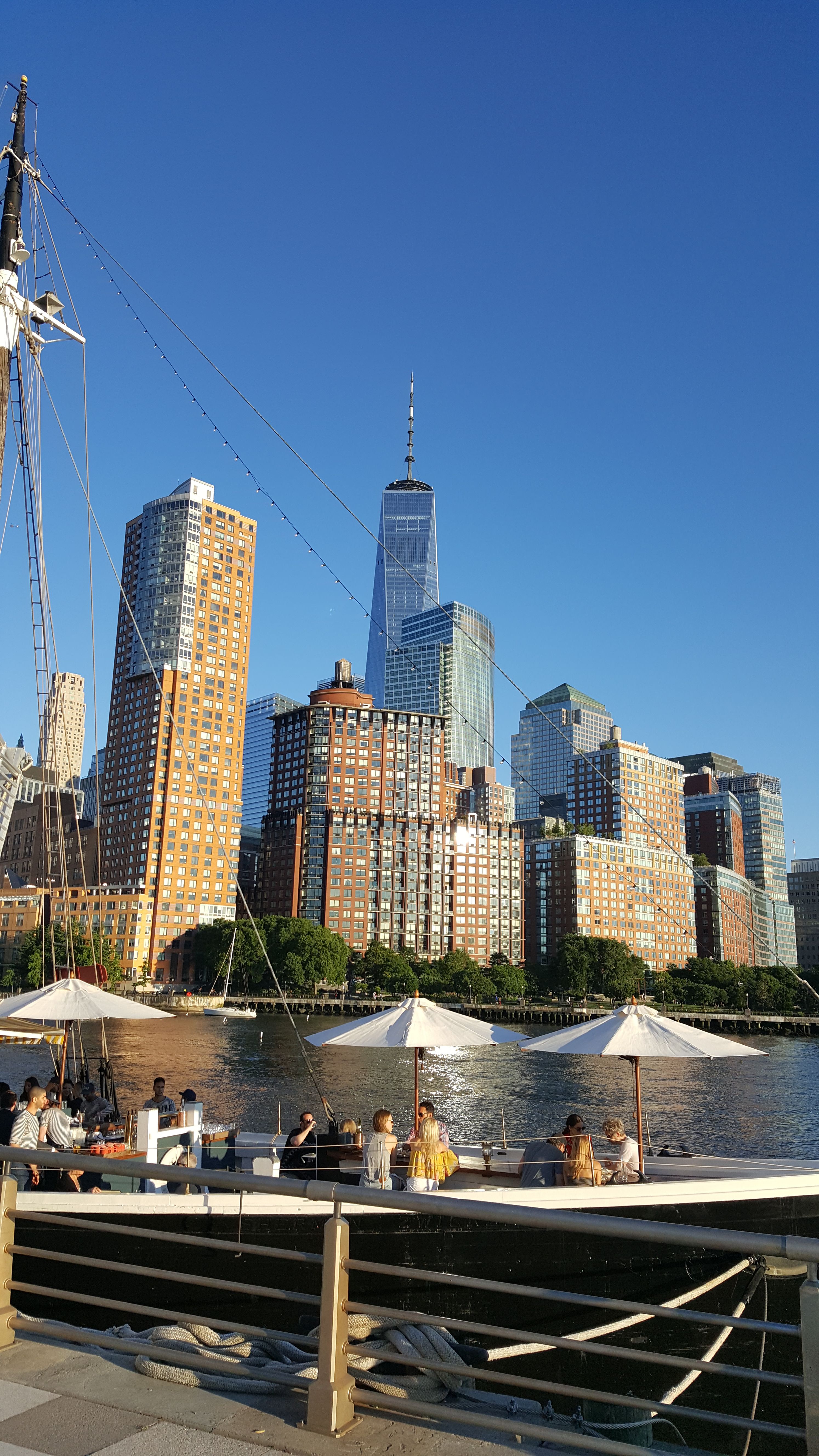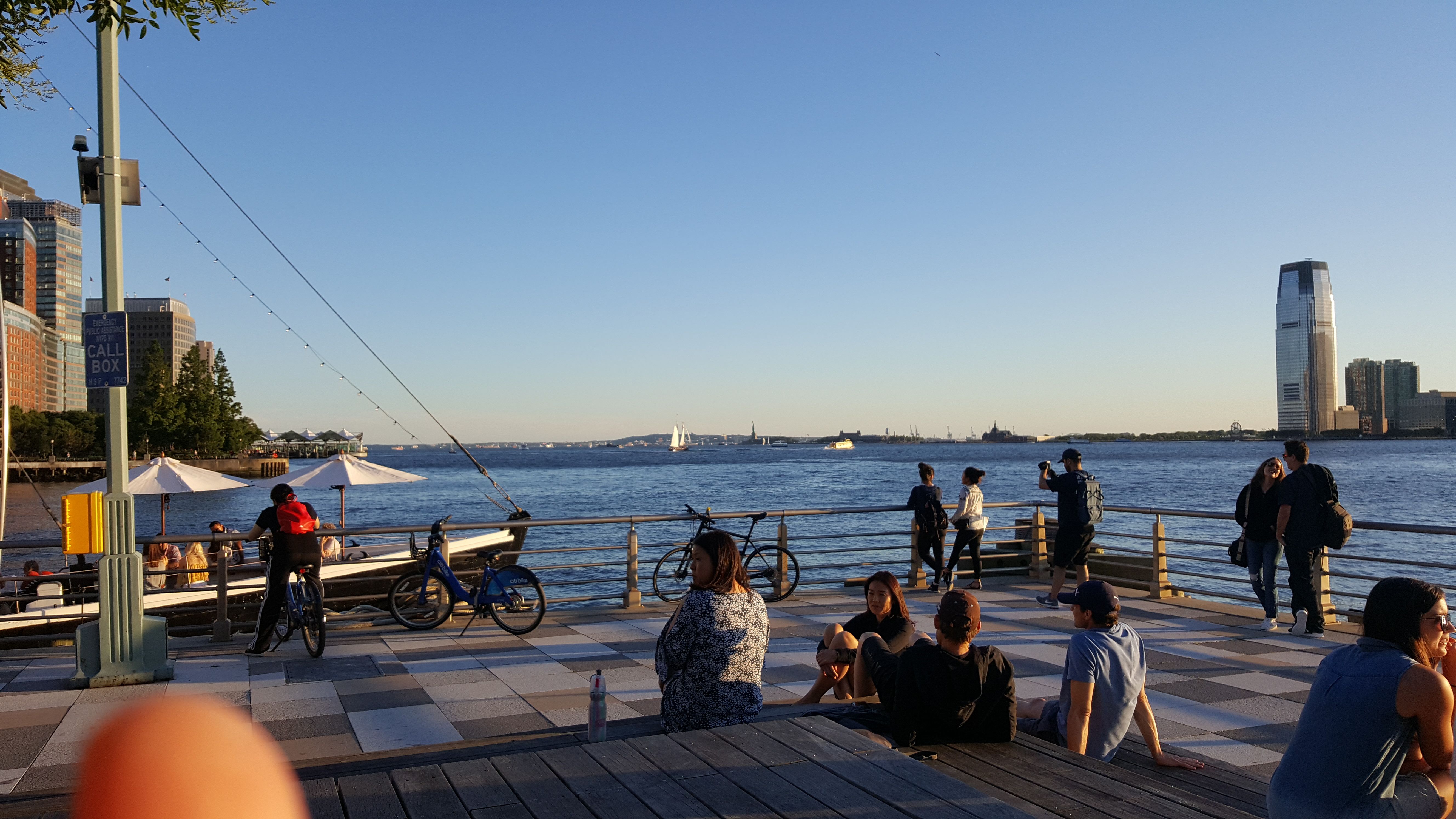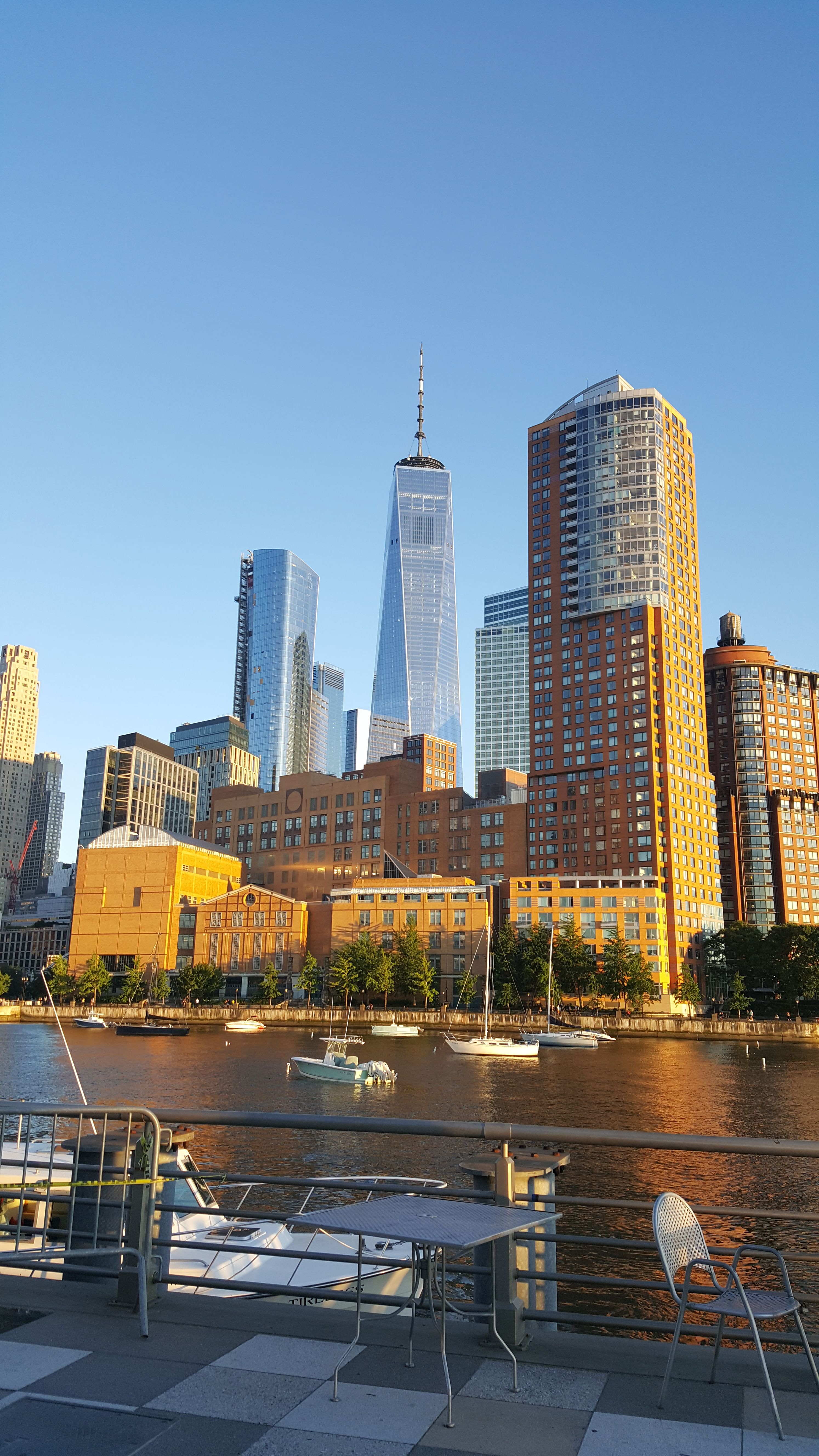 Sunday brought a new favorite restaurant, Pepolino's on West Broadway near the hotel.  I'm notoriously tough on Italian places being half-Italian and with sa brother who's a world-class chef but this place is aces.  Real, deep, authentic Italian with just a touch of flair and a nicely varied menu.  Hearty without being too rich.  The wait staff was extremely knowledgeable and very friendly and attentive.  A++  I had the daily pasts special. Spigatoni (slightly wider than spaghetti) and my companion had the rabbit pasts which is a regular menu item.  The Caprese salad was superb as was the special cured carpaccio and arugala, the Buffalo mozzerella was sublimely textured and super fresh and the panna cotta desert with just a lovely light berry sauce was primo.  Oh yeah, you can always tell a great restarant by the bread and theirs was killer with a nice tomato pate spread: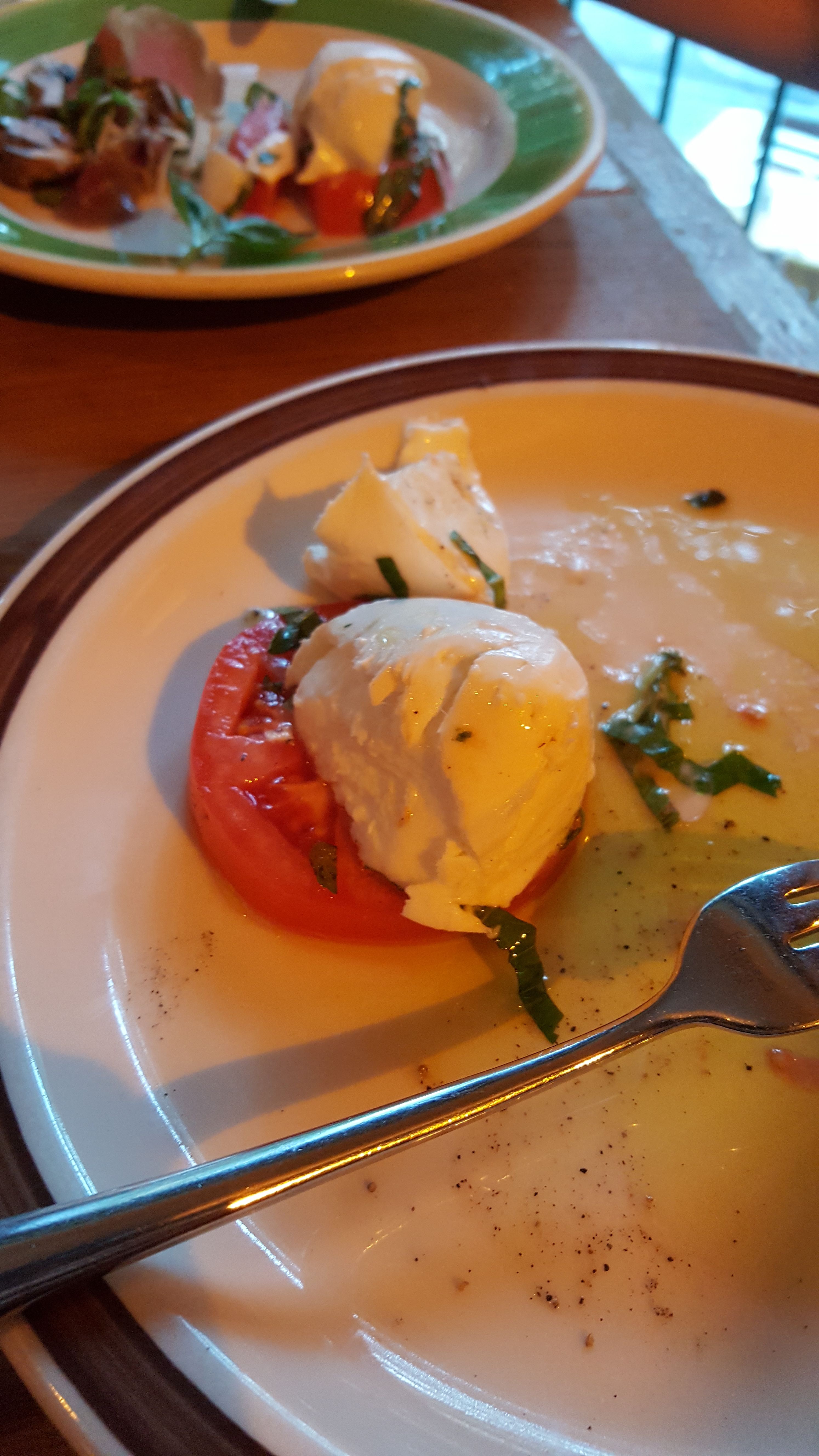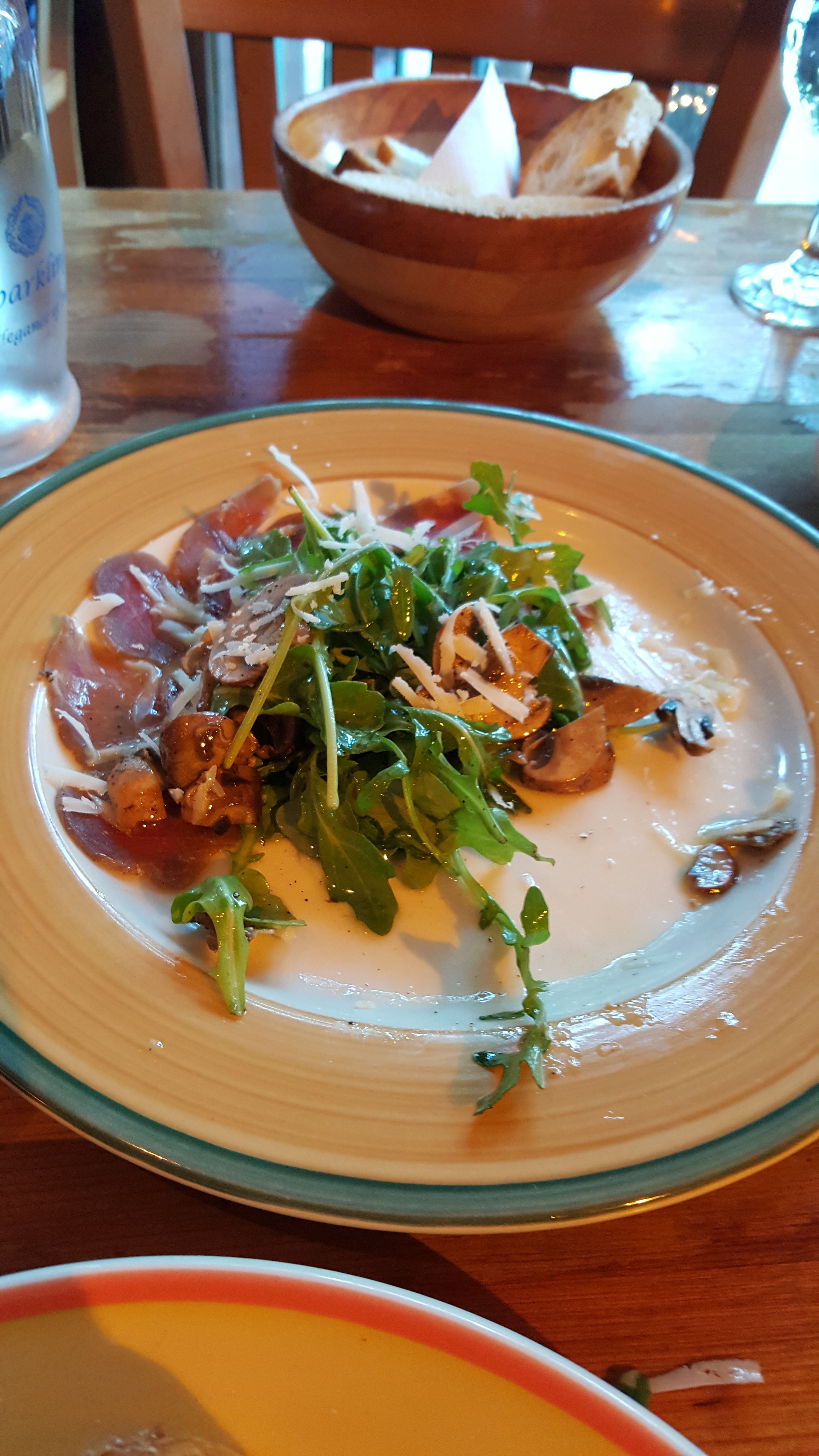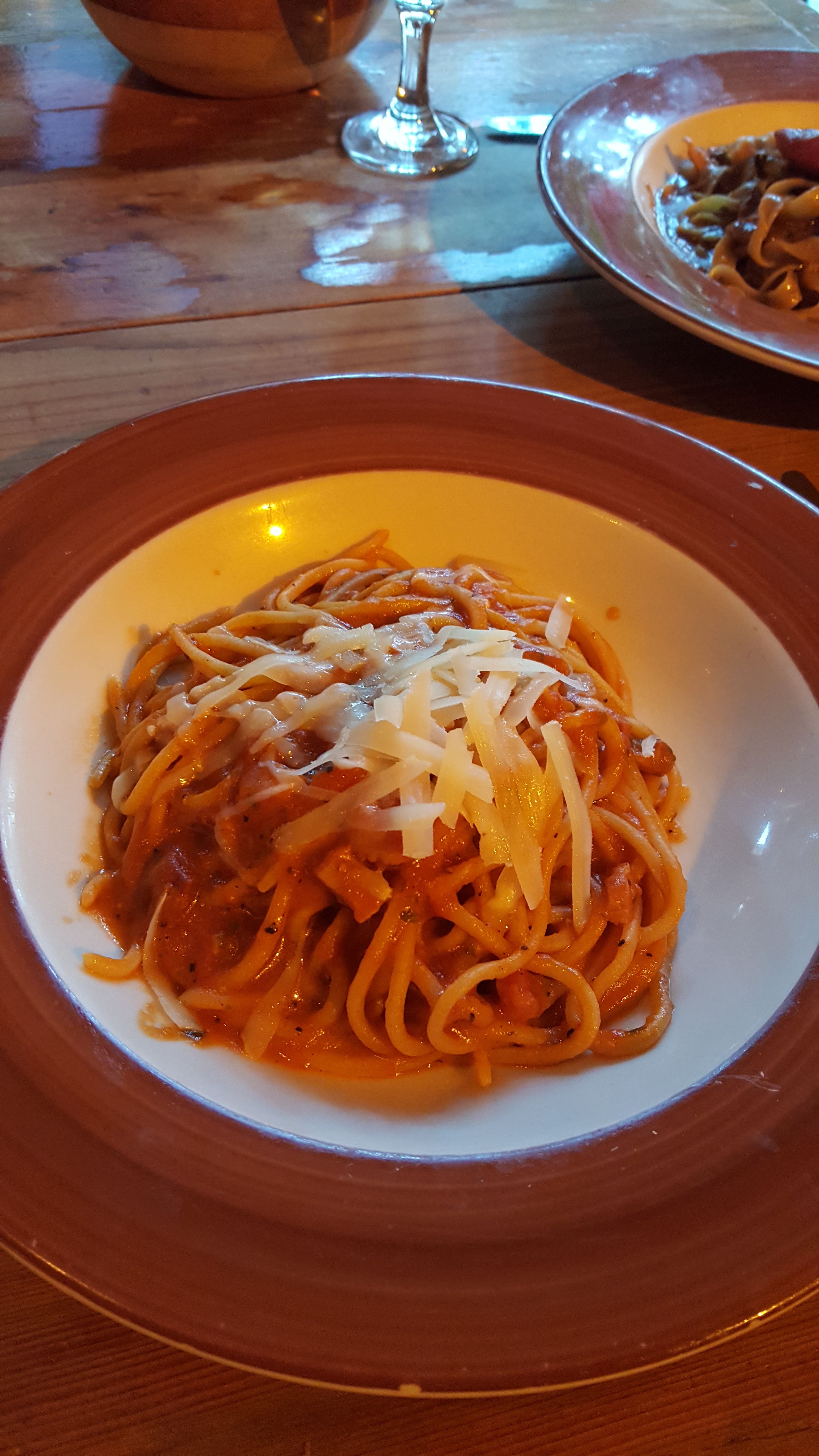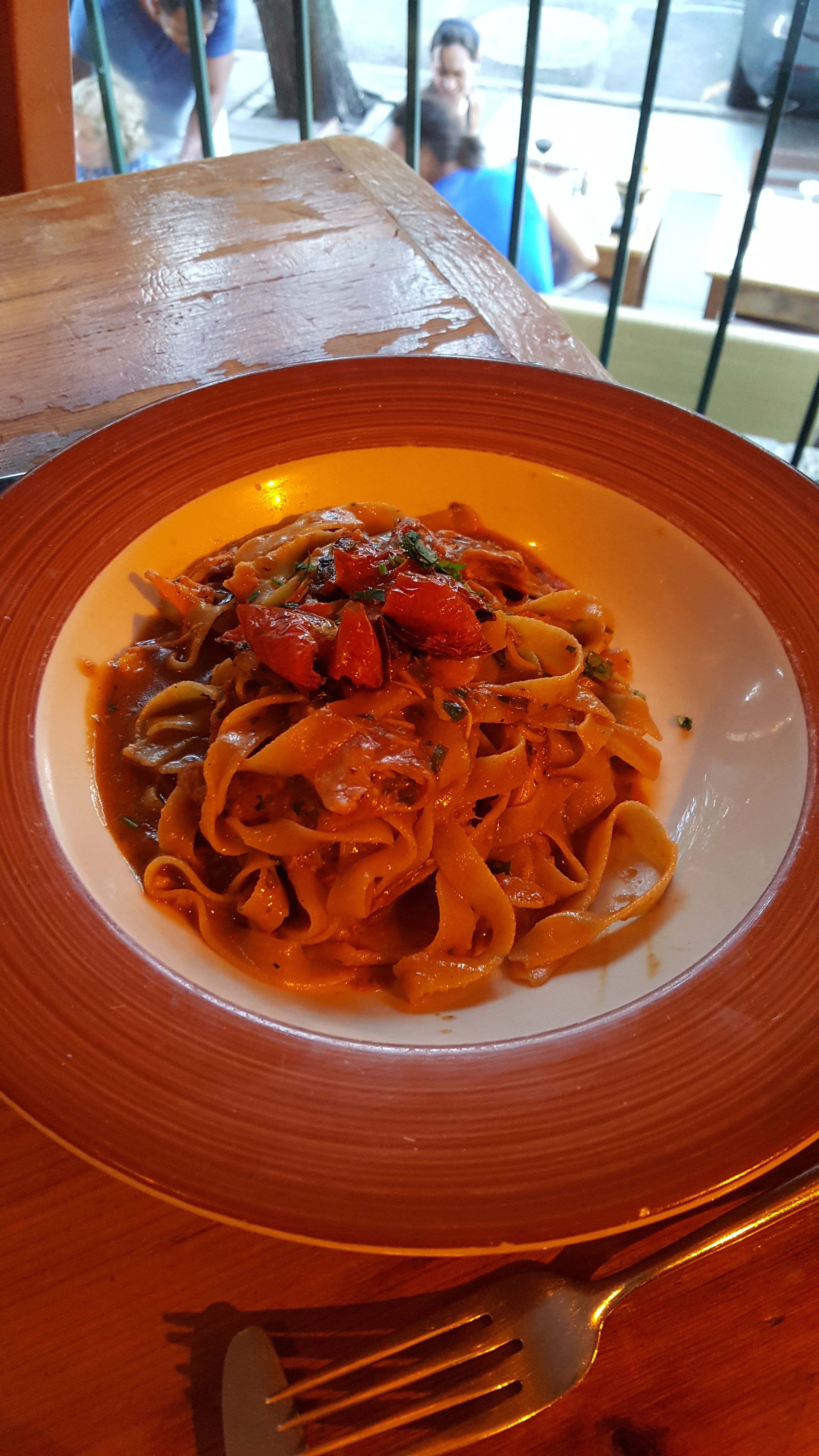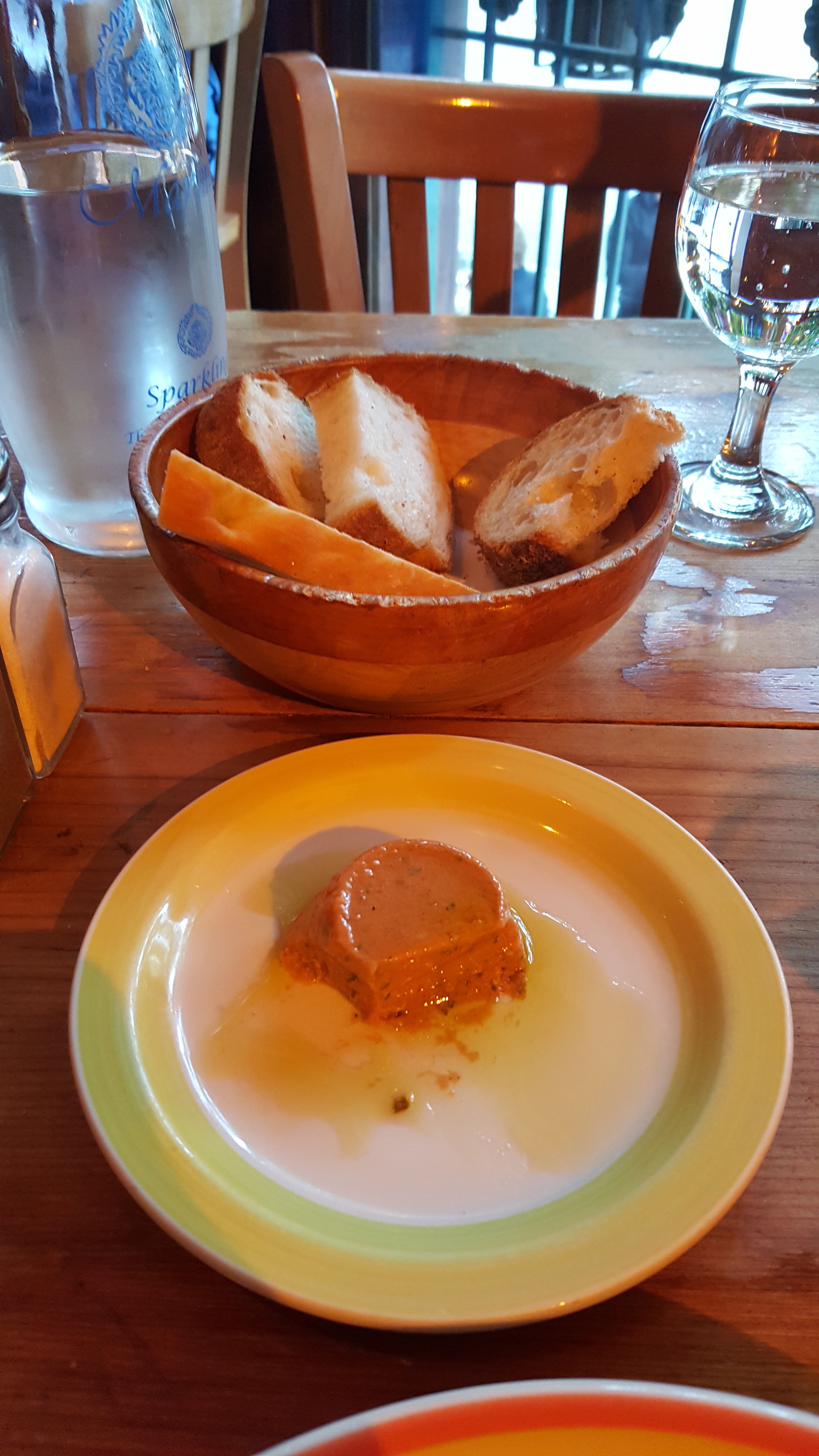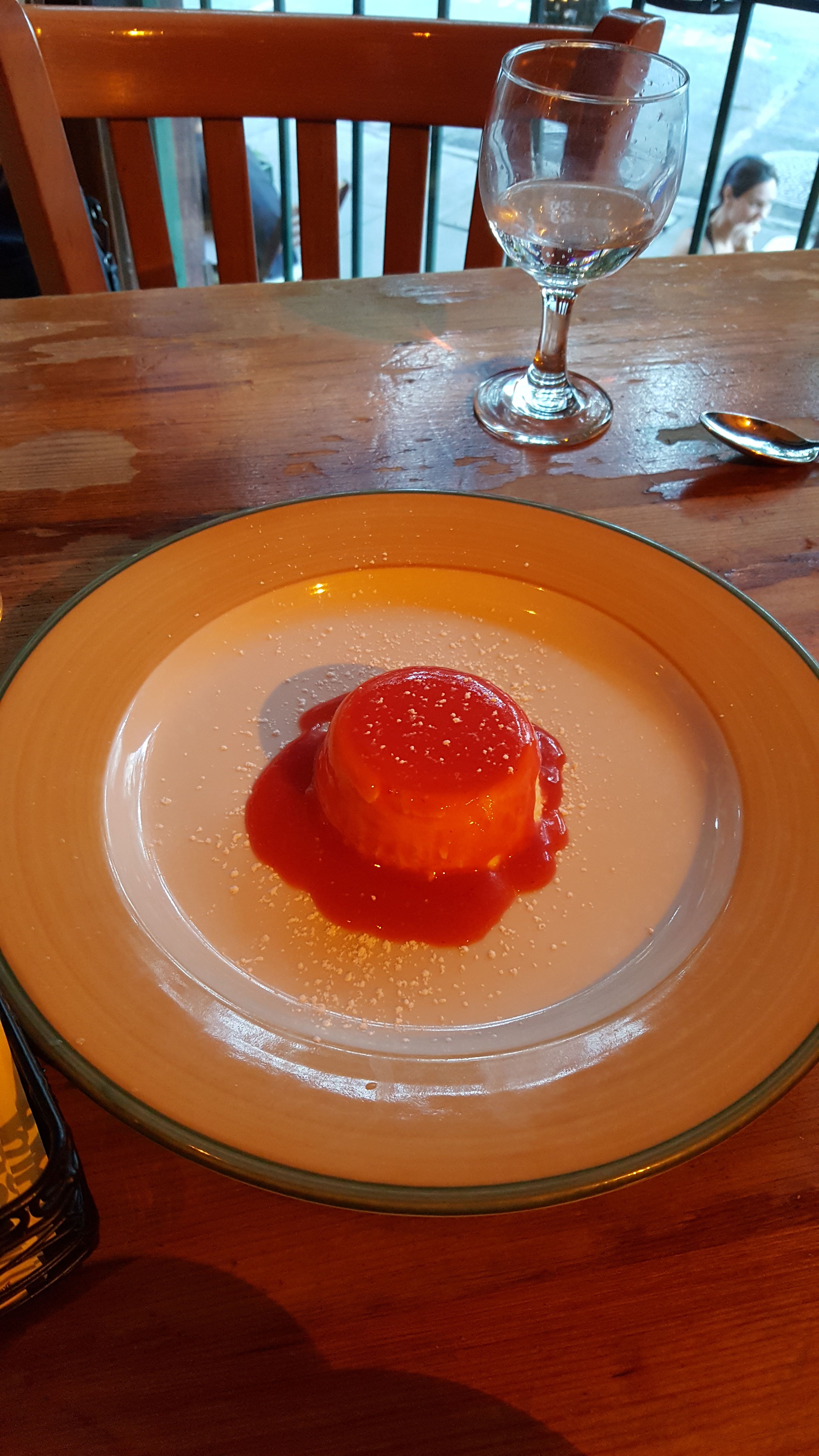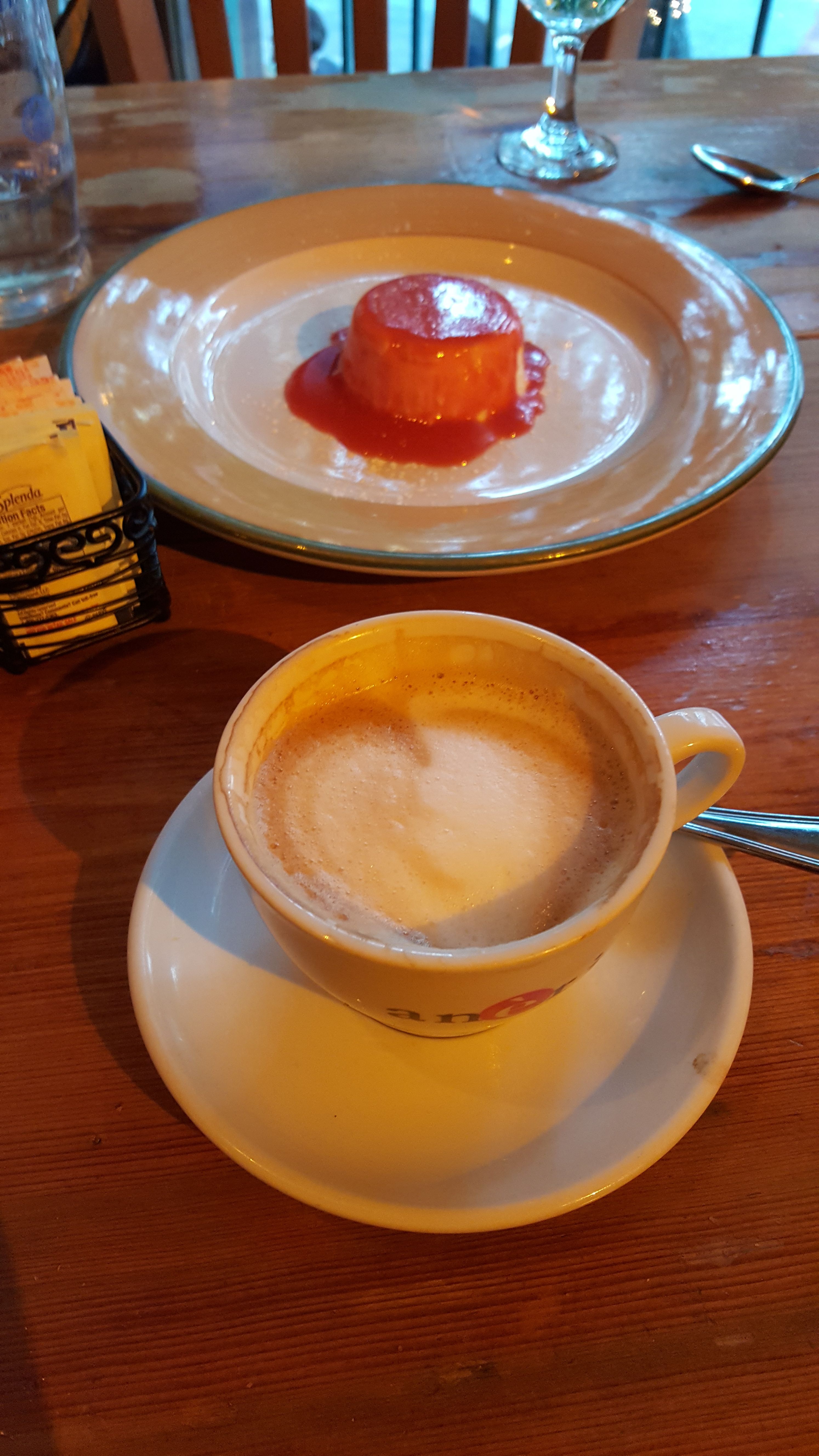 Monday's dinner (leftover Katz's was lunch <g>) brought another highlight in Terroir, a sort of wine bar (in that they only serve Riesling but really GREAT Riesling) with tapas a few blocks west of the Roxy.  This place KILLS.  Unreal.  Every single dish they brought out was amazing.  The Gardiniera was absolutely outstanding (the brine their own veggies), great olives, carpaccio, the cheeses, oh the cheeses, that's one of their specialties and Joe our host really knows his stuff.  Trust him.  Chicken liver pate was stellar too.  If I could give more than 5 stars I would: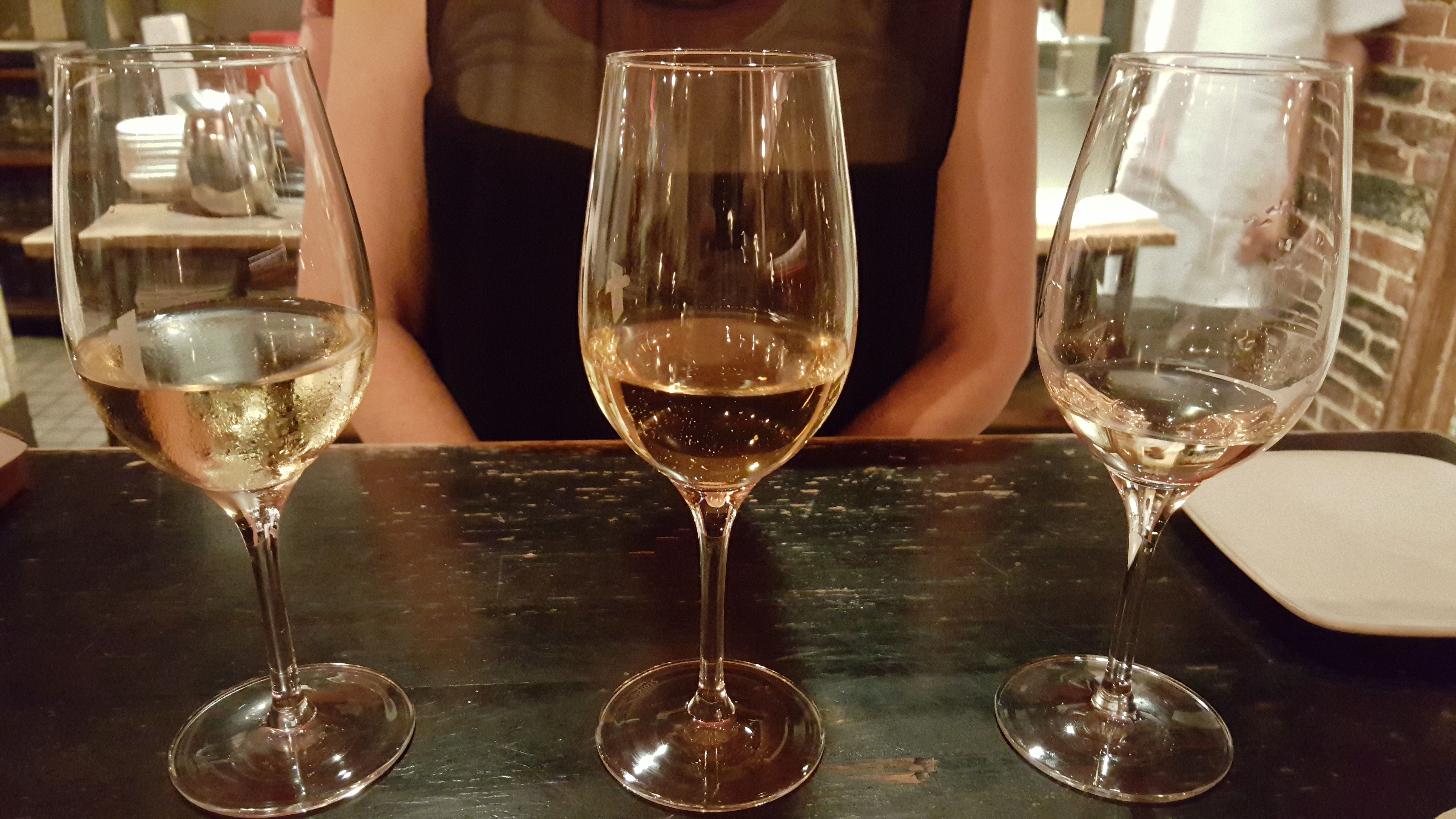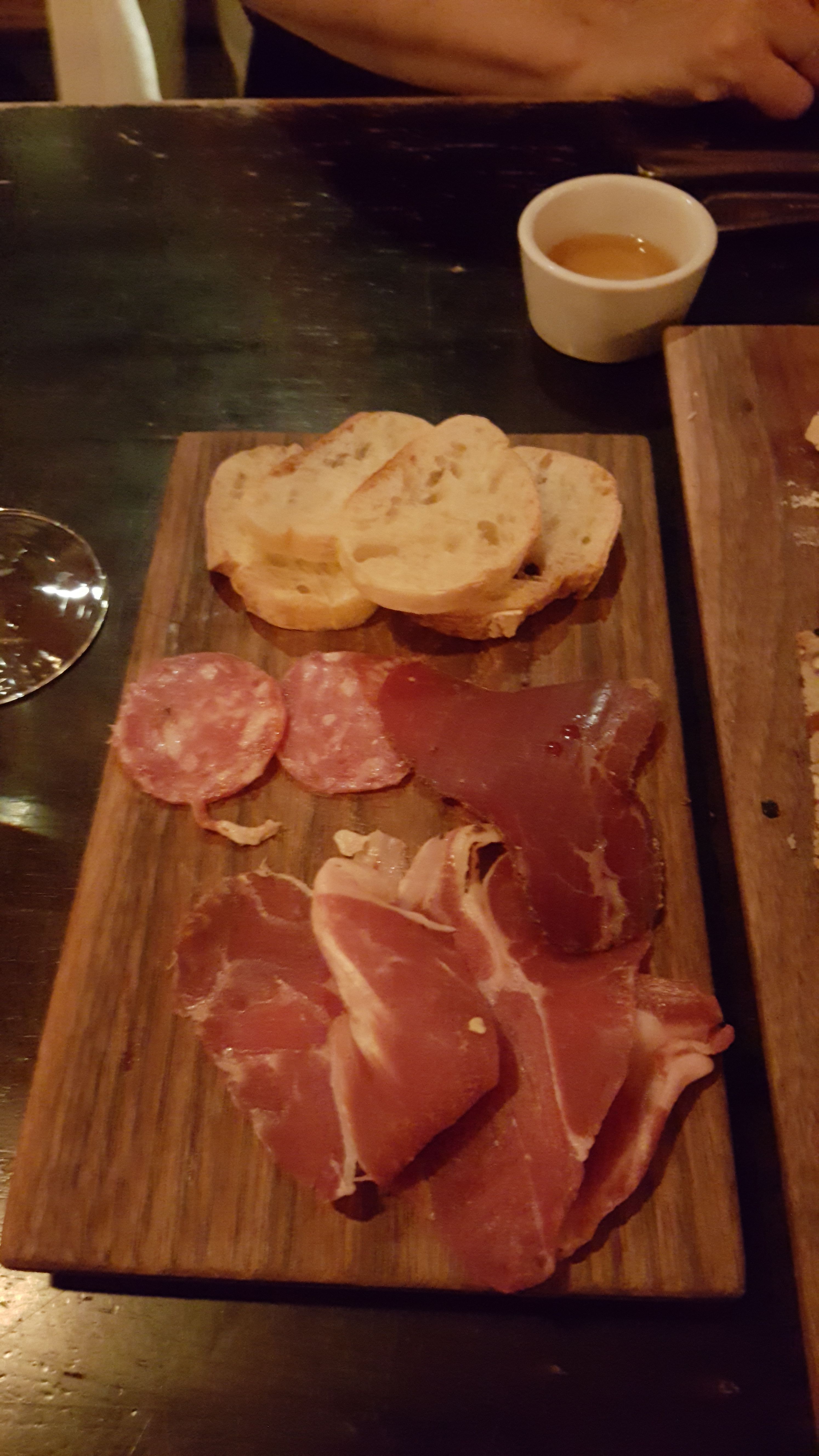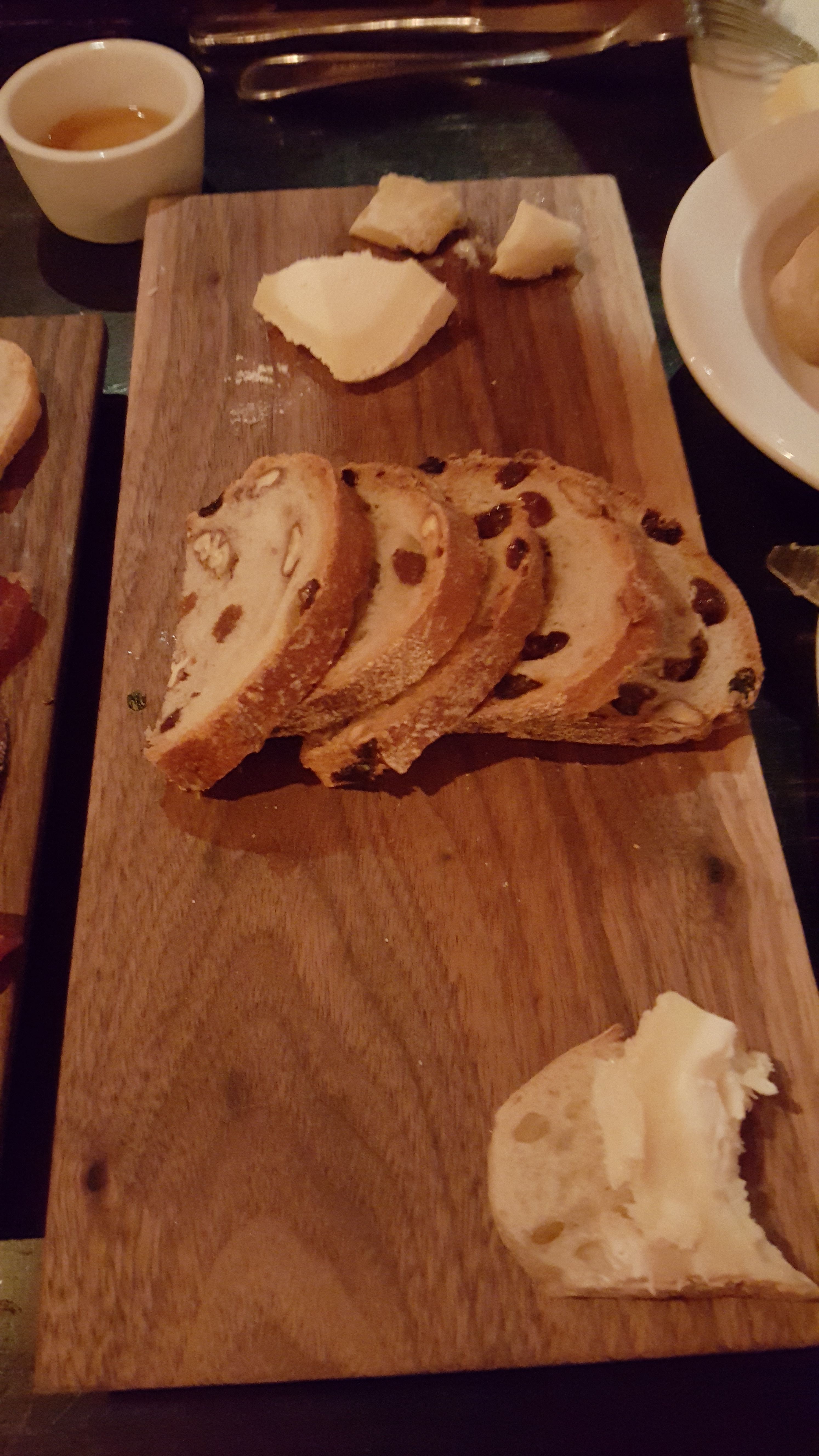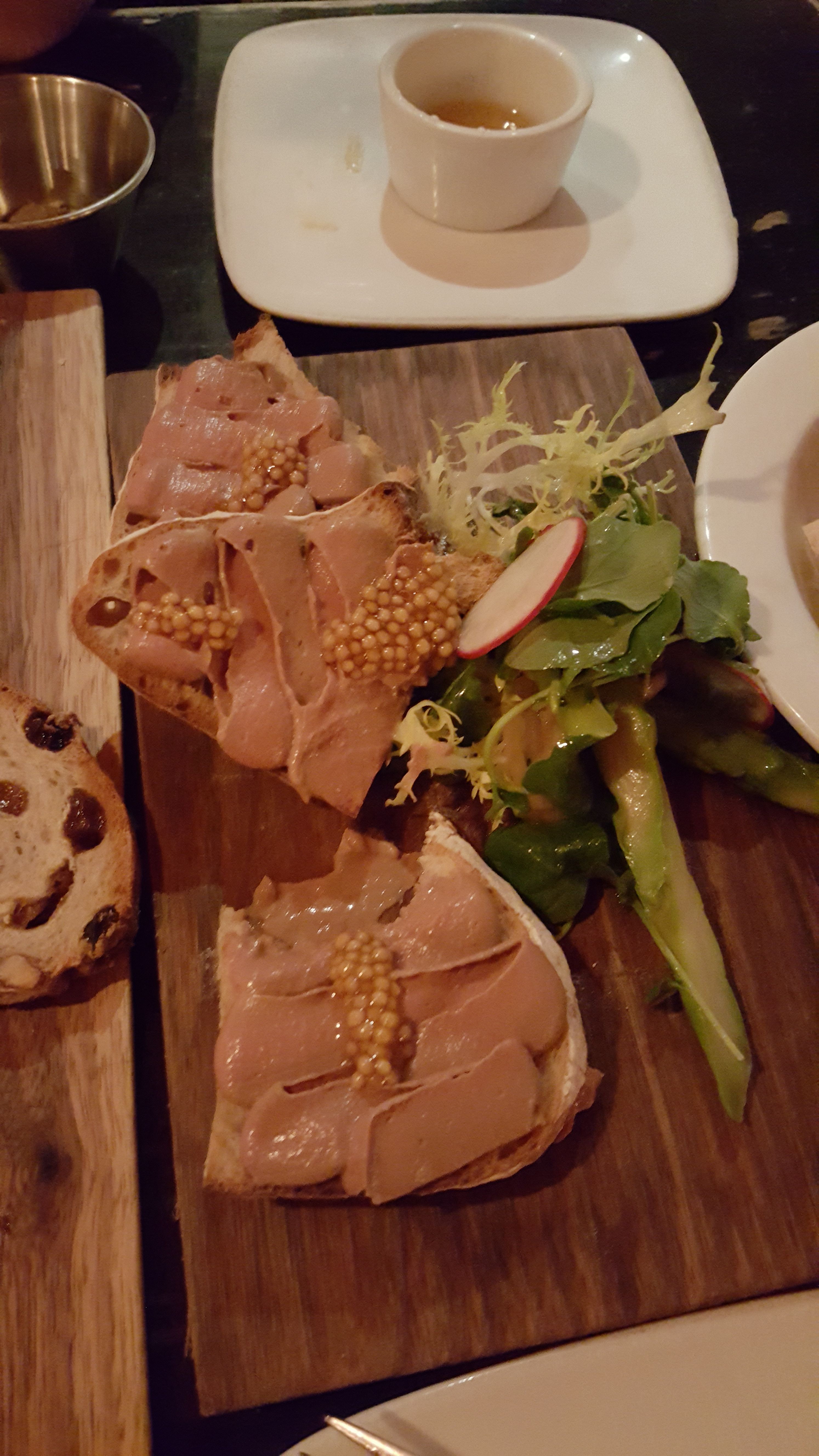 Oh yeah, and great desserts too: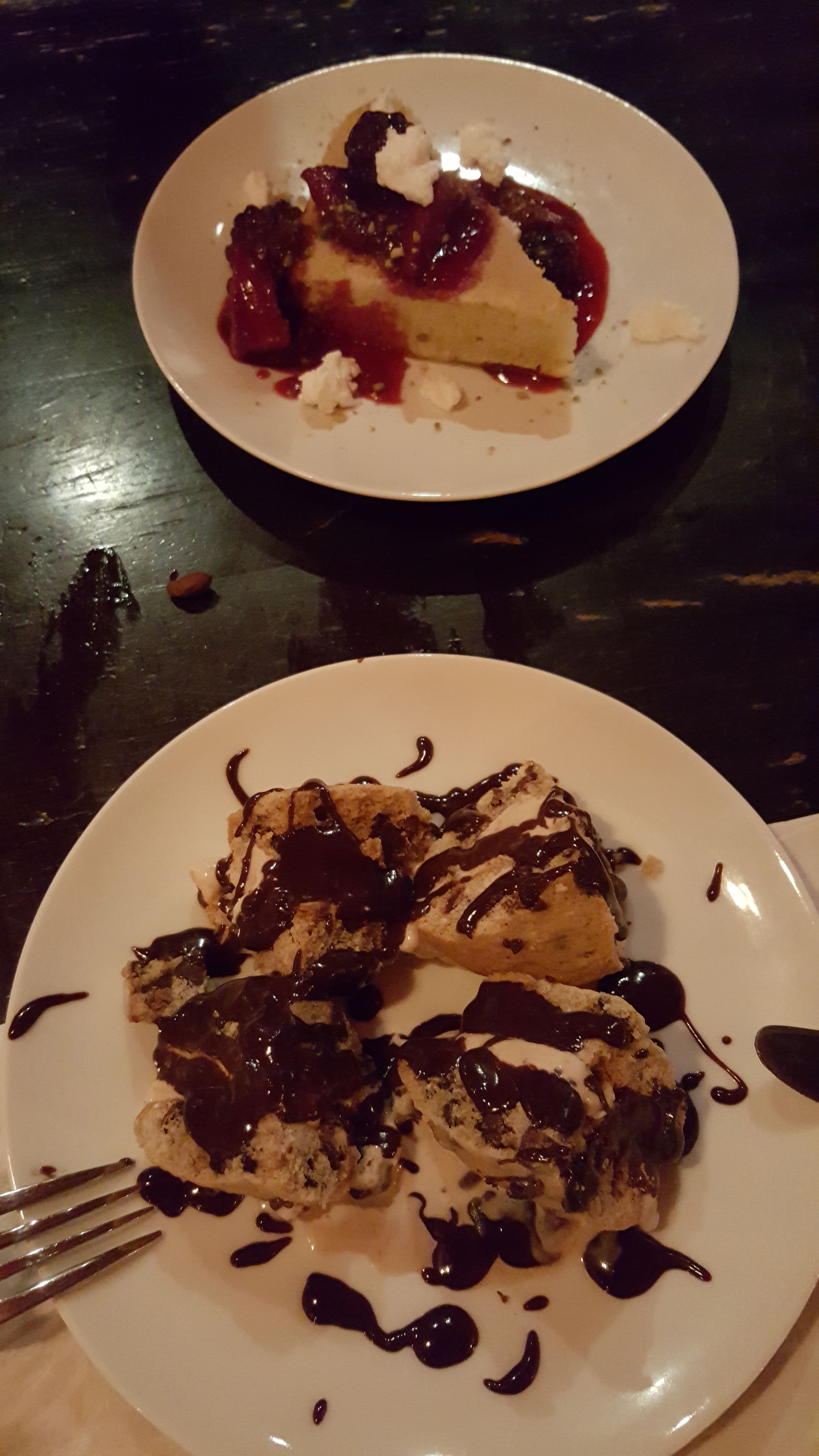 And Joe concocted an unbelievable virgin fermented grape cocktail for me.  Definitely will be returning to Terroir.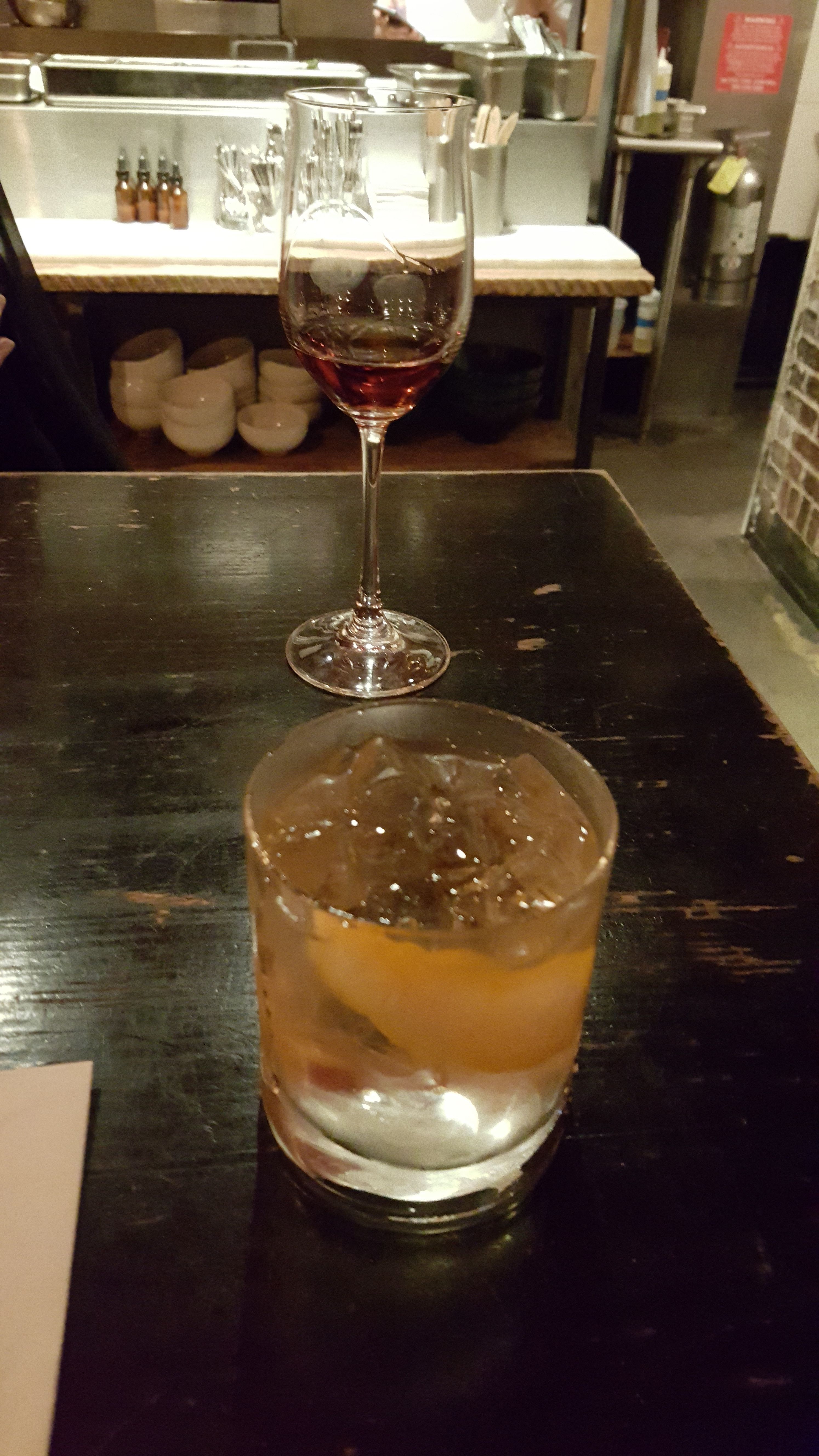 I used to frequent Rudy's Music Shop on W. 48th street, especially in my many years in Hell's Kitchen, but they moved down to Soho and I really dig the new space.  The guys there are super cool and it's a great hang.  Just a brisk 10 minute walk from the hotel: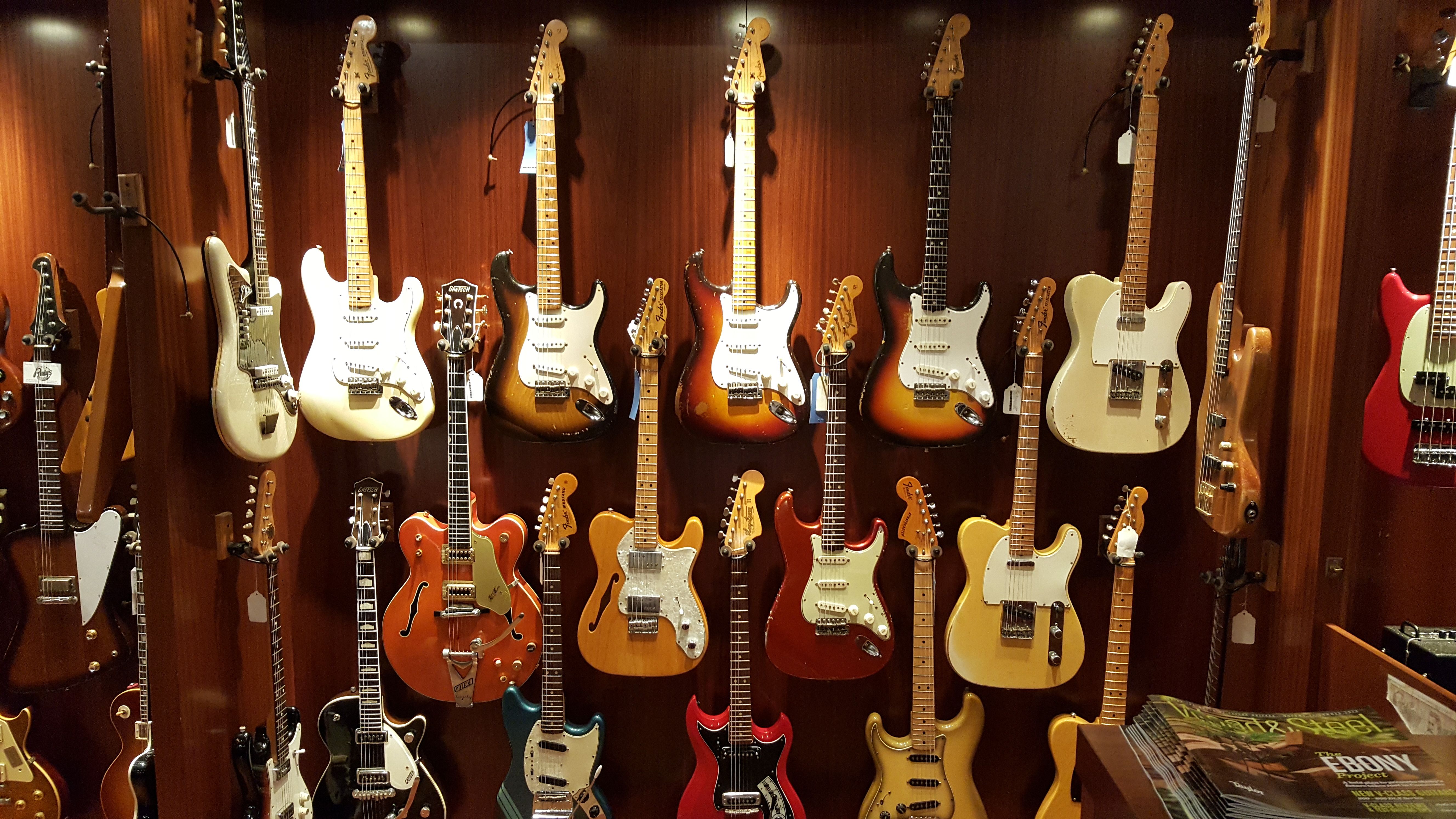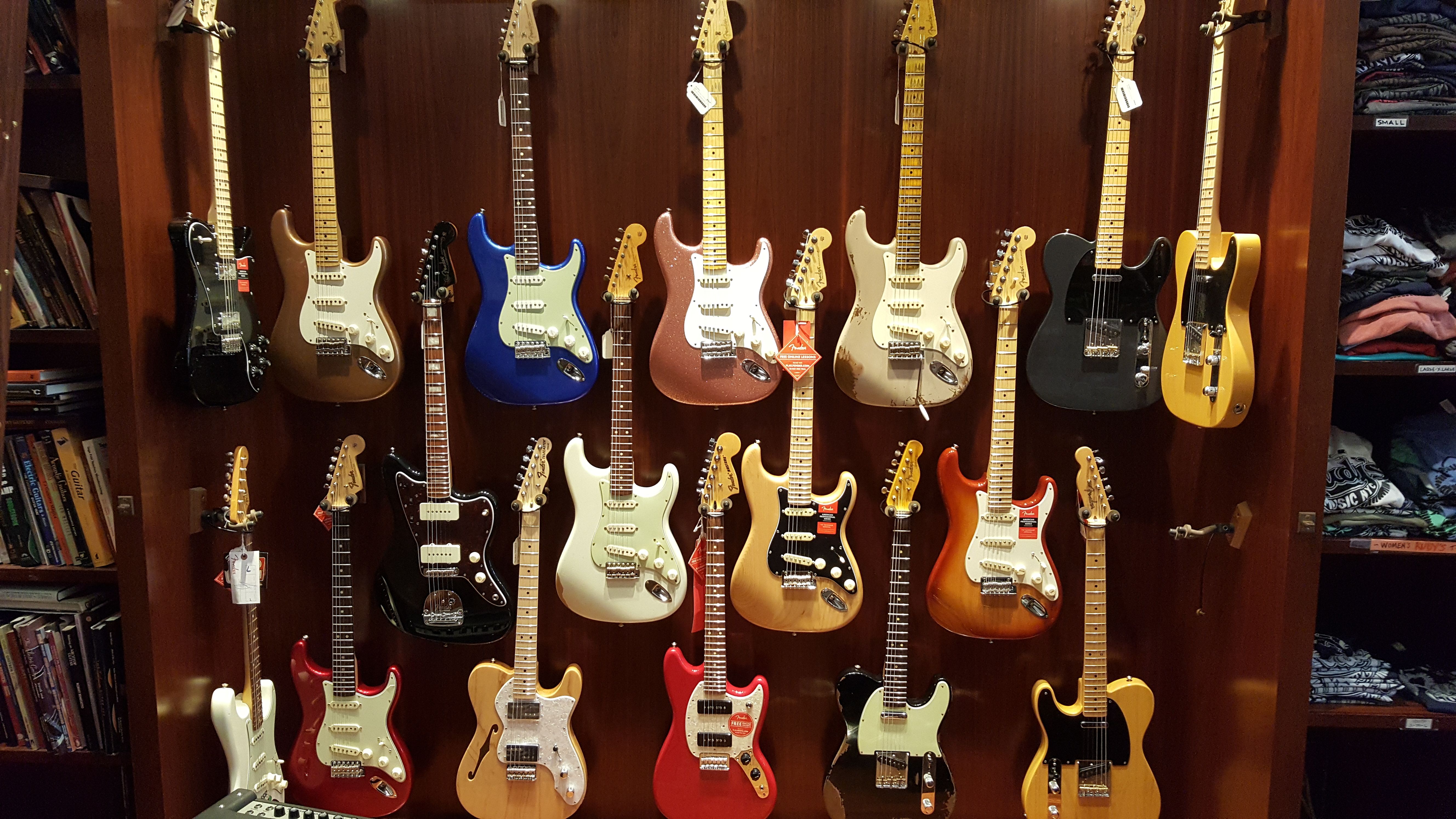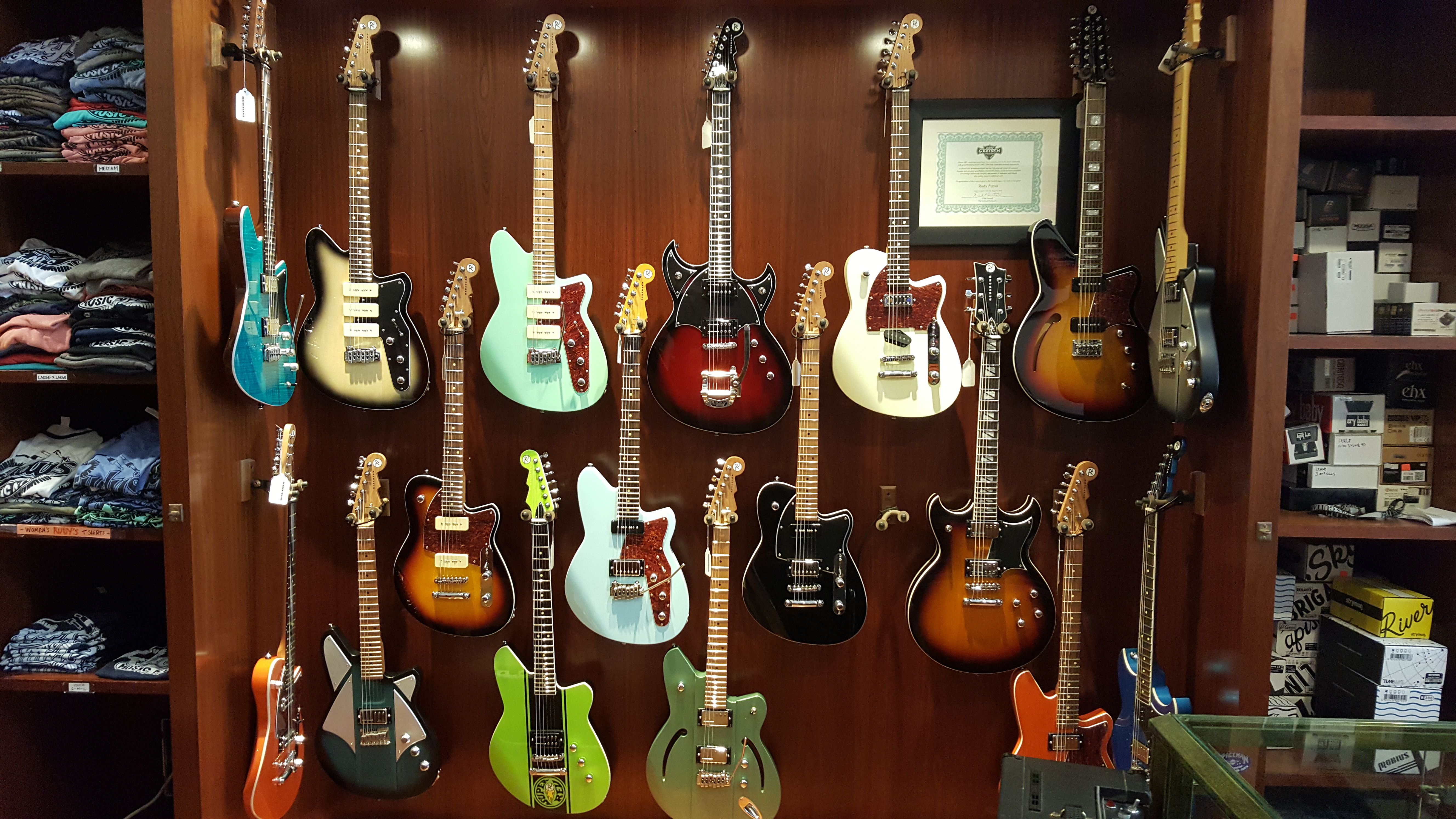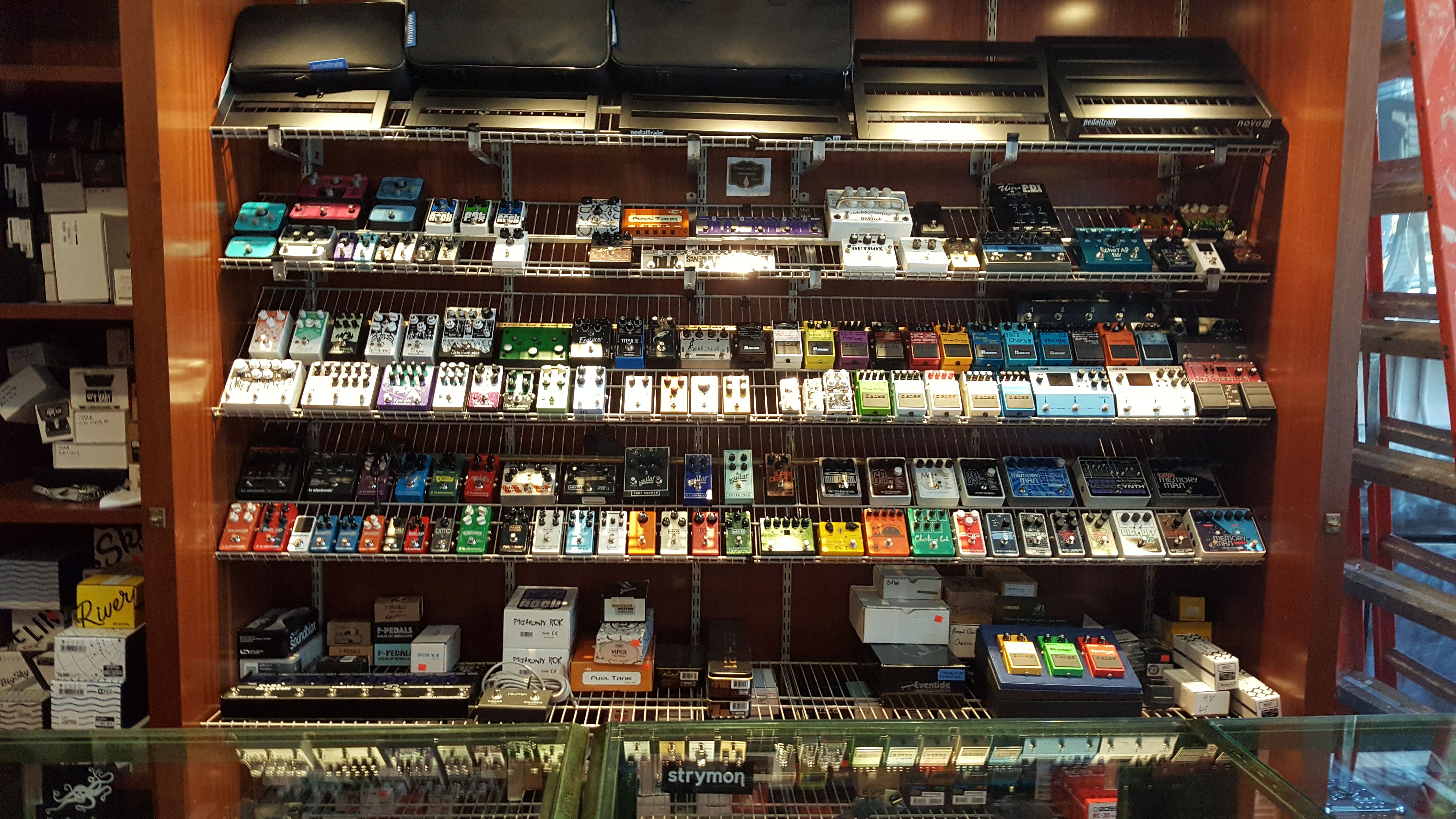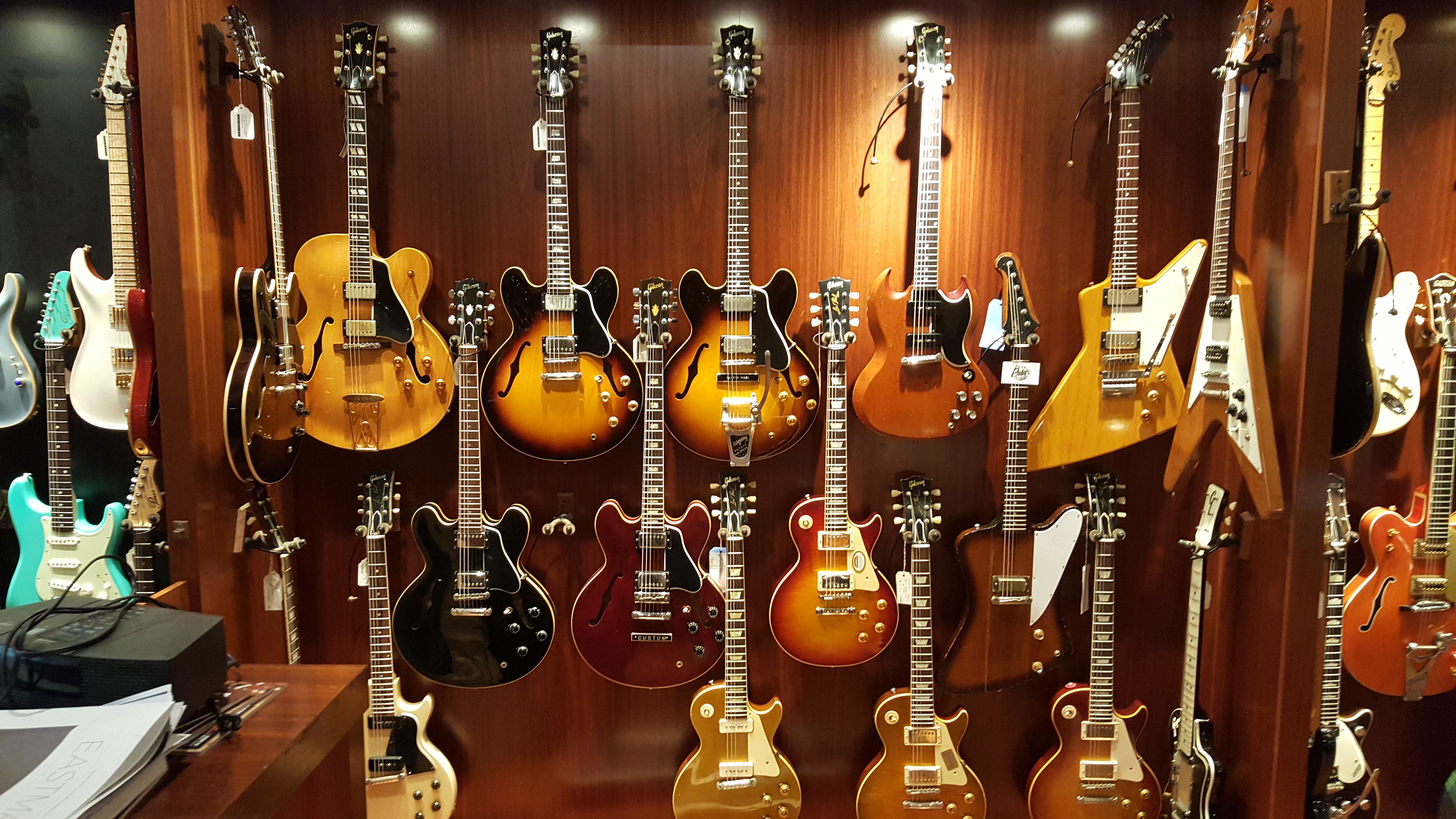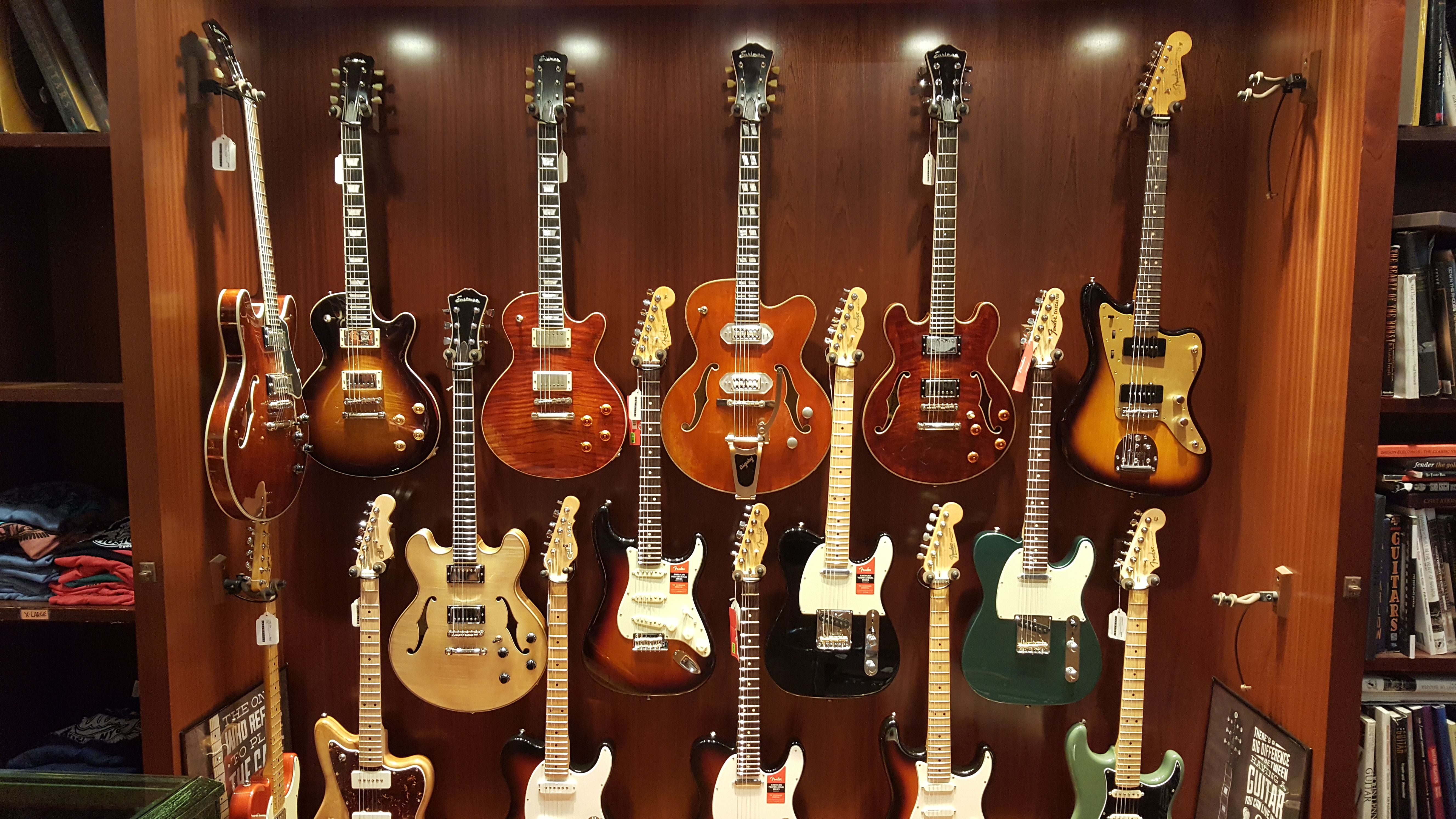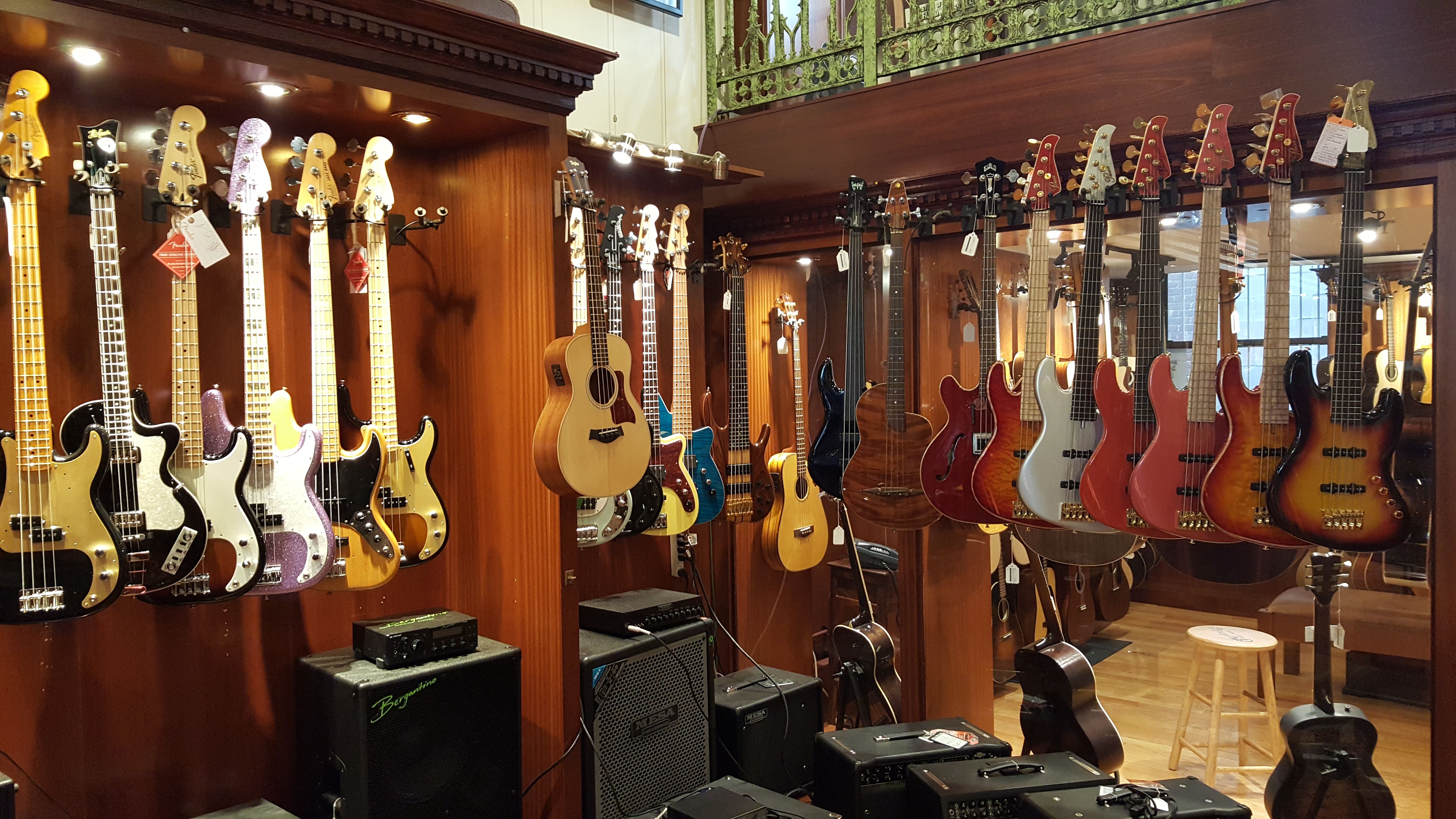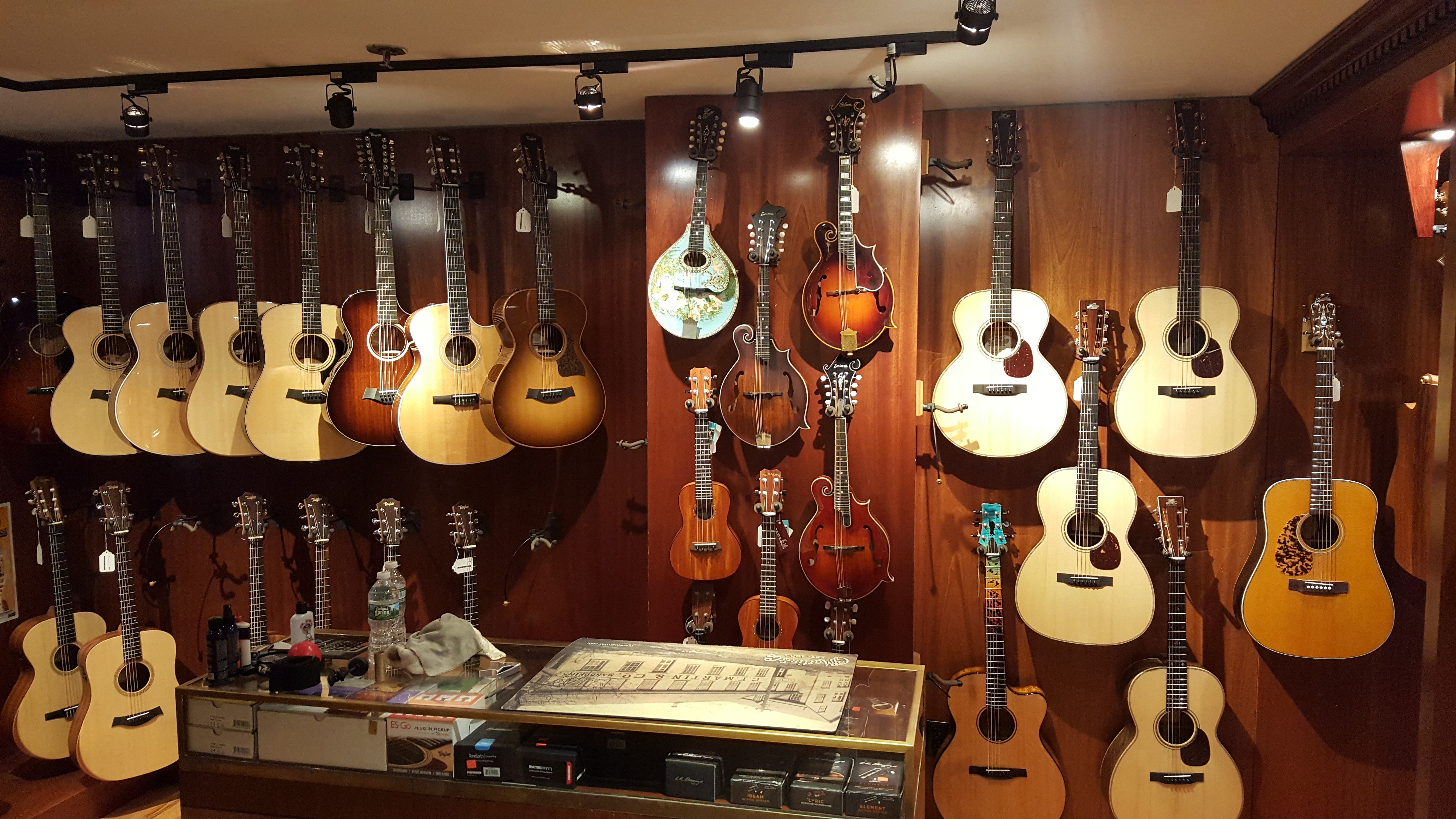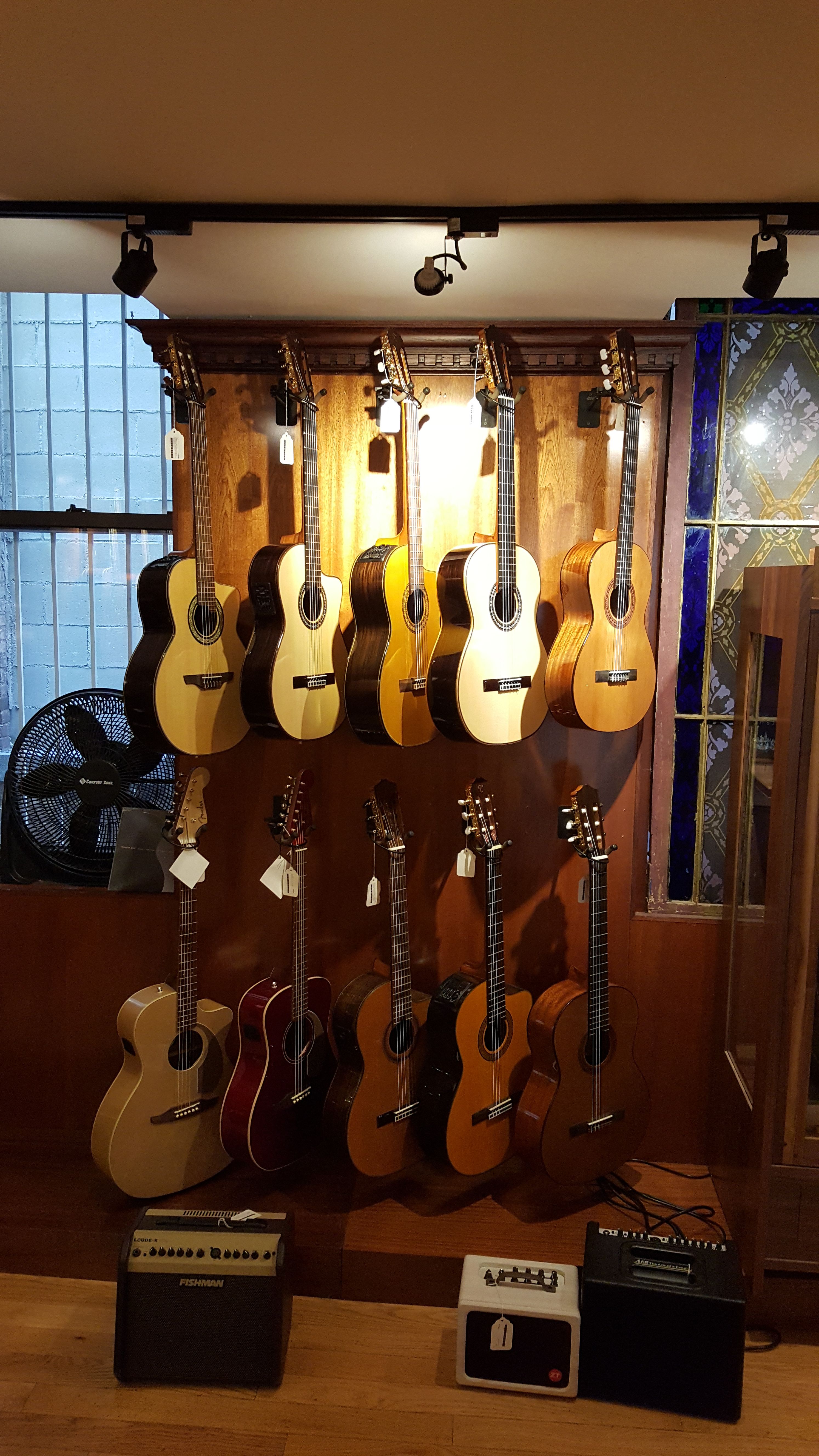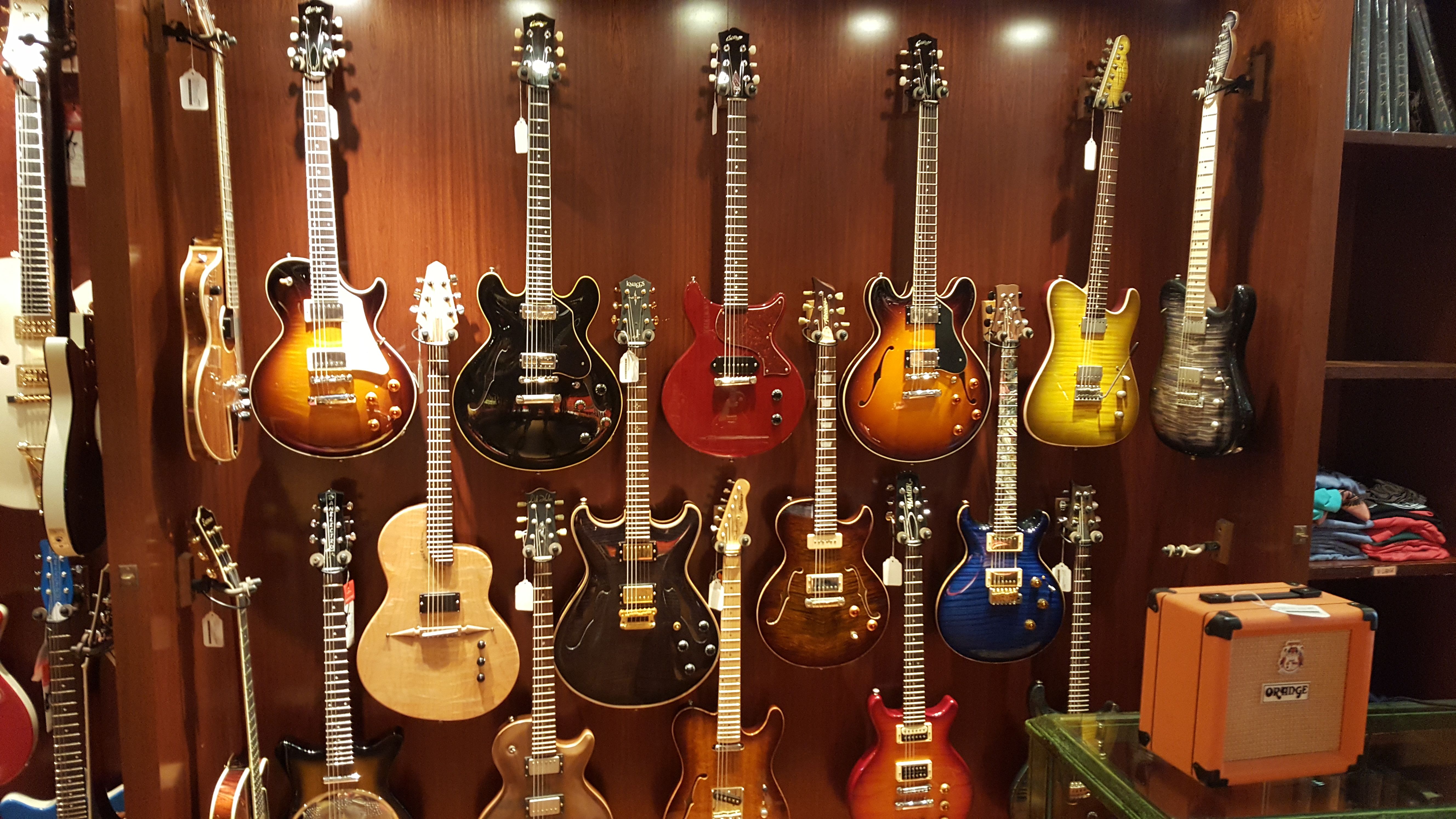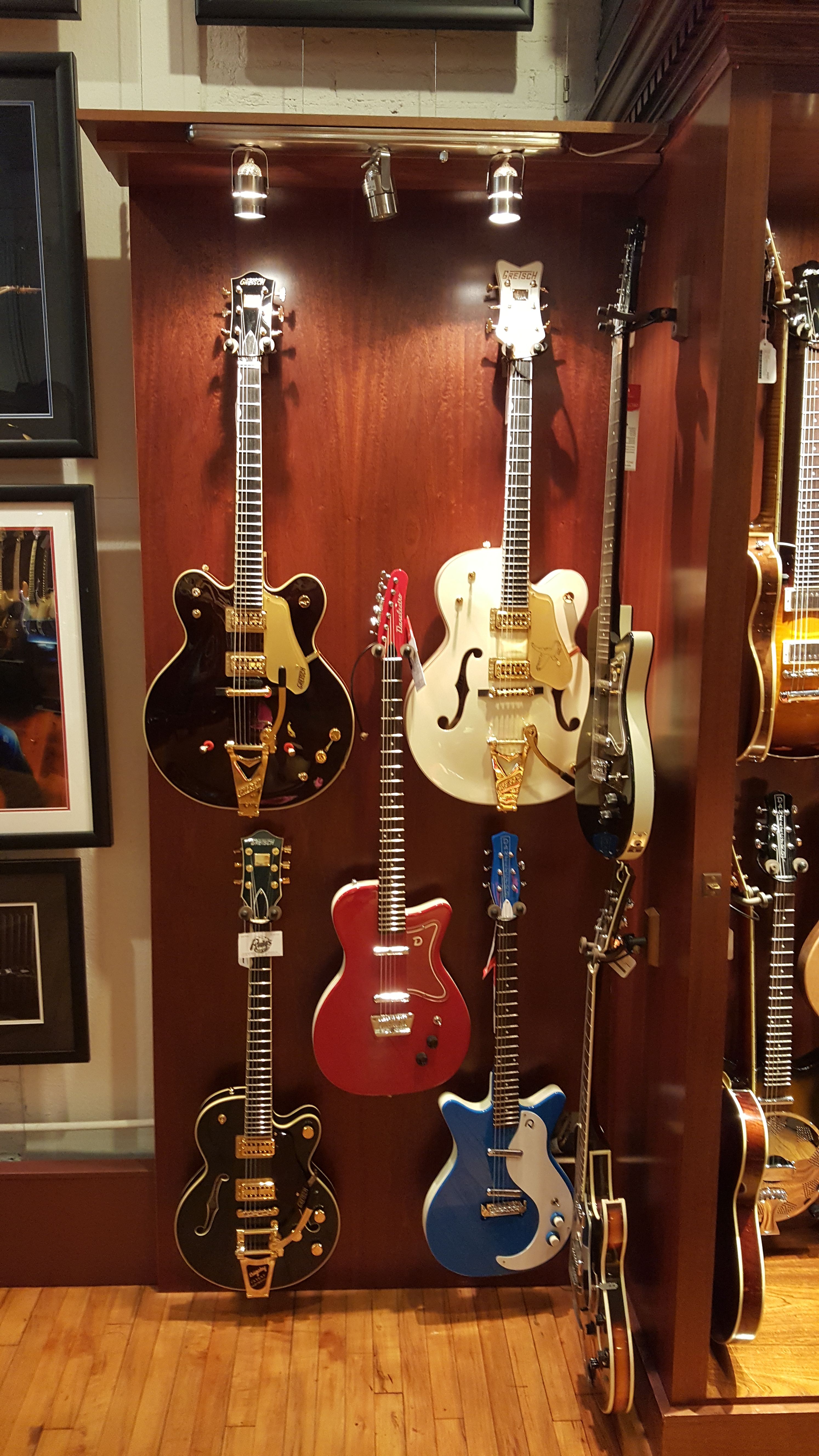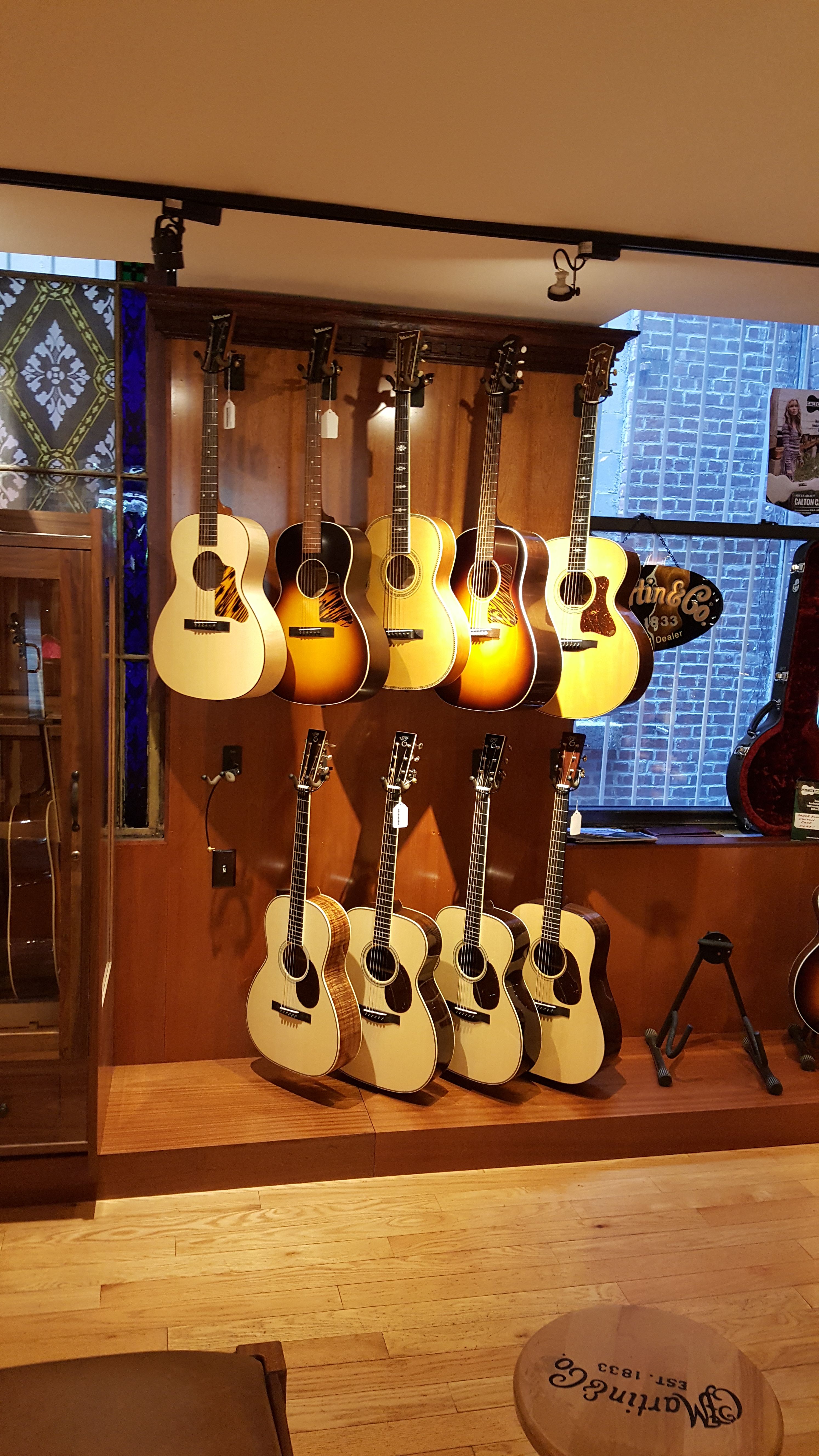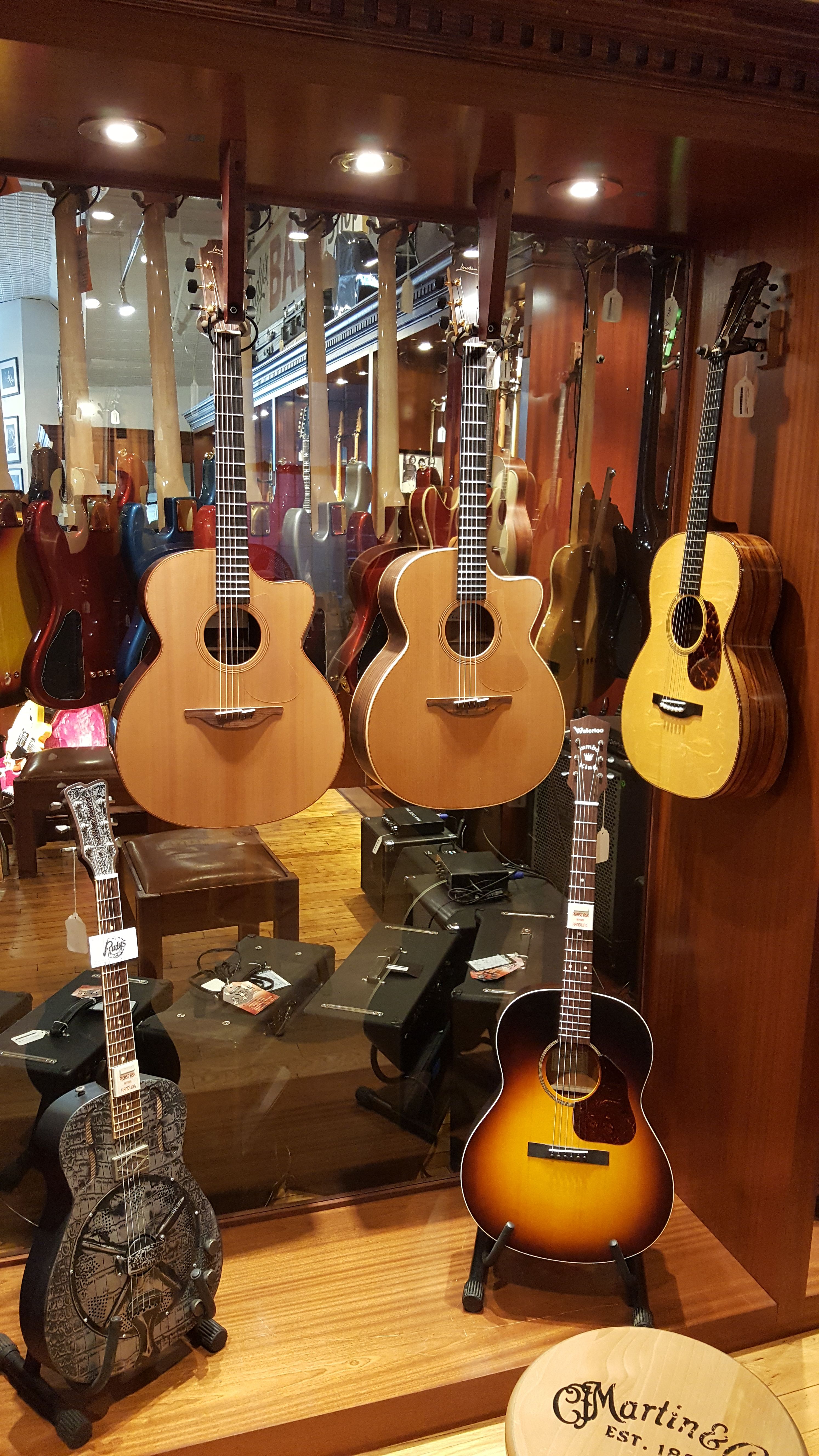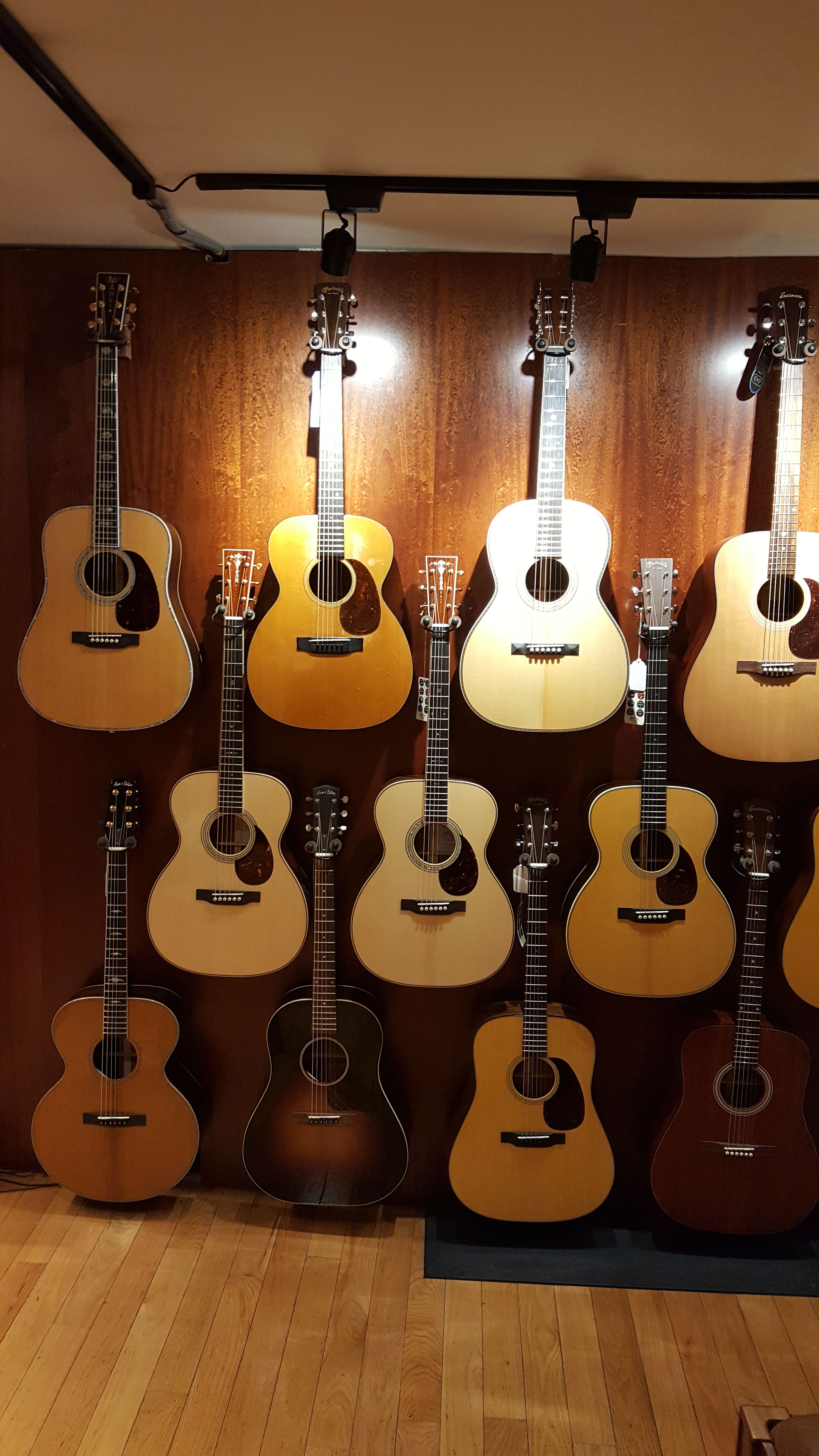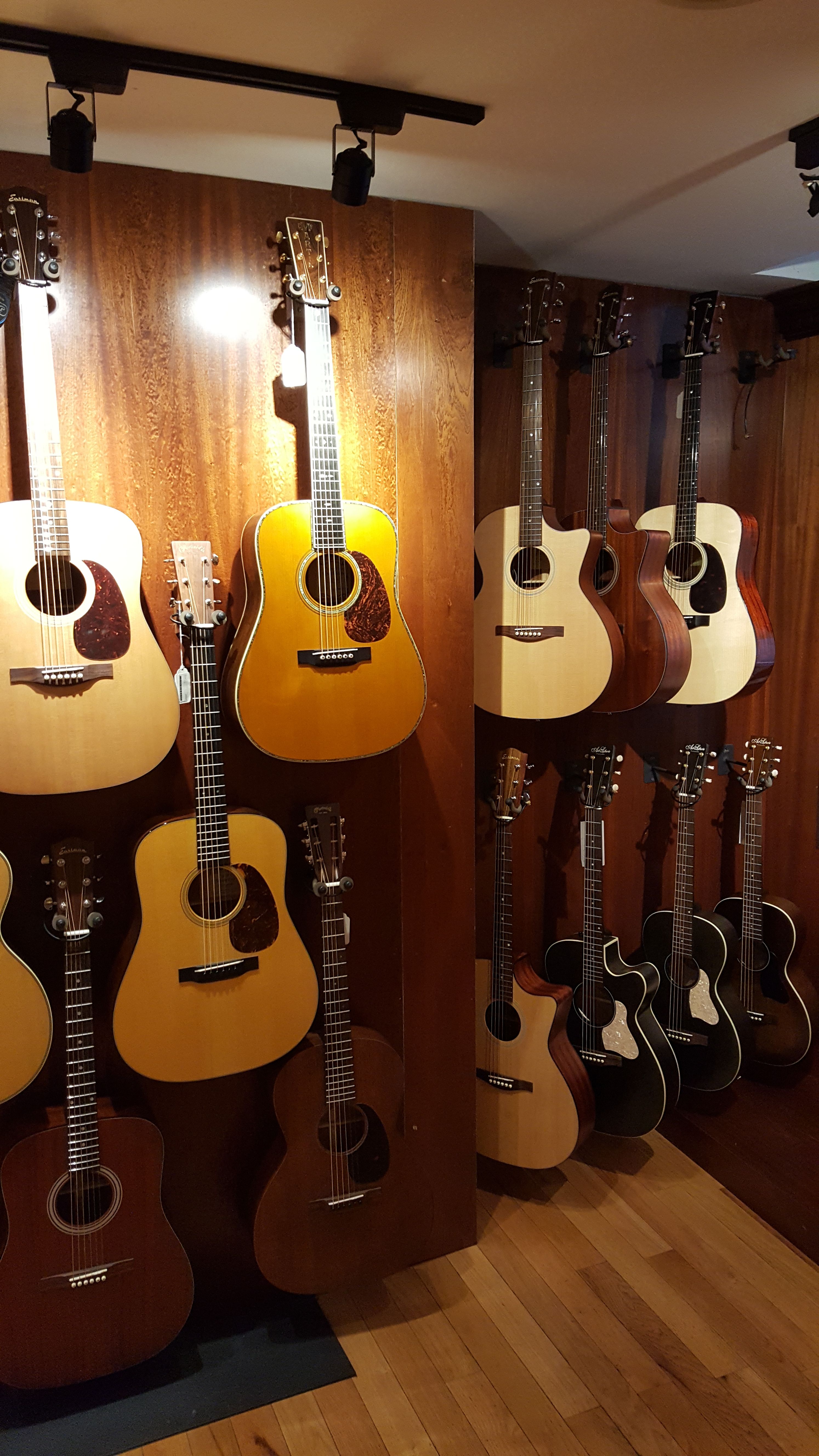 This one will only set you back $130,000.  Only a few hundred made: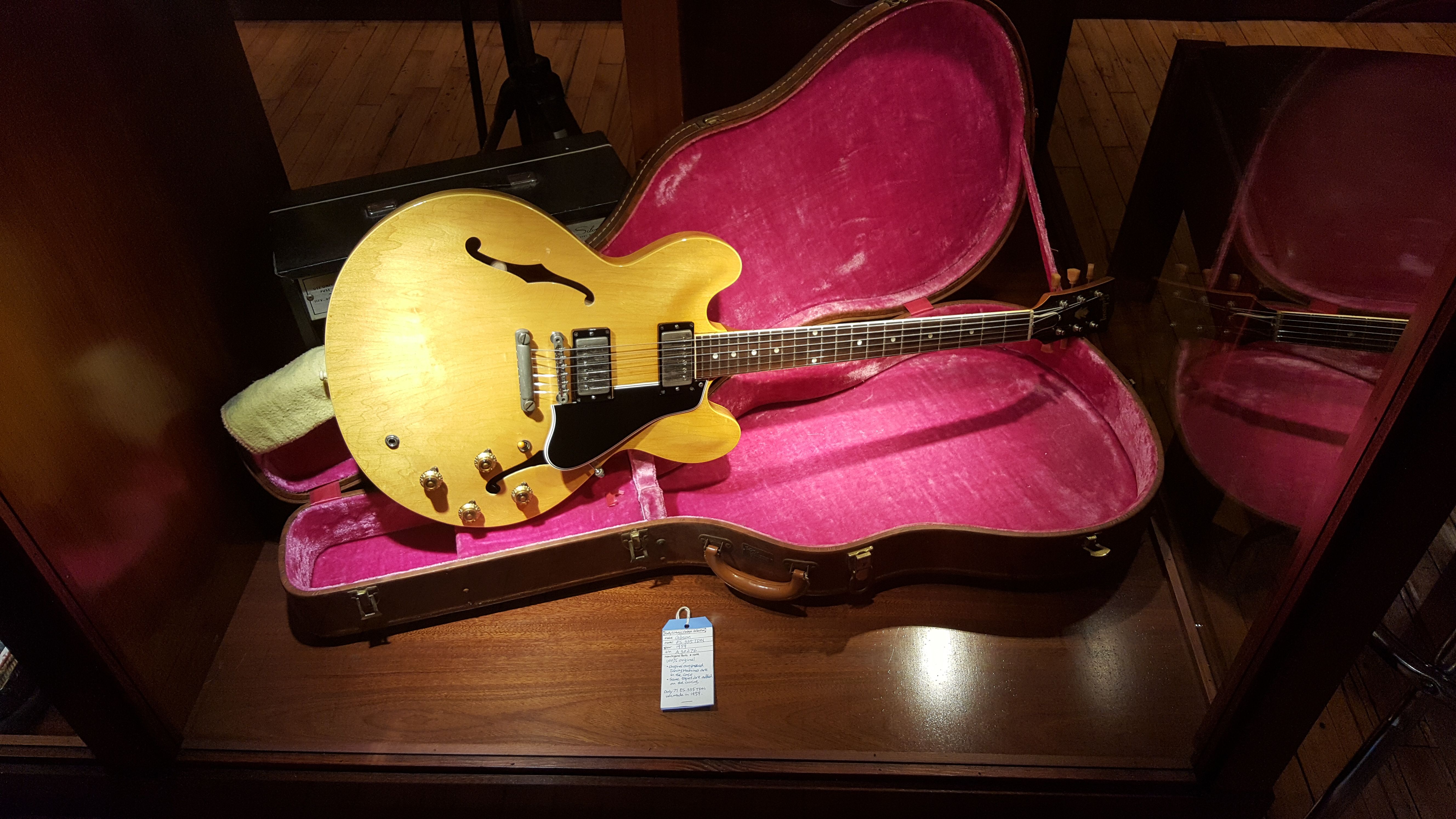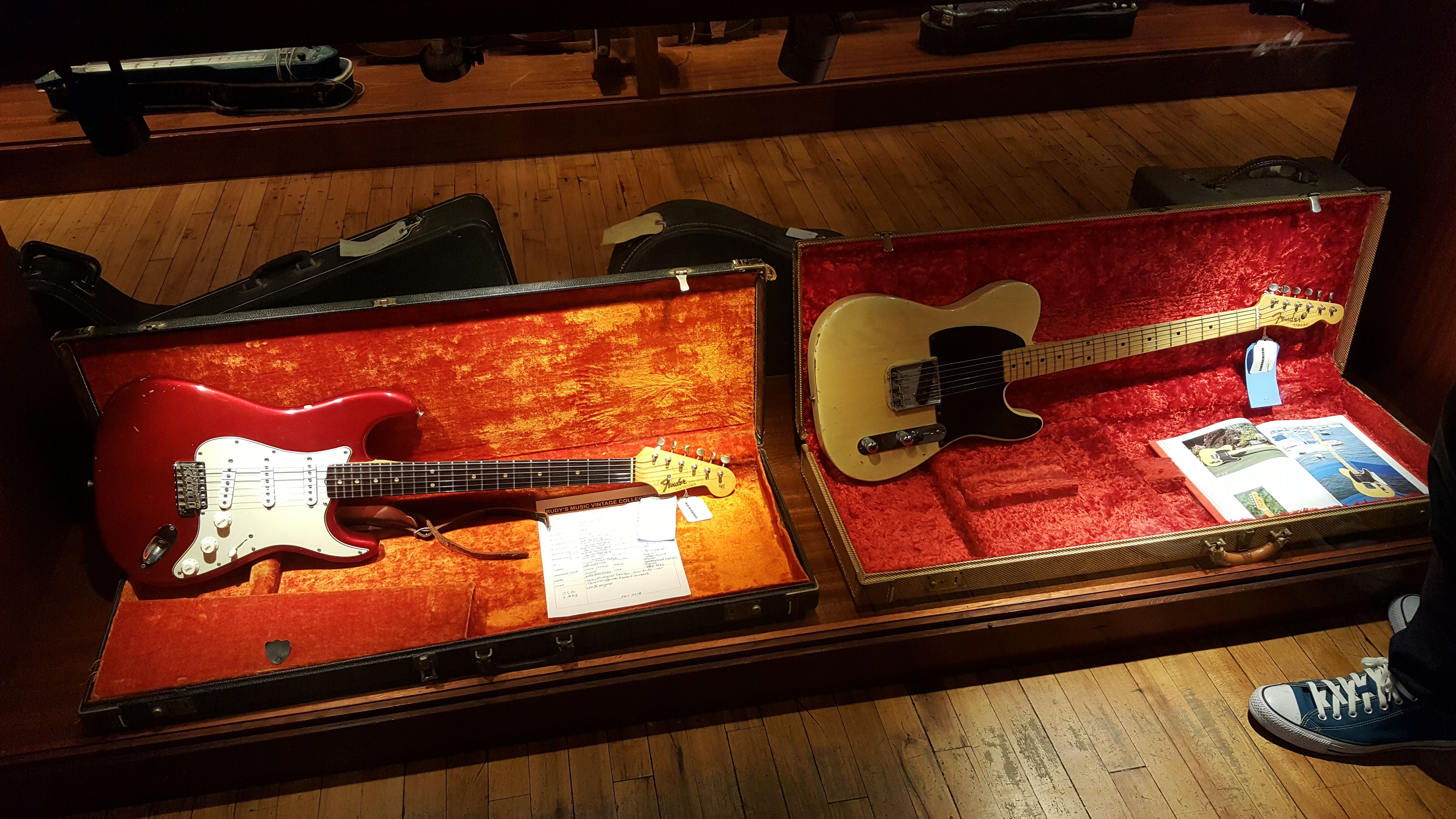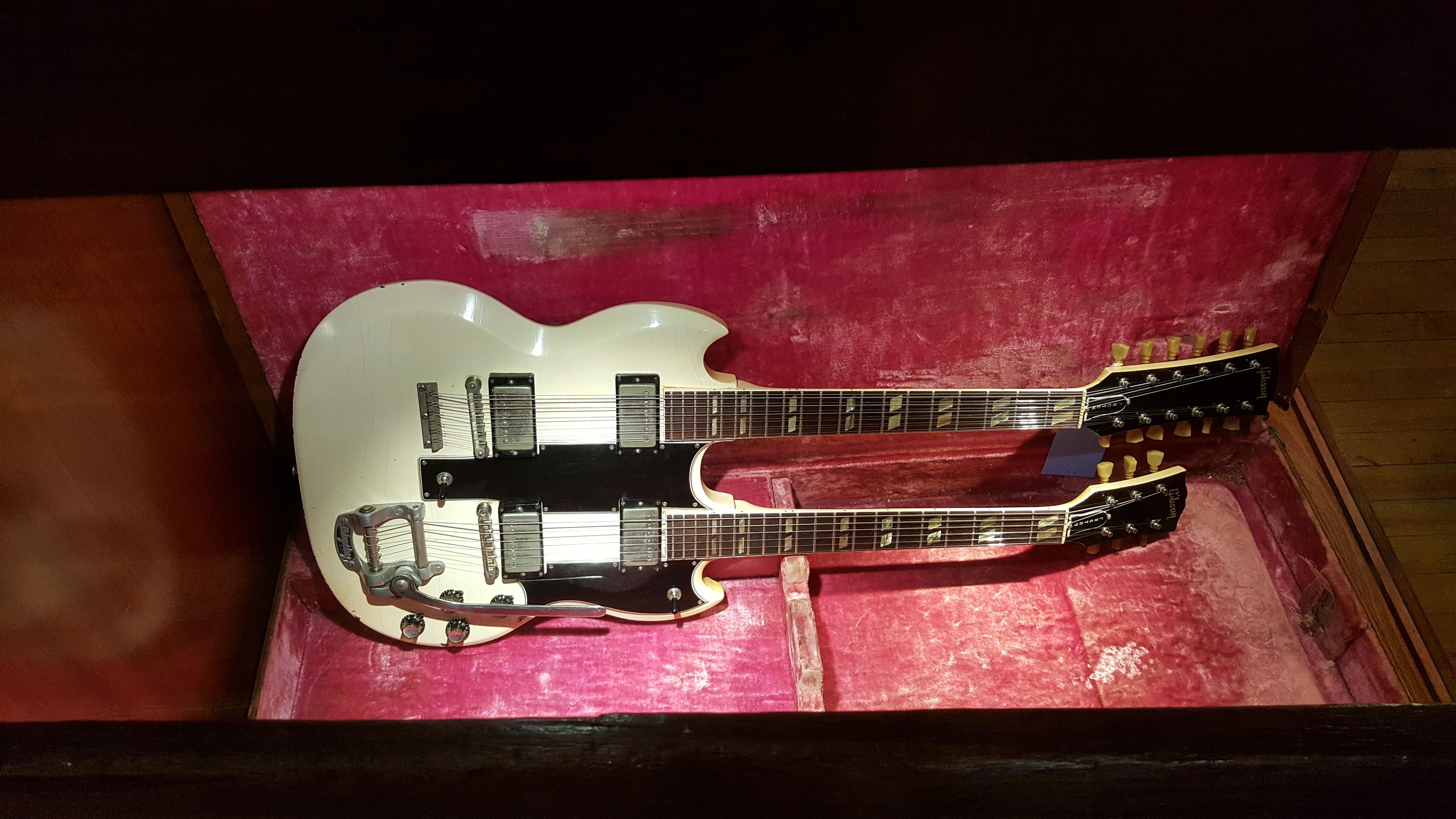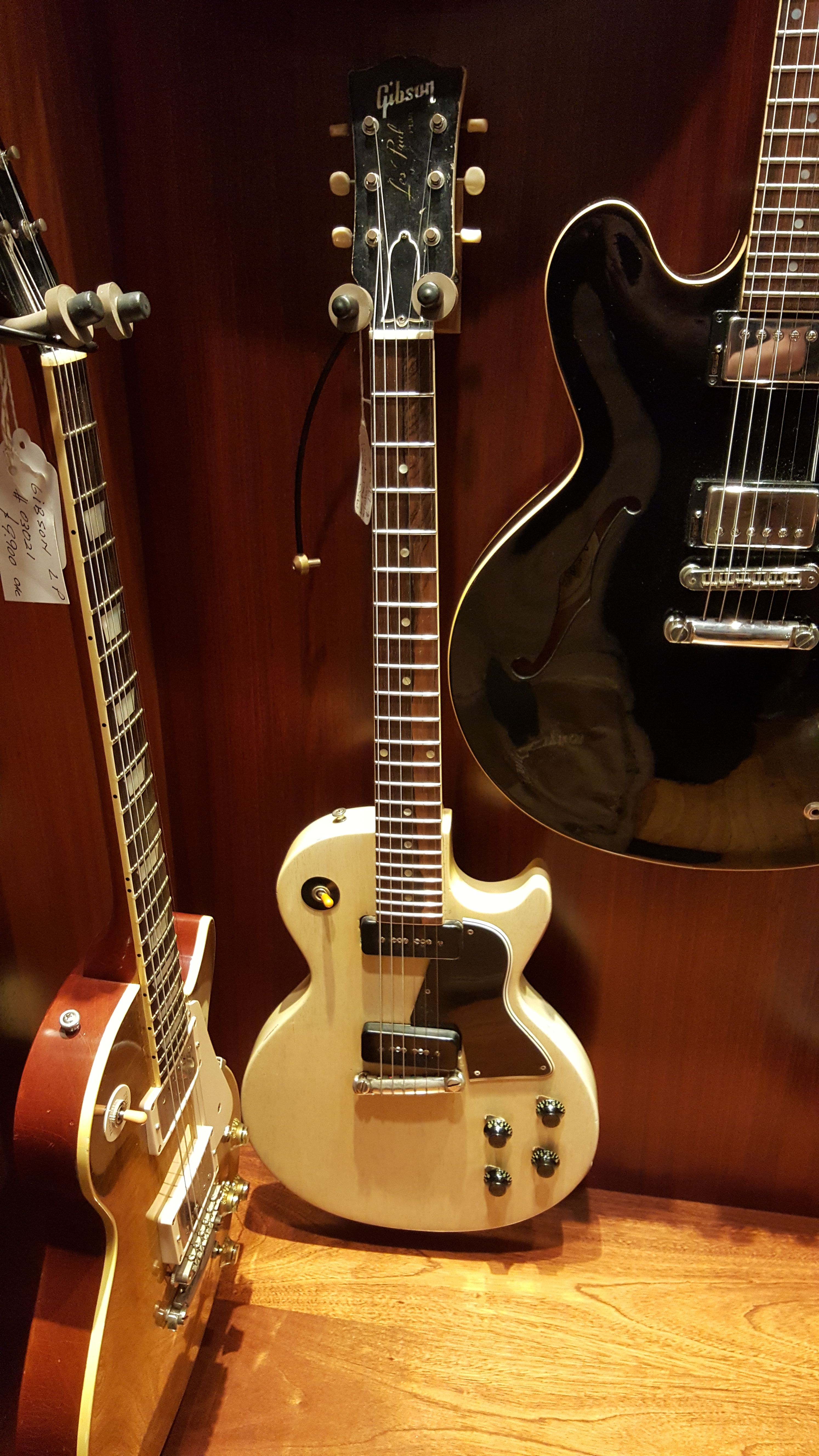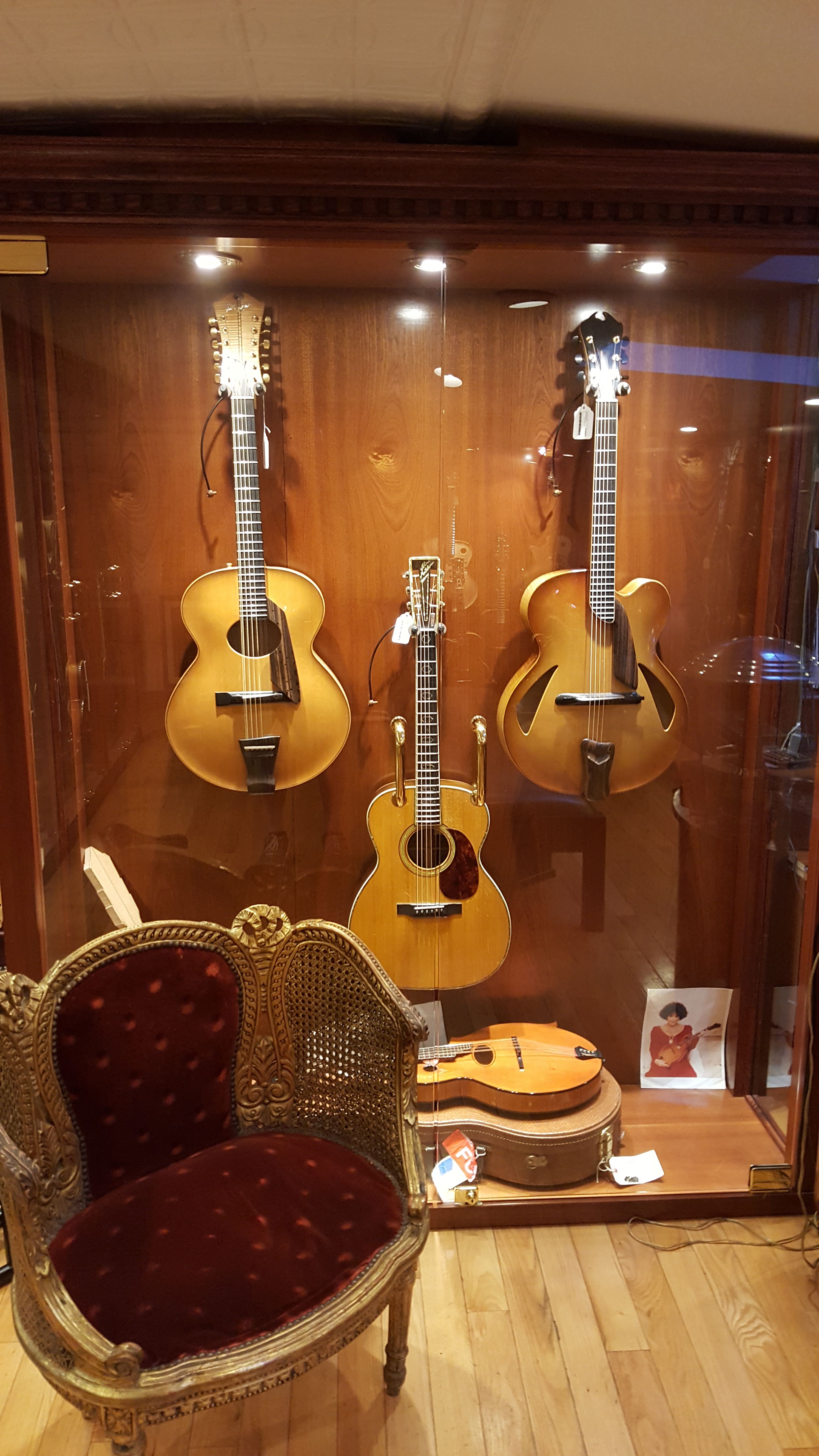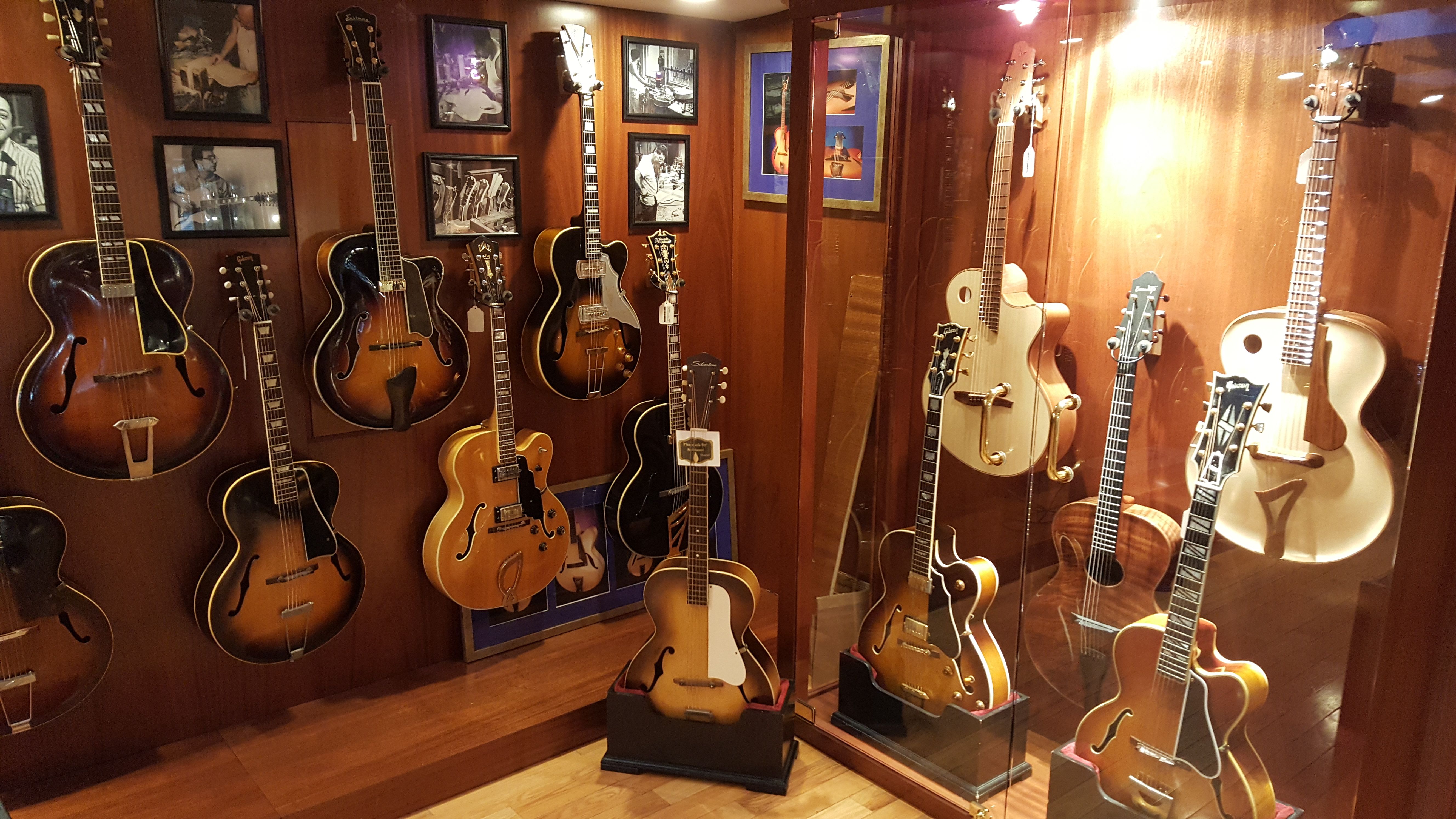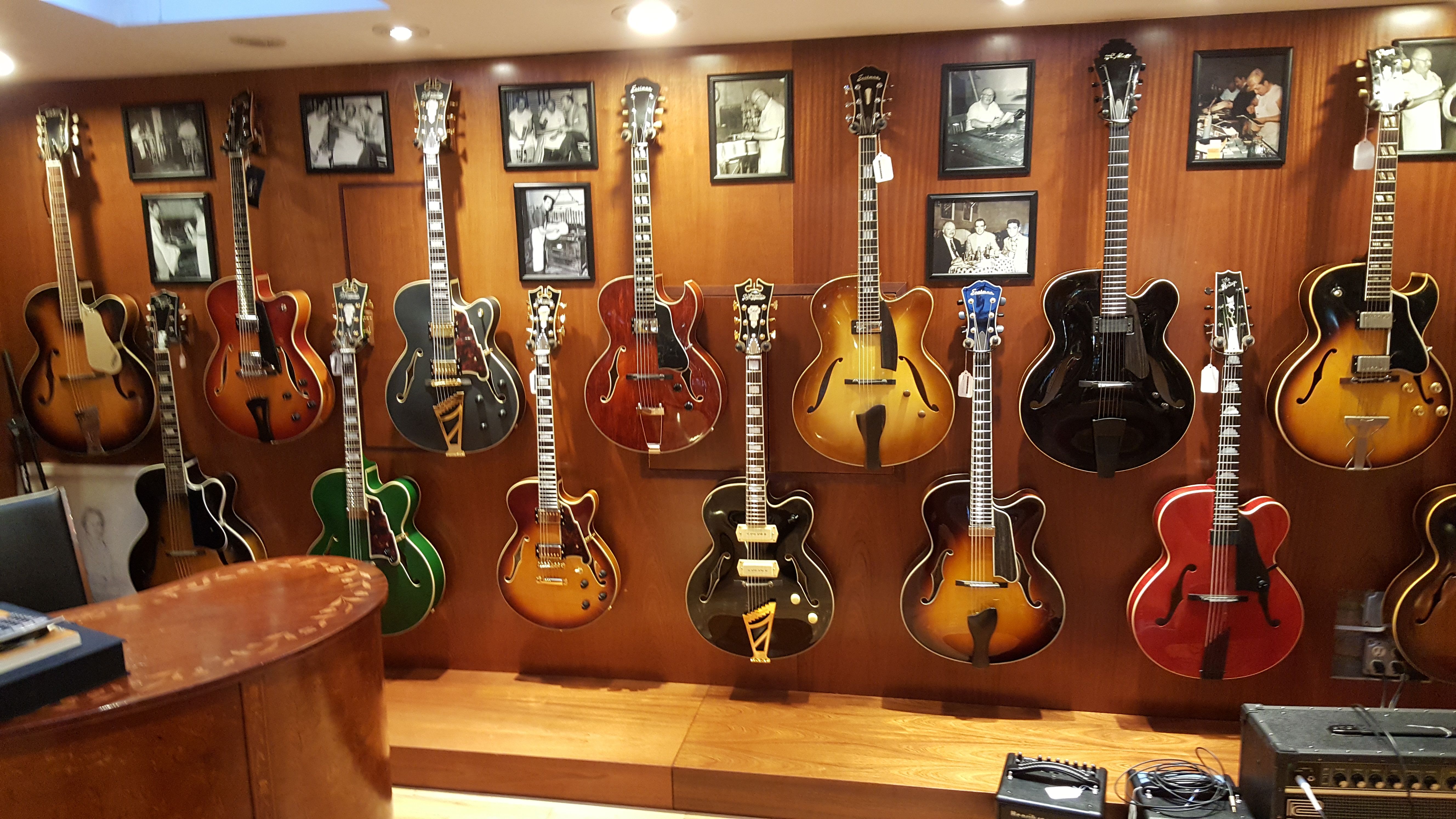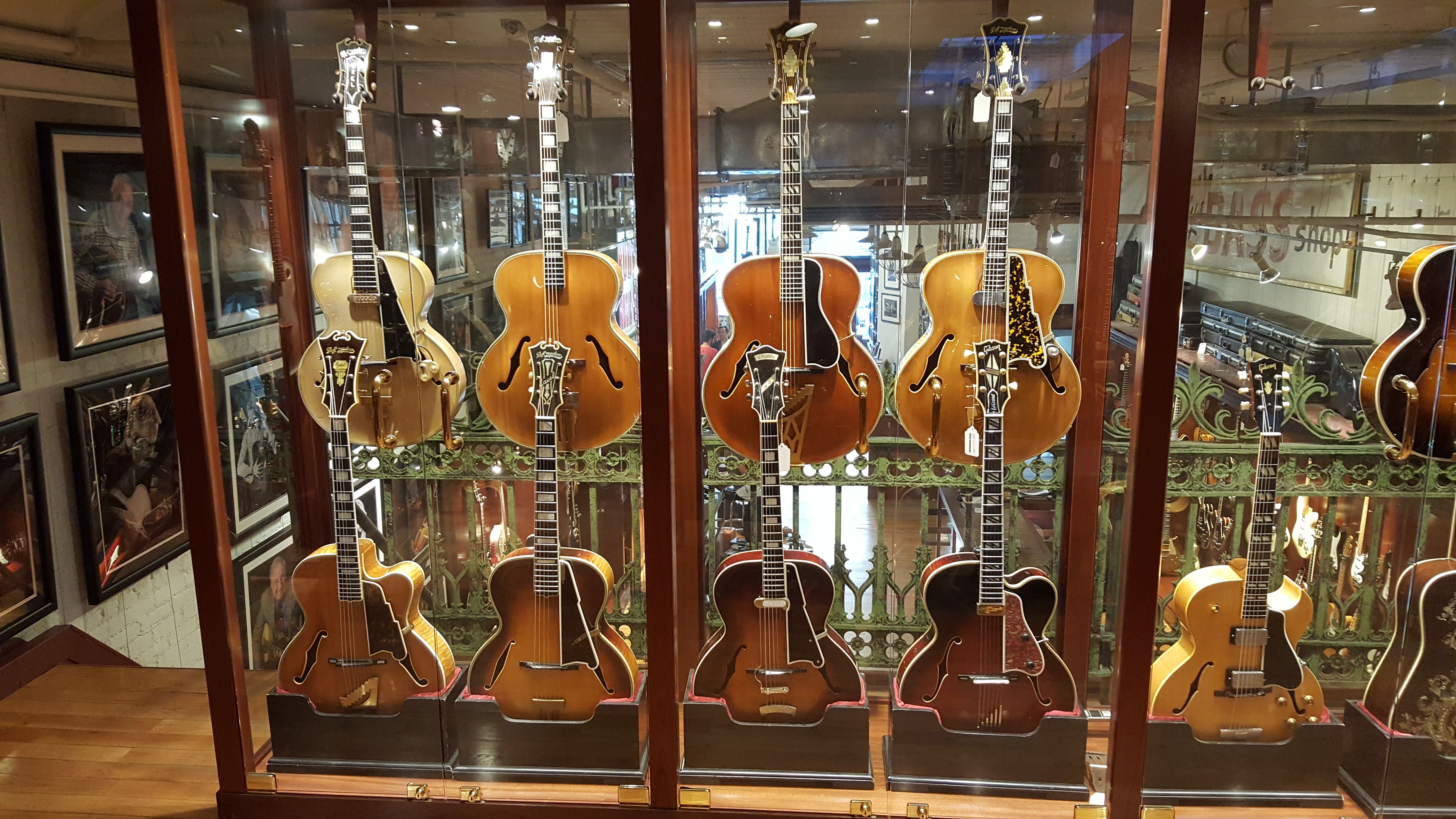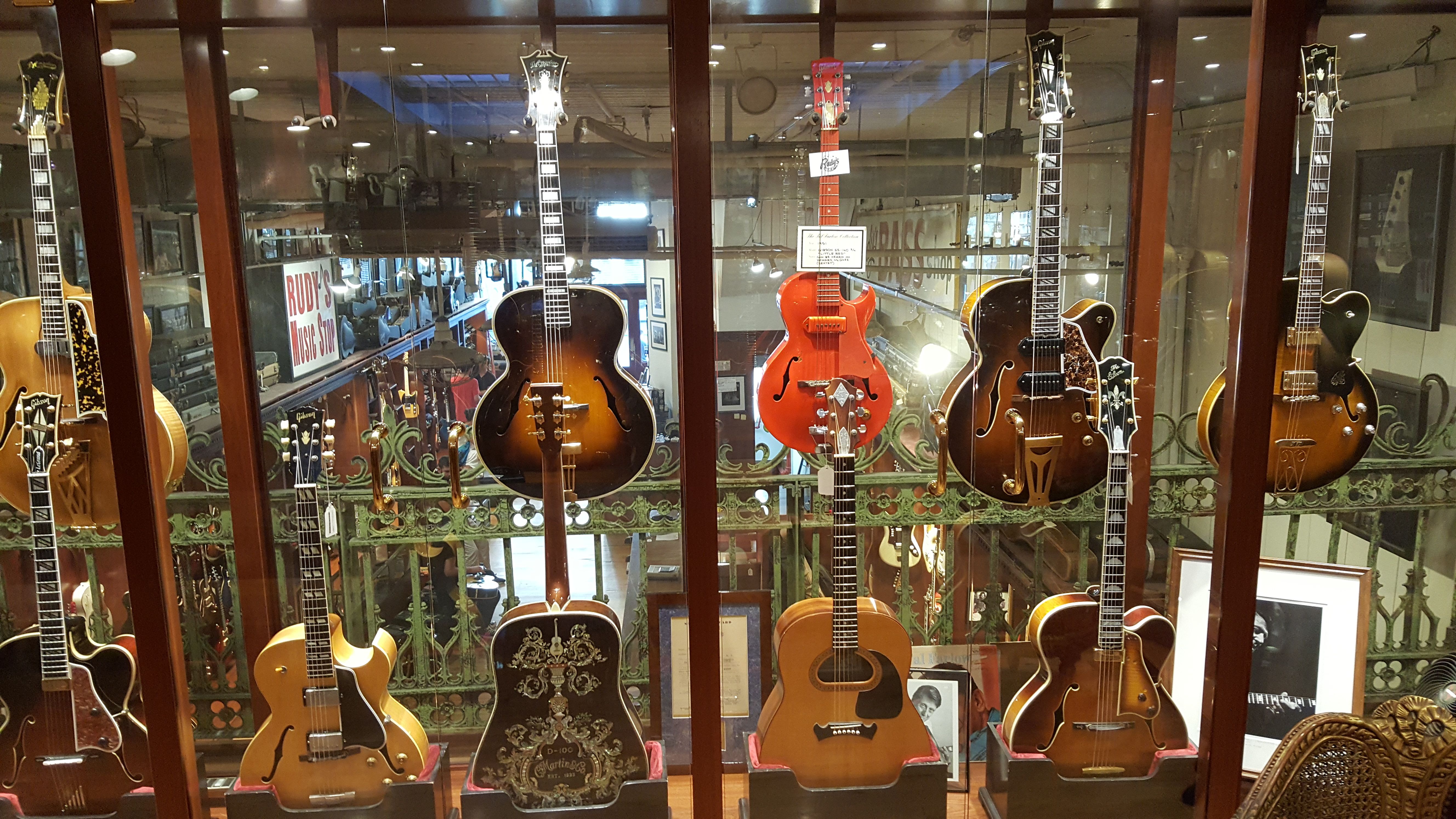 And I fell in love with this old ES-175.  Only &7500.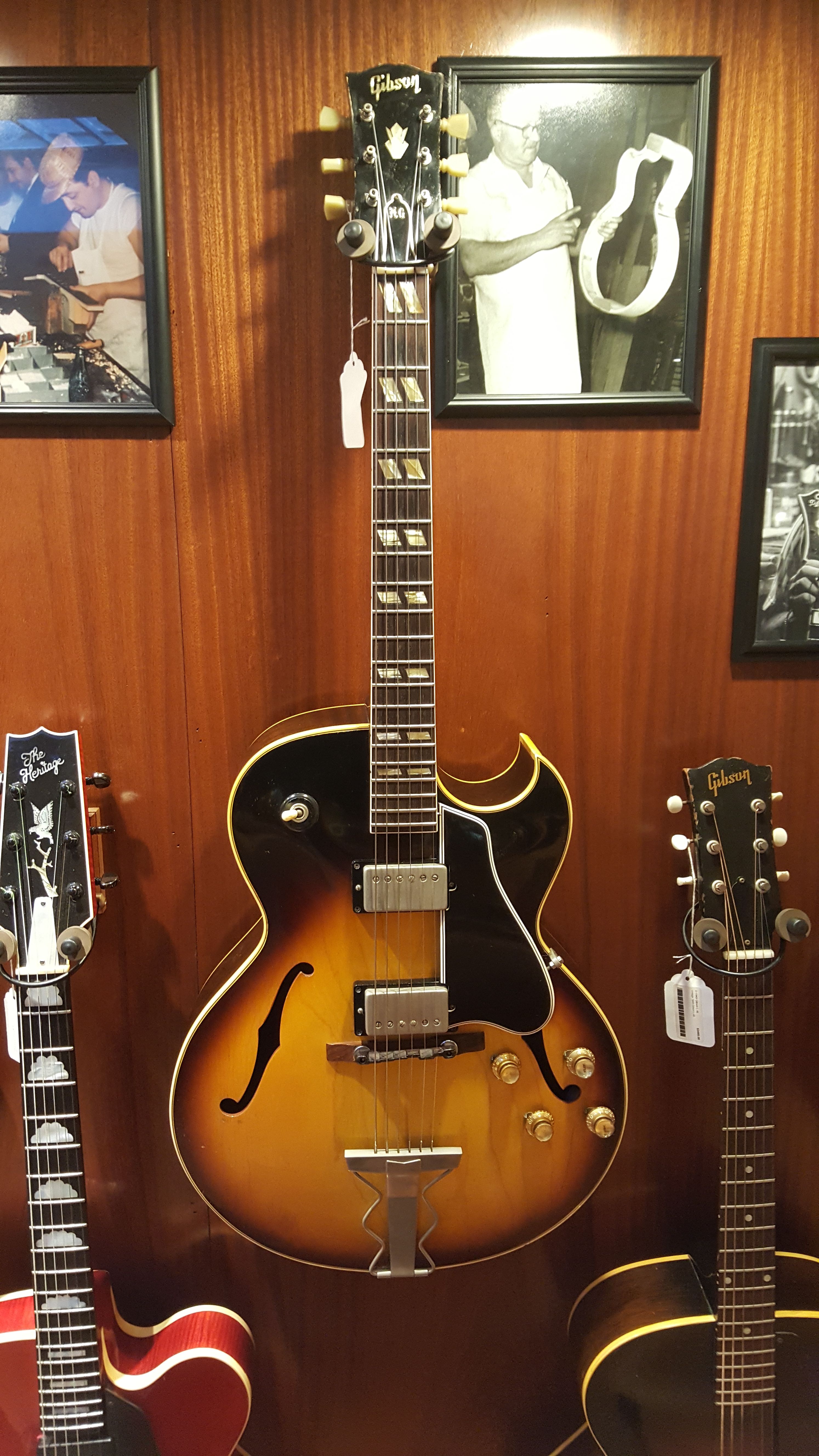 Back to food.  Chinatown and Bao time.  A lot has been made online about Golden Steamer and their Bao so we had to try it.  Nice people but maybe the most disappointing excursion of the whole trip.  Don't get me wrong, it was good just not great.  A solid value though.  We got 8 big Bao rolls for $7. and couldn't even finish them all.  The best bet is the big bun.  It has pork, hard boiled egg and vegatables and is big enough that one will do.  The Pumpkin was okay too but, as we say in NYC, "meh":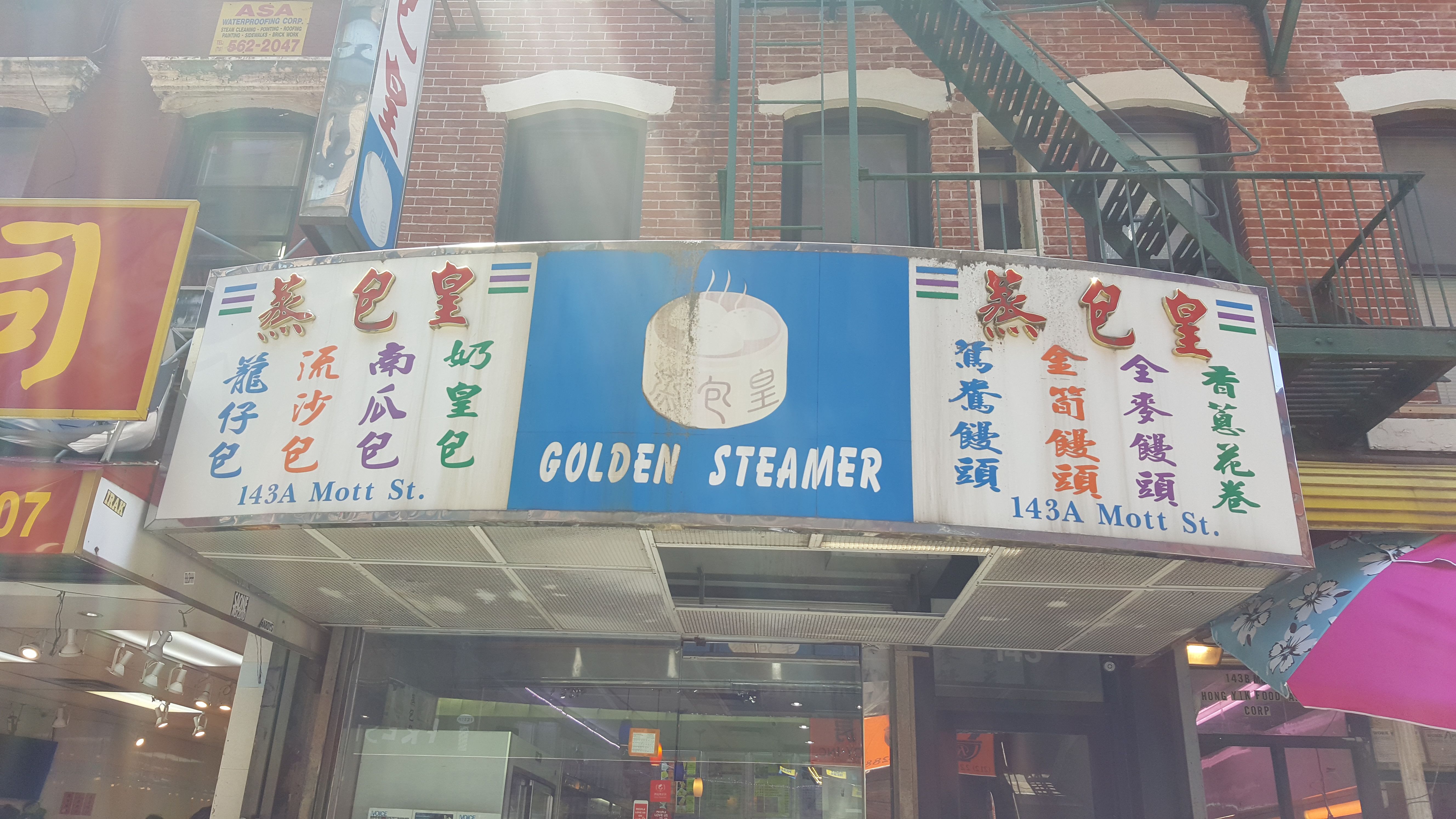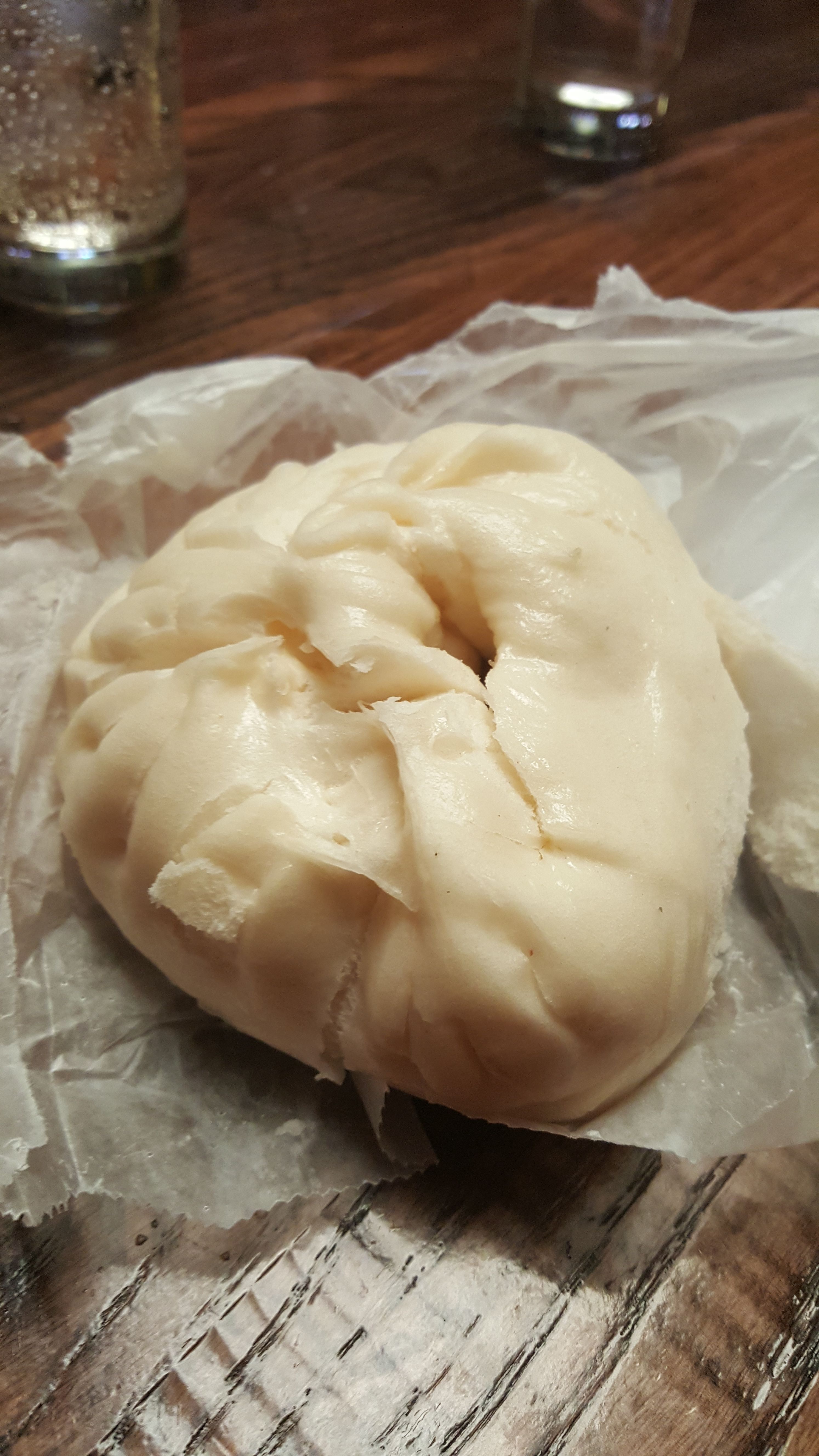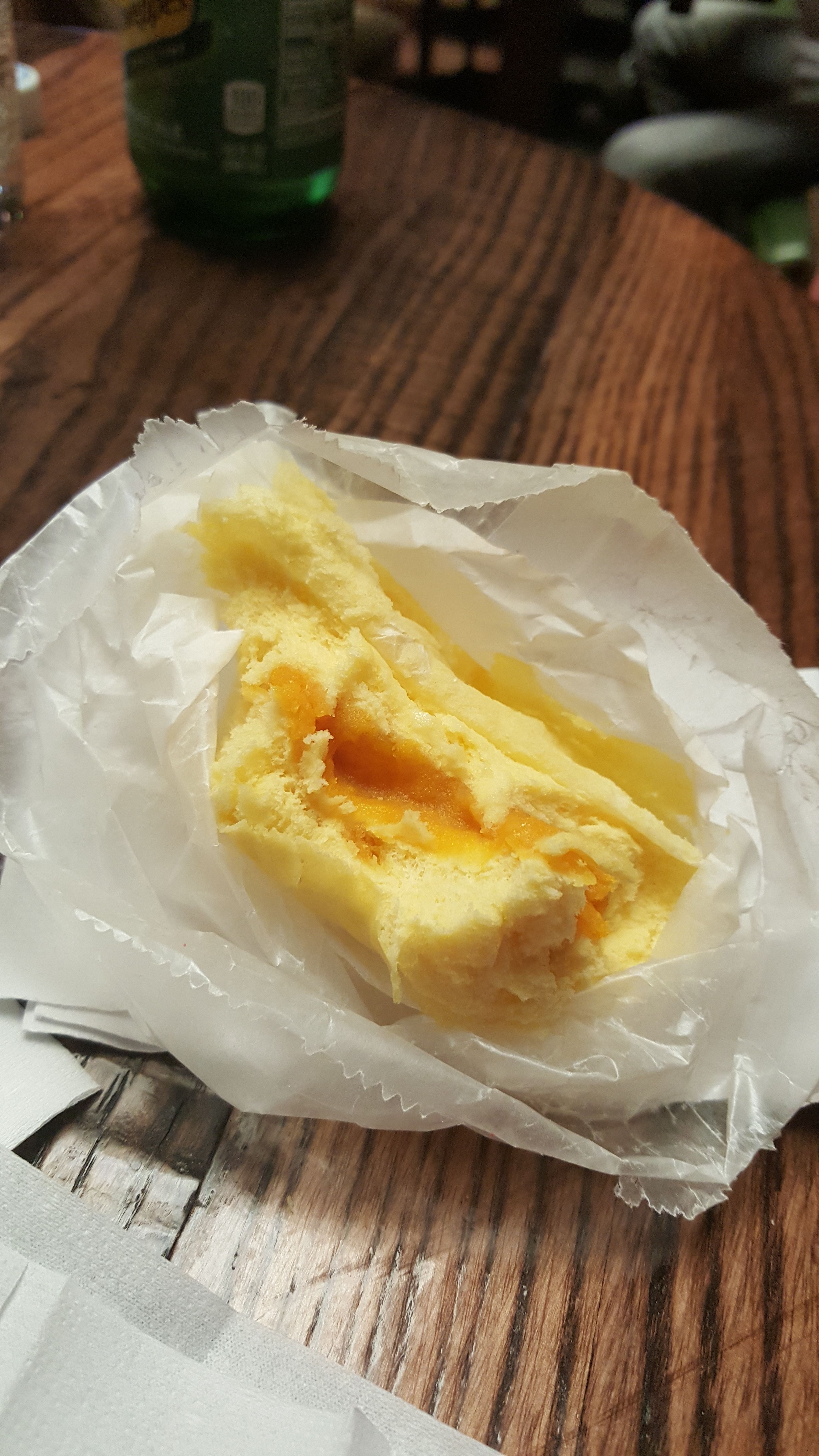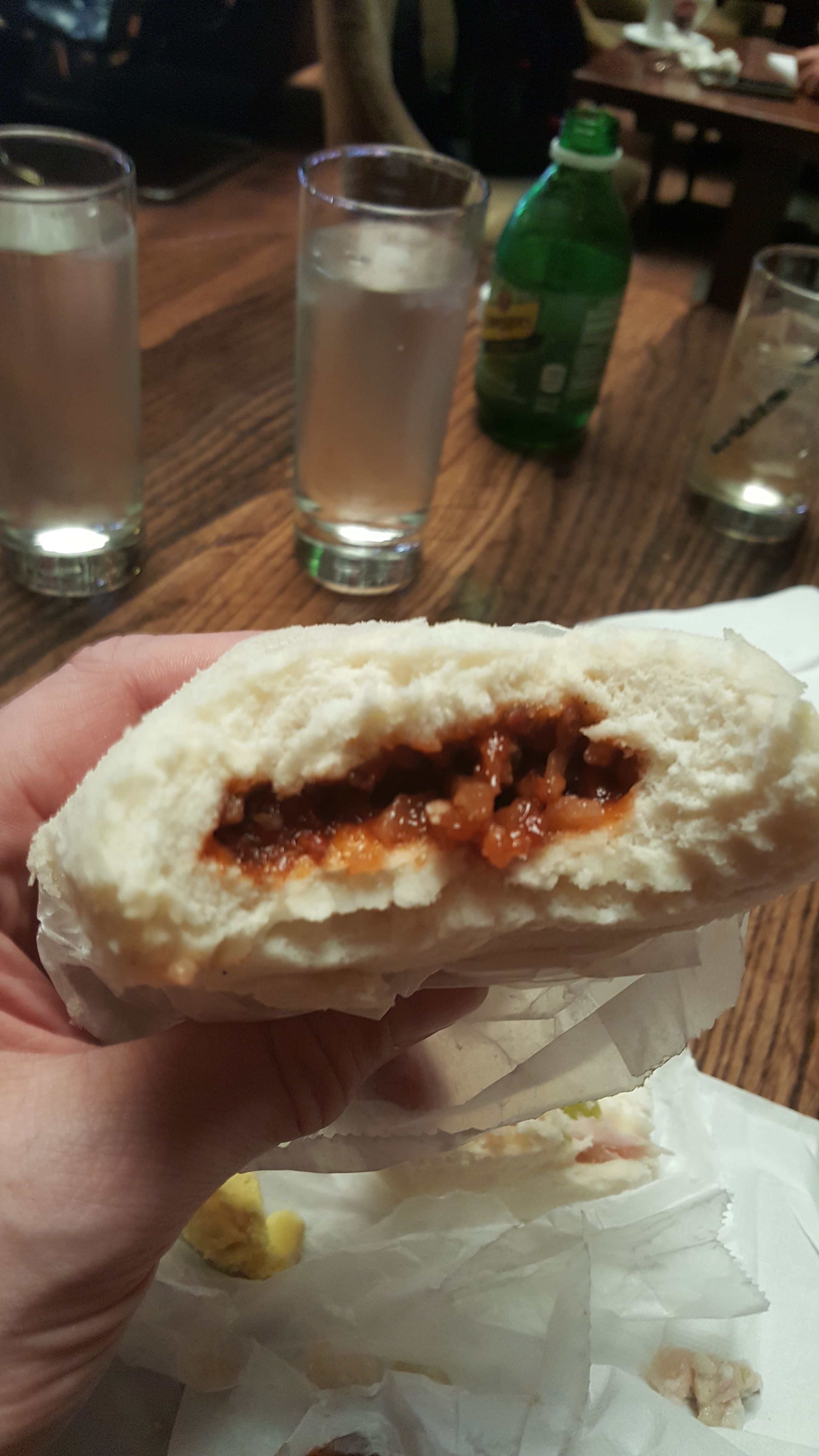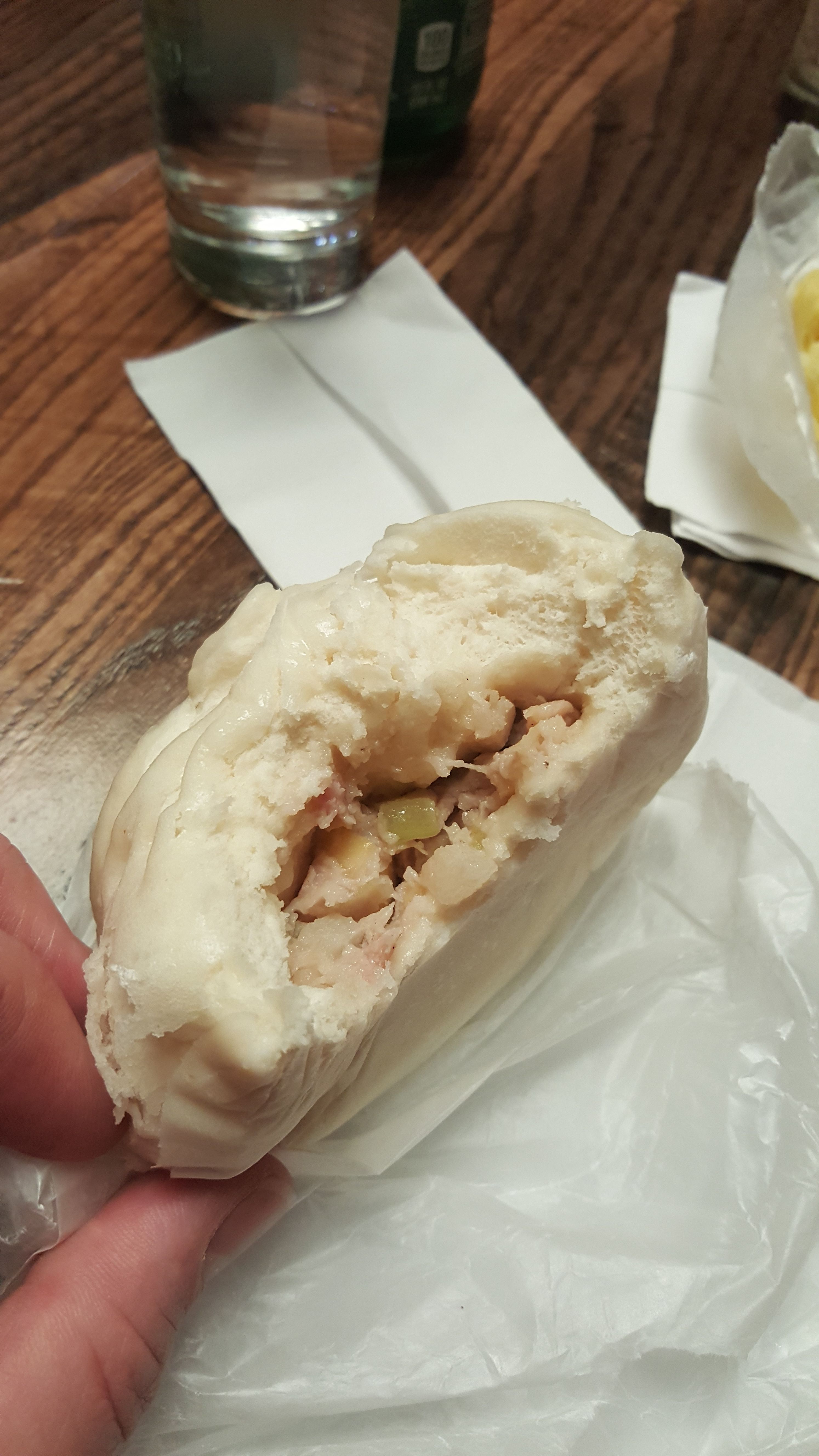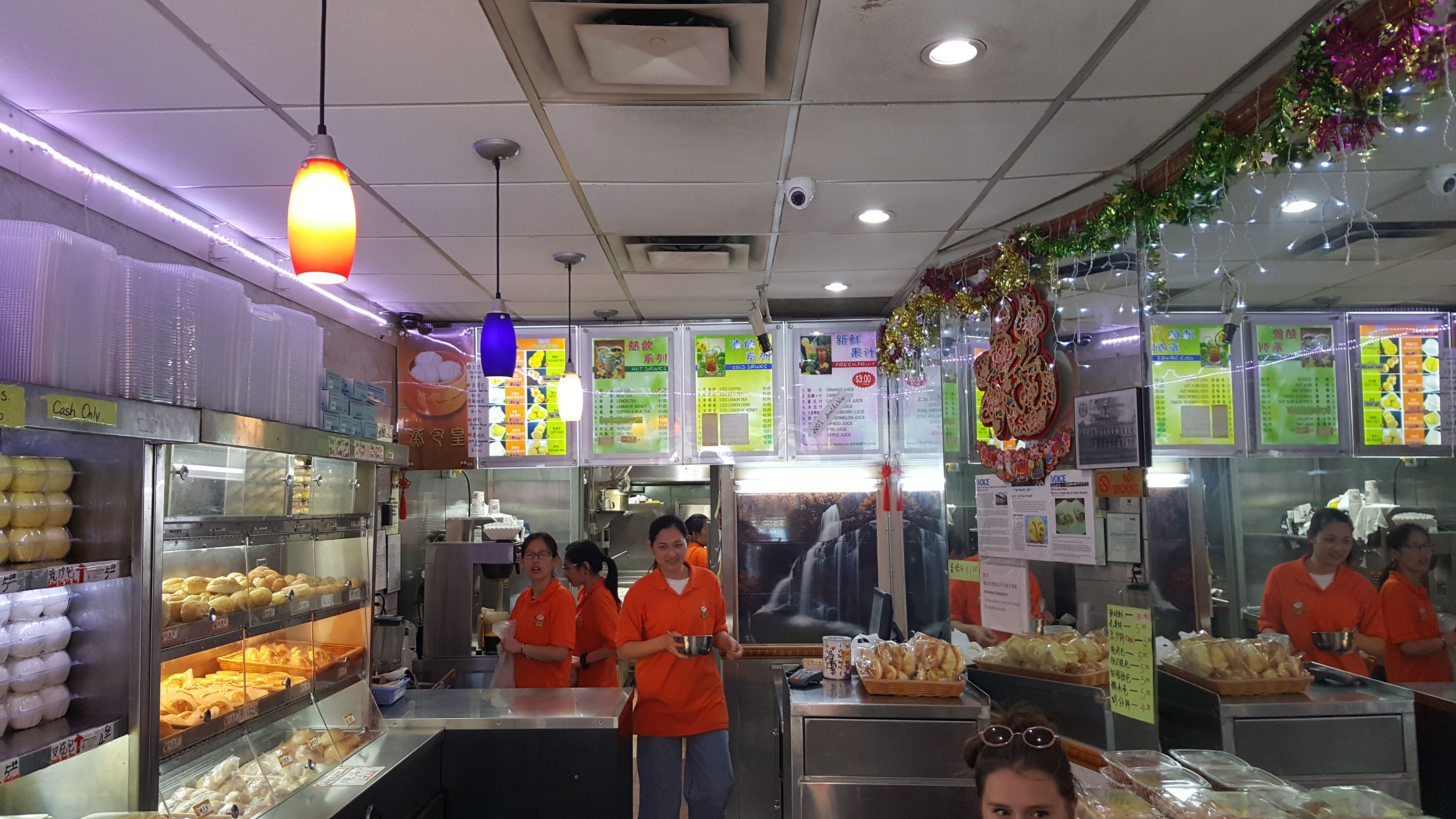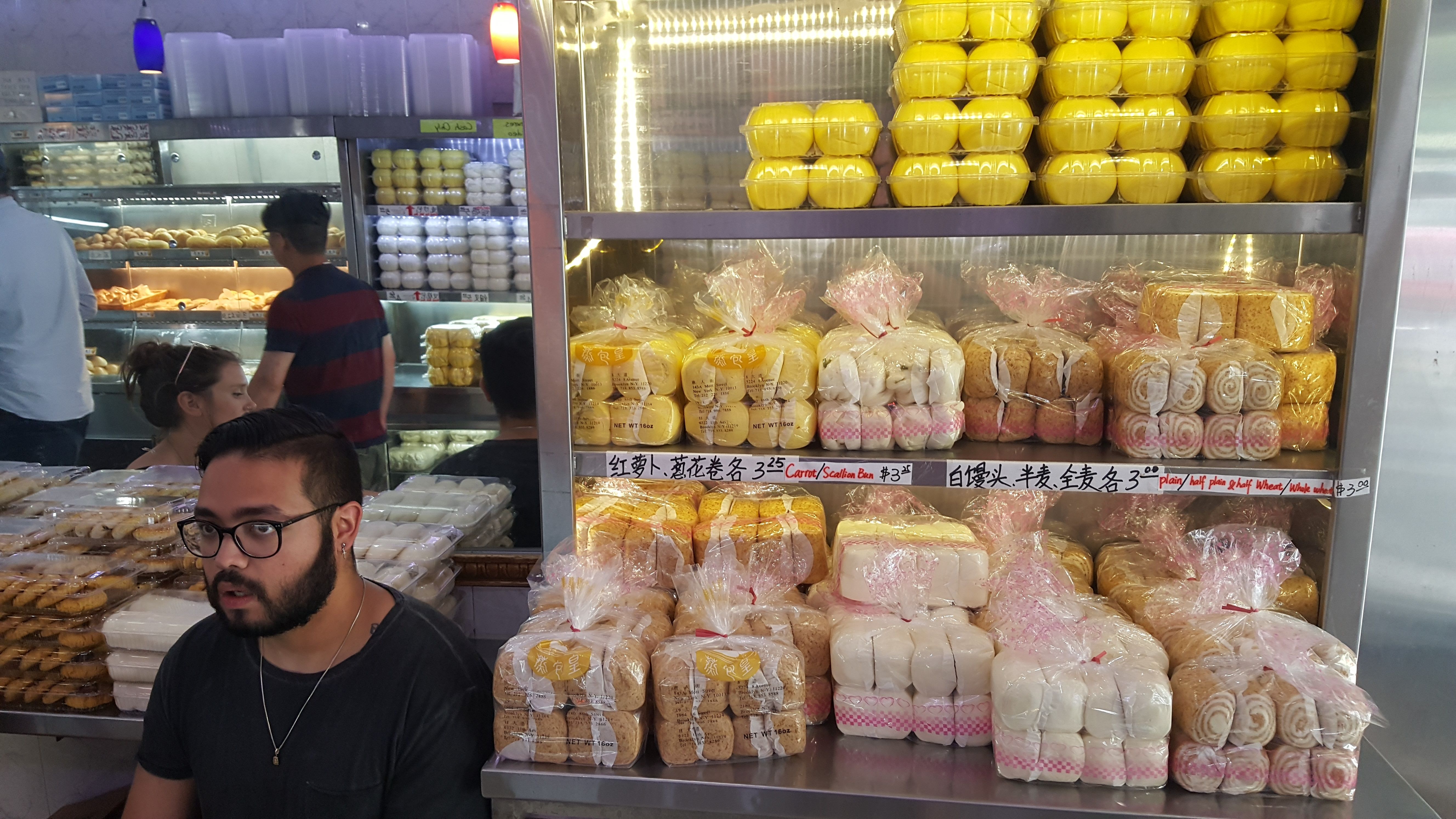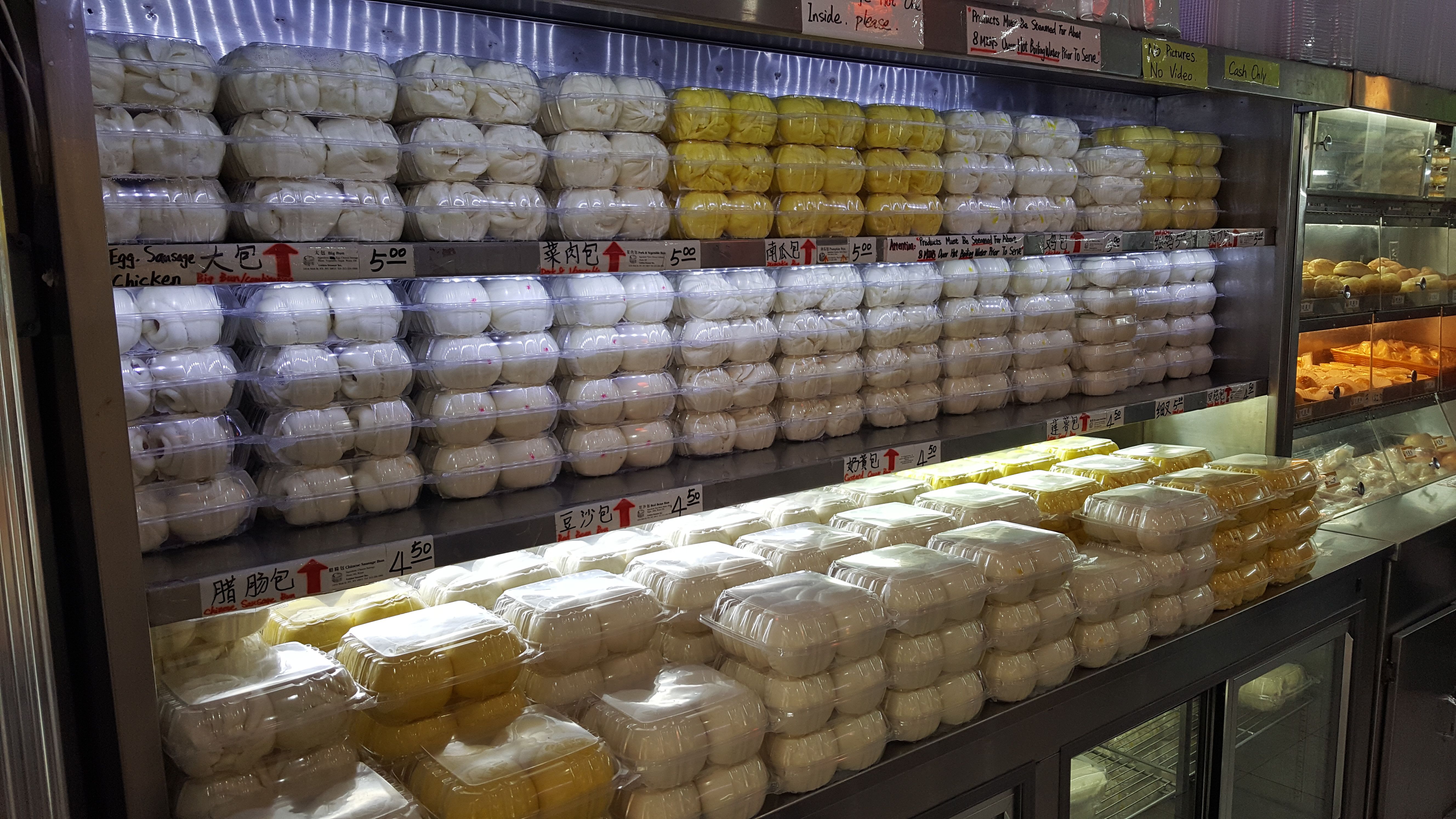 Which brings us to the second worst food experience of the trip: Gallagher's Steakhouse.  While the steaks were perfectly aged the sides are a complete waste of money ($12 to $18.!) and horrendous.  Terrible scalloped potatoes and just okay creamed spinach.  The Caesar lacked everything including great Romaine.  My date's steak was slightly overcooked though mine was a perfect medium-well and extremely juicy and tender which isn't easy to do so kudos on that.  The wines were also terrible.  They brought two different glasses and both stunk.  The waiter was very nice but made a few recommendations that didn't sit well.  For close to $300. for two people avoid at all costs.  Better try Keen's or the Old Homestead instead.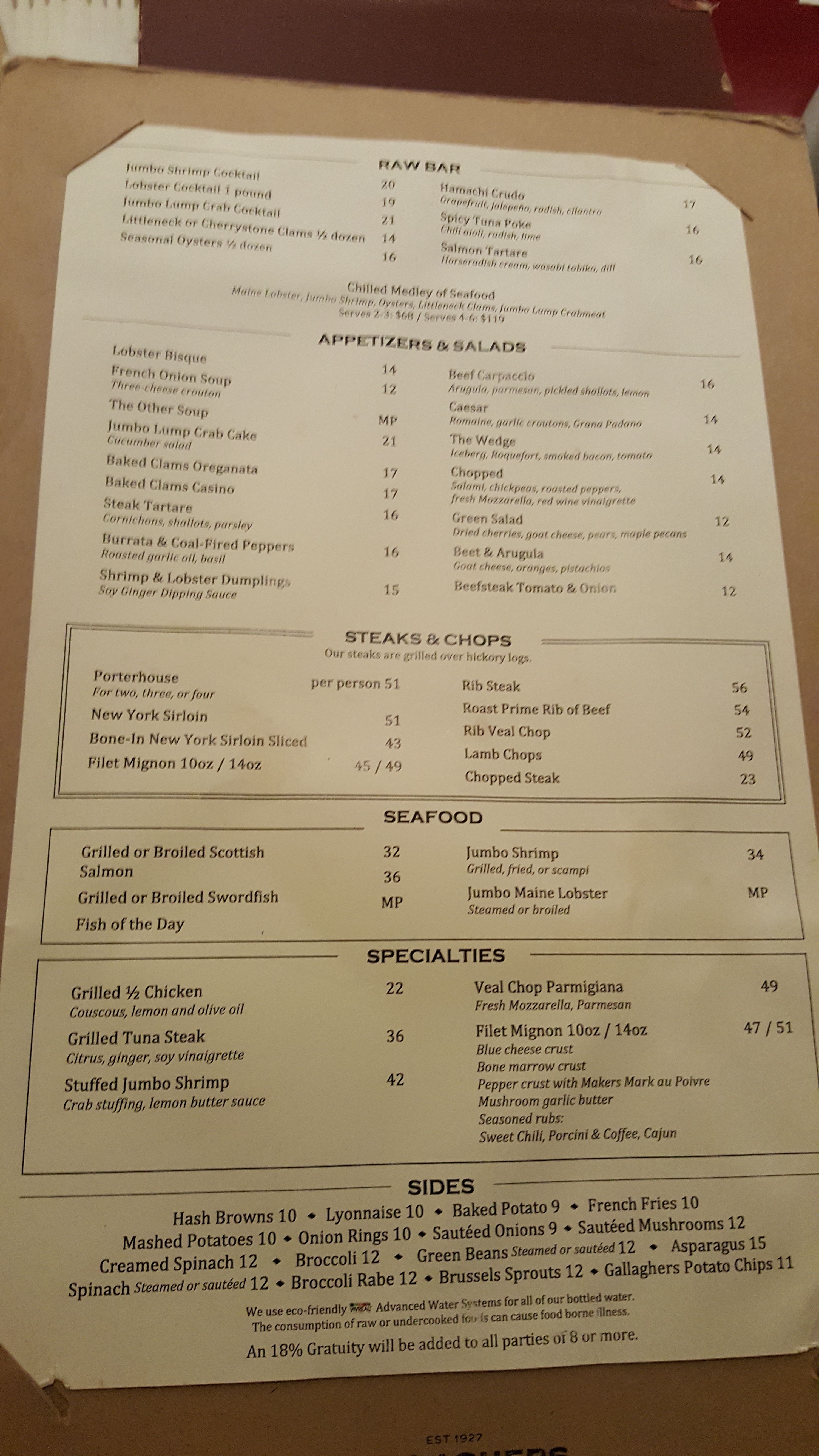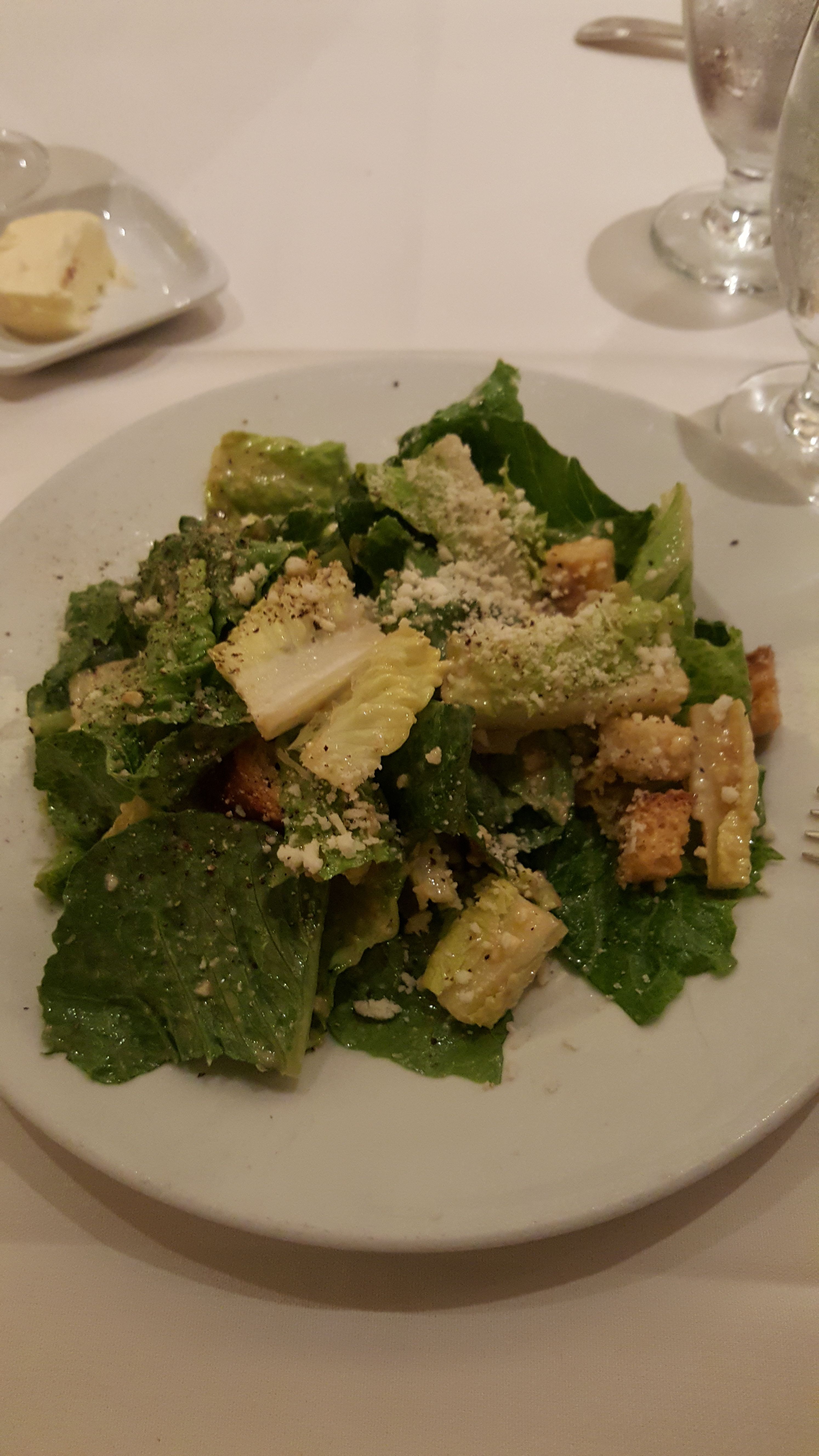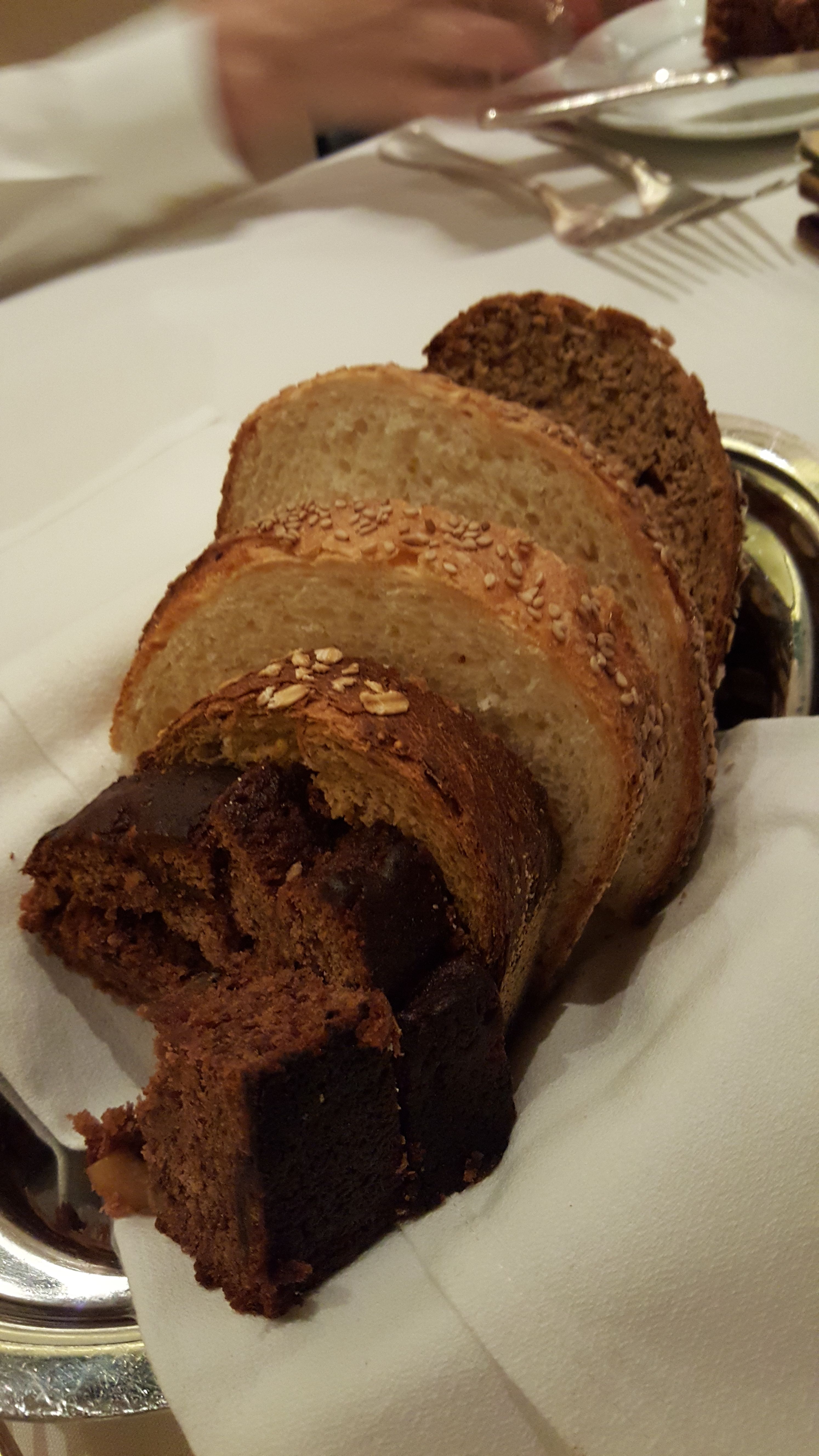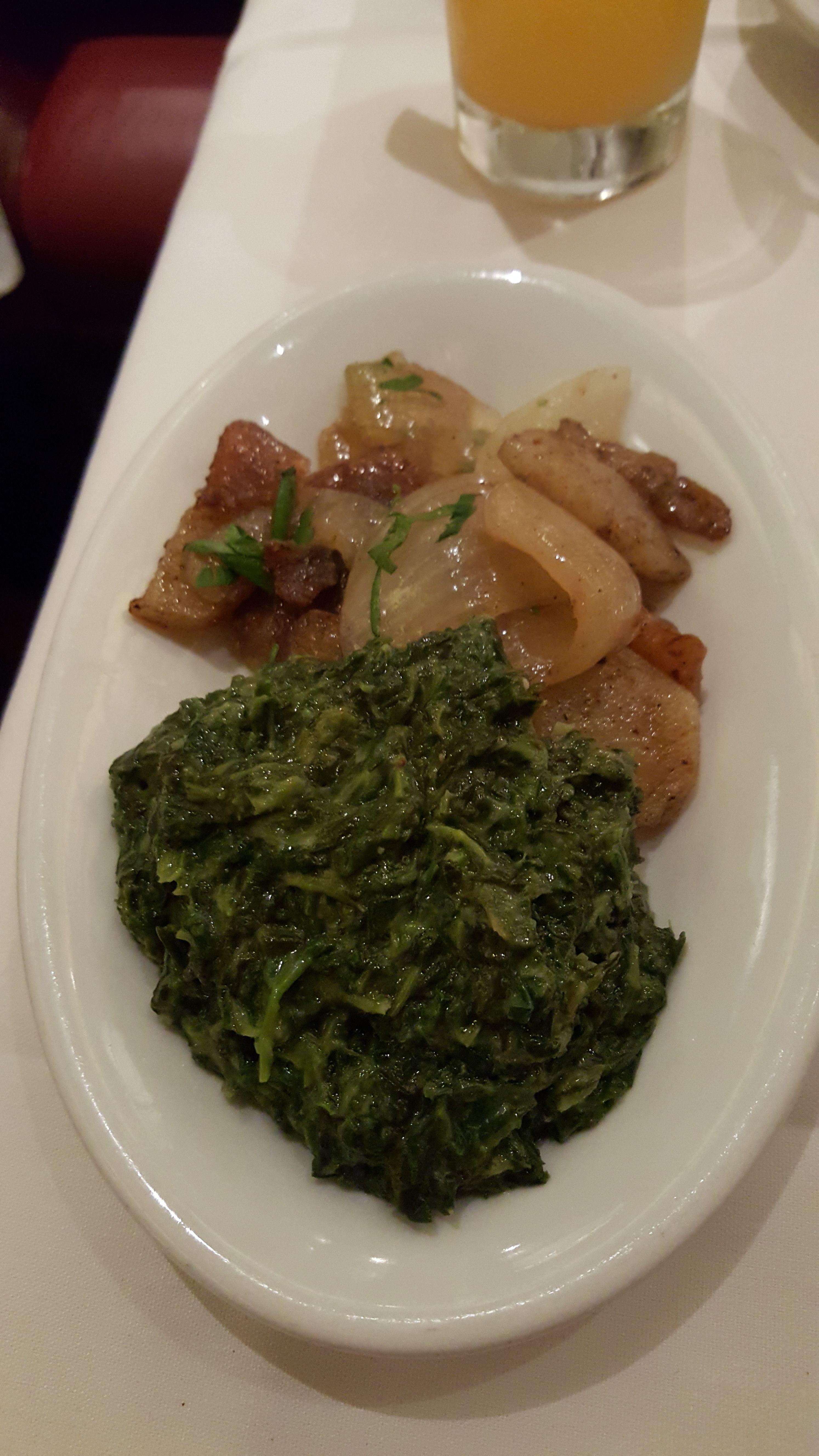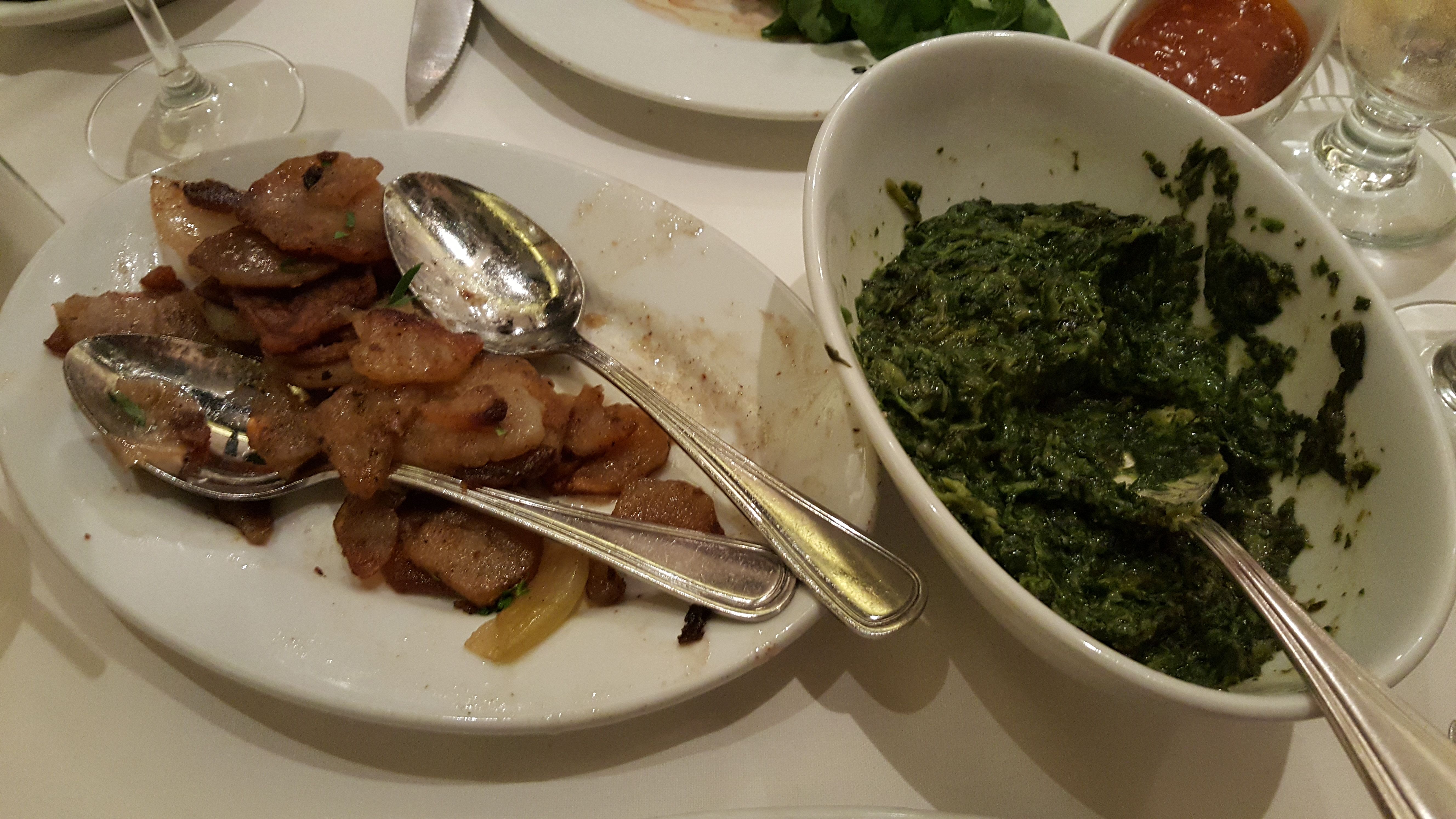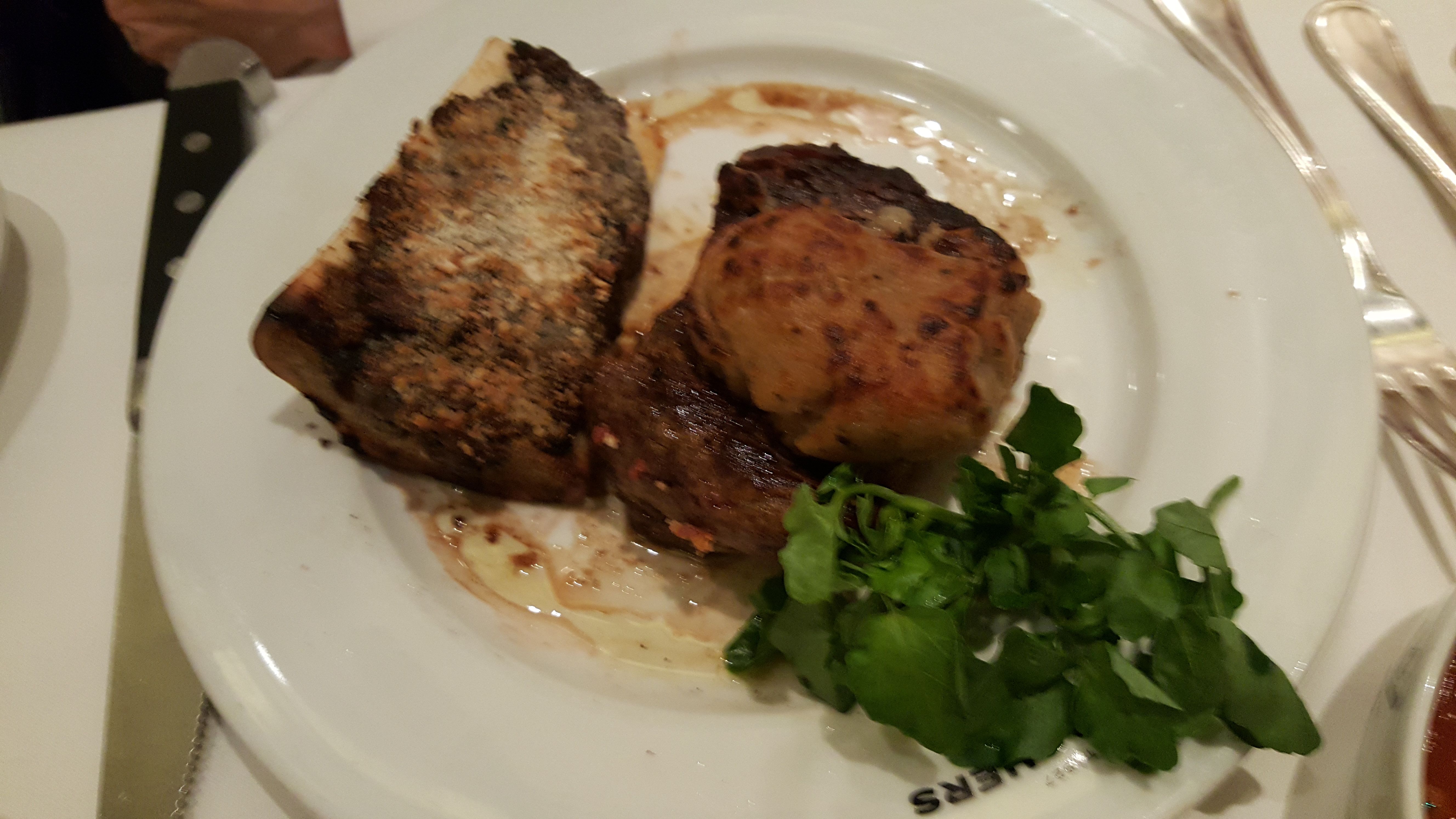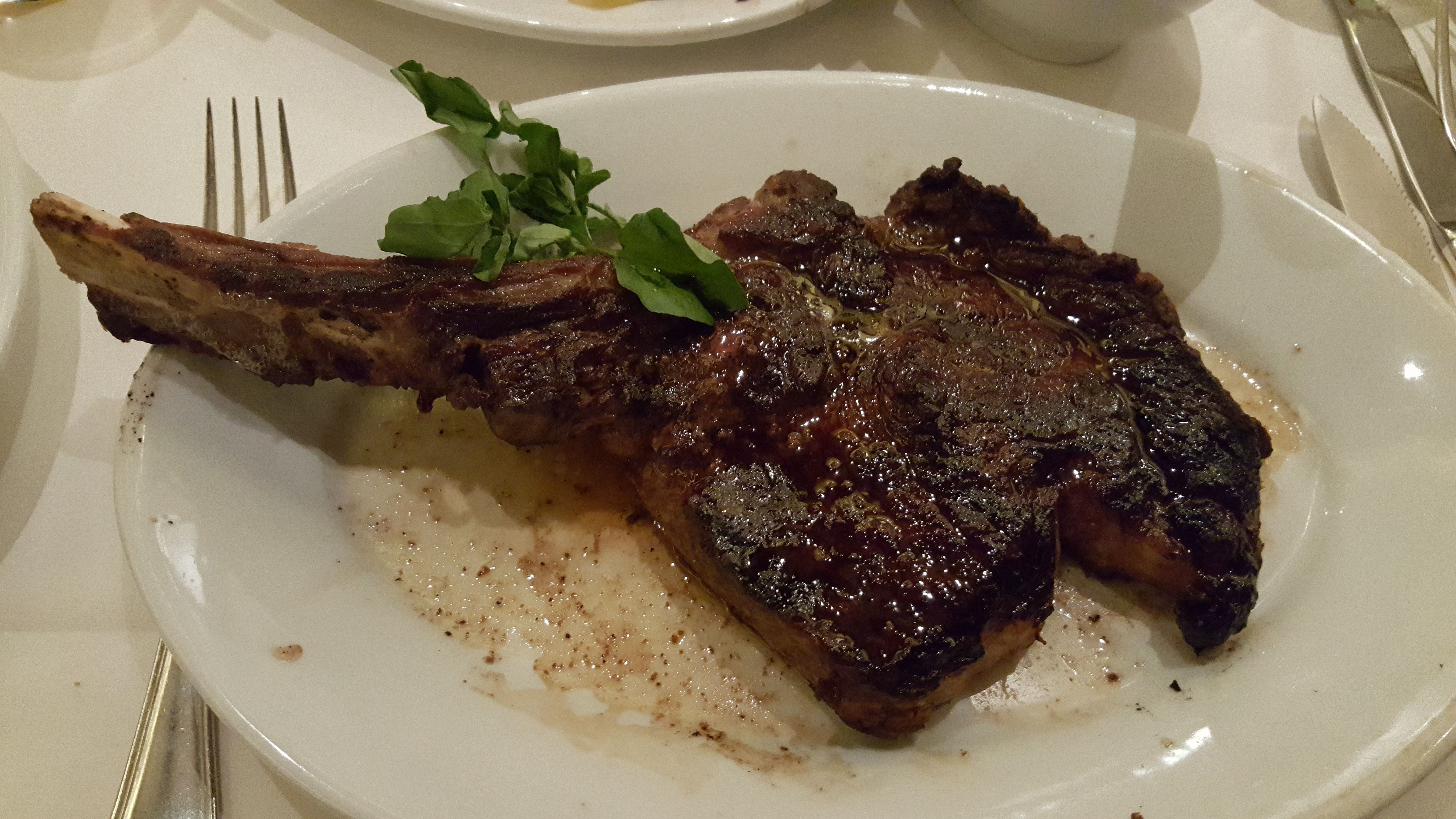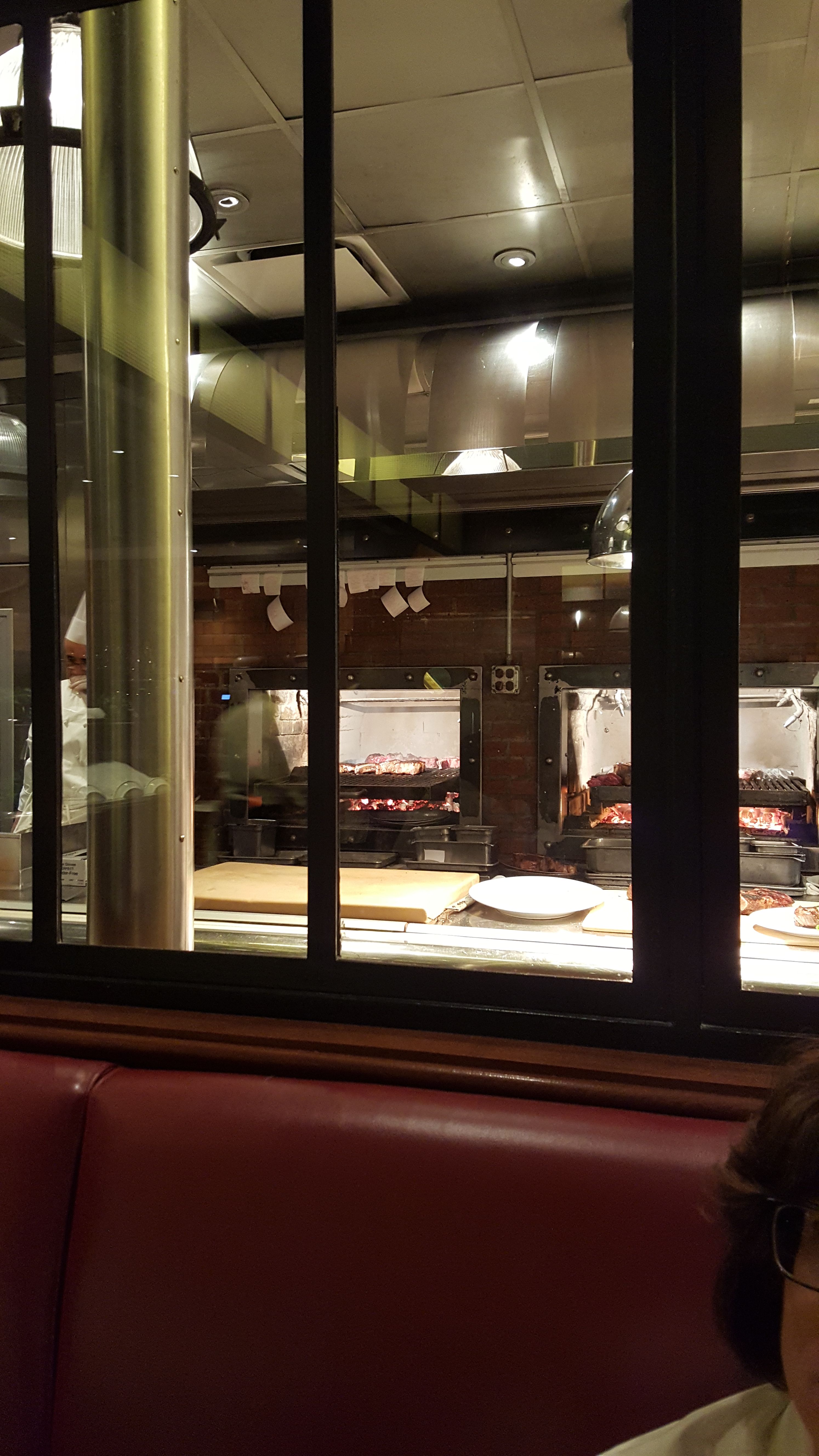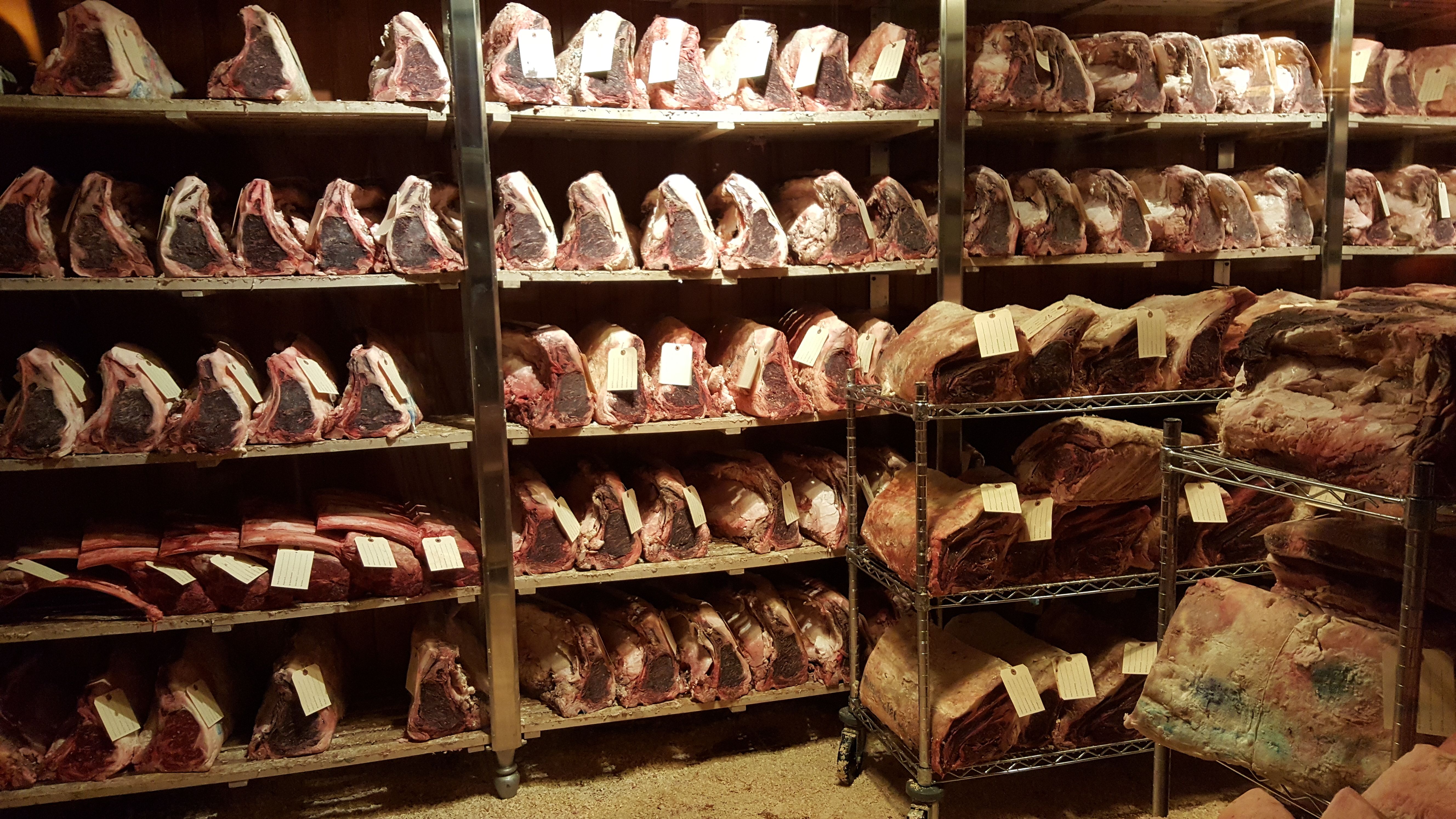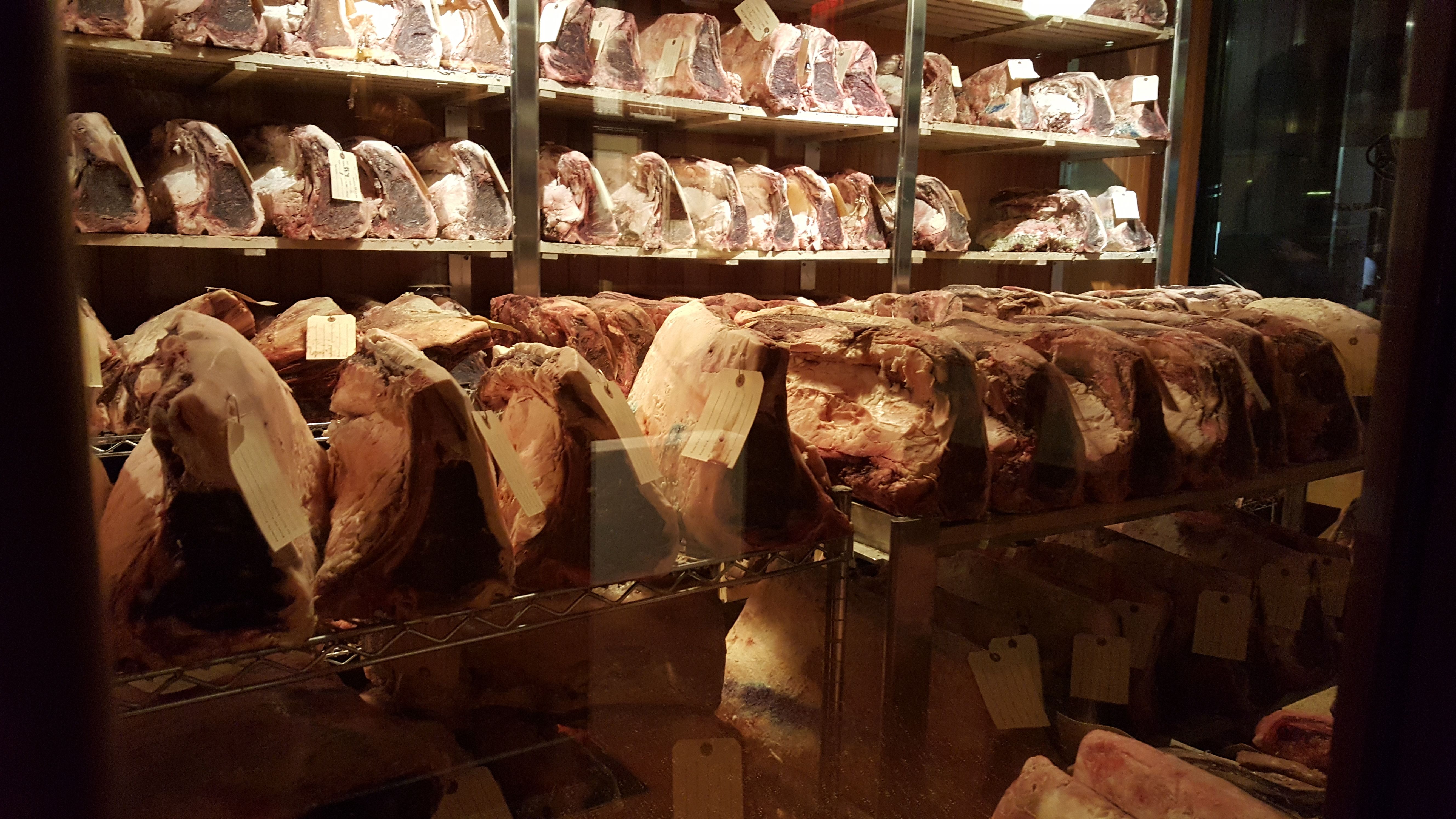 If you're looking for a healthy, great, quick lunch on the West Side Tabouleh at 47th and 9th Ave. makes a killer falafel pita sandwich and their hot sauce is perfect, not too hot, not too sweet and just the right amount of tart (If you like hot--it comes without the sauce naturally).  Clean, crisp environment and the owners are very nice and pleasant to deal with.  BTW-The pita's come in a whole wheat roll so if you want plain you must ask for it (as I did):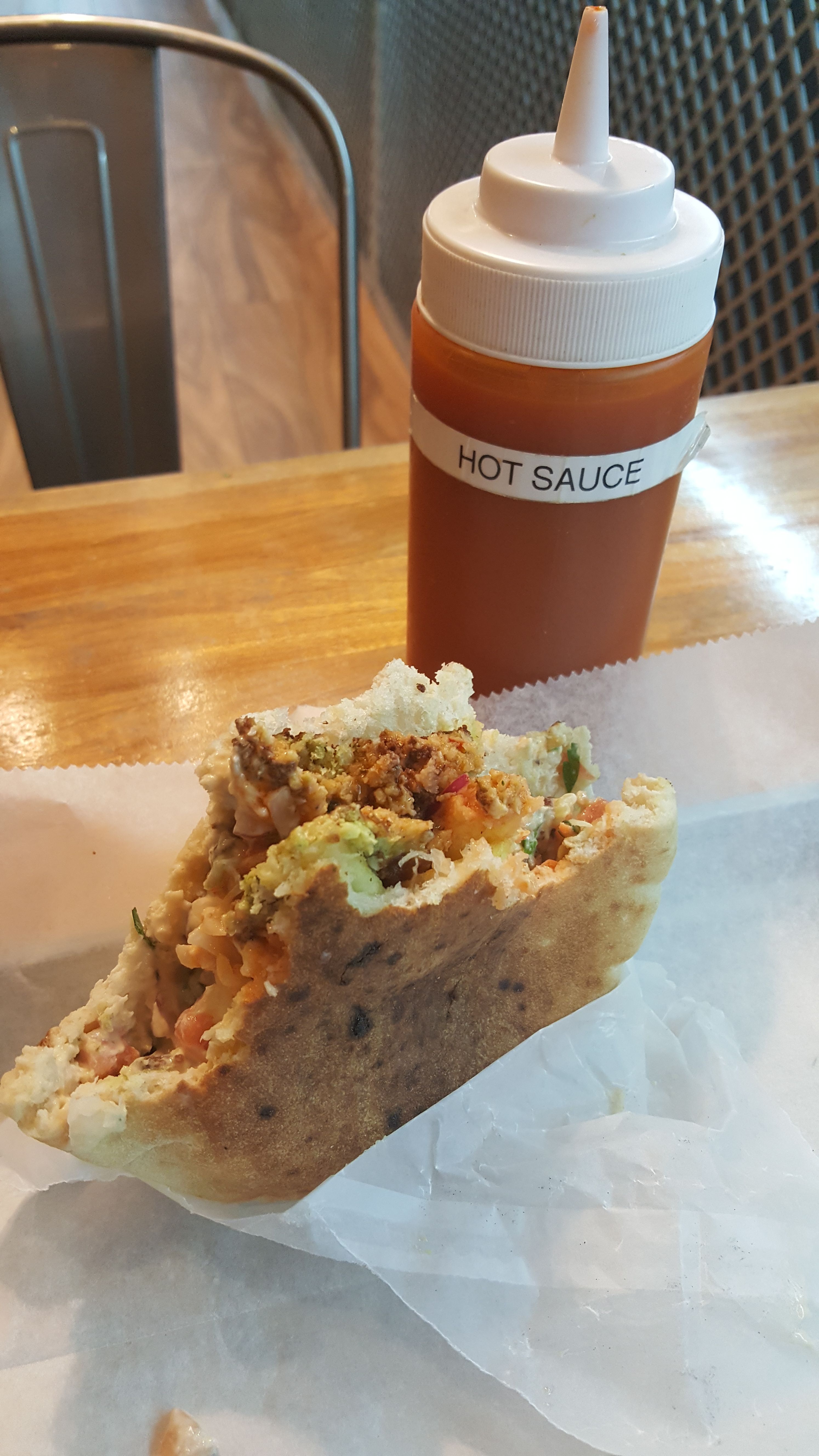 Here's another neat find in Hell's Kitchen, my old neighborhood (and where I consider myself from truly), that can easily be missed if you're not careful.  A simple, small store front crammed between several bigger establishments on 9th Ave. between 44th and 45th Hand Pulled Noodles.  Unreal.  The noodles had about the best texture I've ever had outside Asia and the staff was very friendly.  We were the only non-Asian couple in the shop so my guess is it's pretty authentic.  The home-made Kimchee was excellent, the fried dumplings were awesome and the noodles were just super fantastic.  Not expensive either.  Go!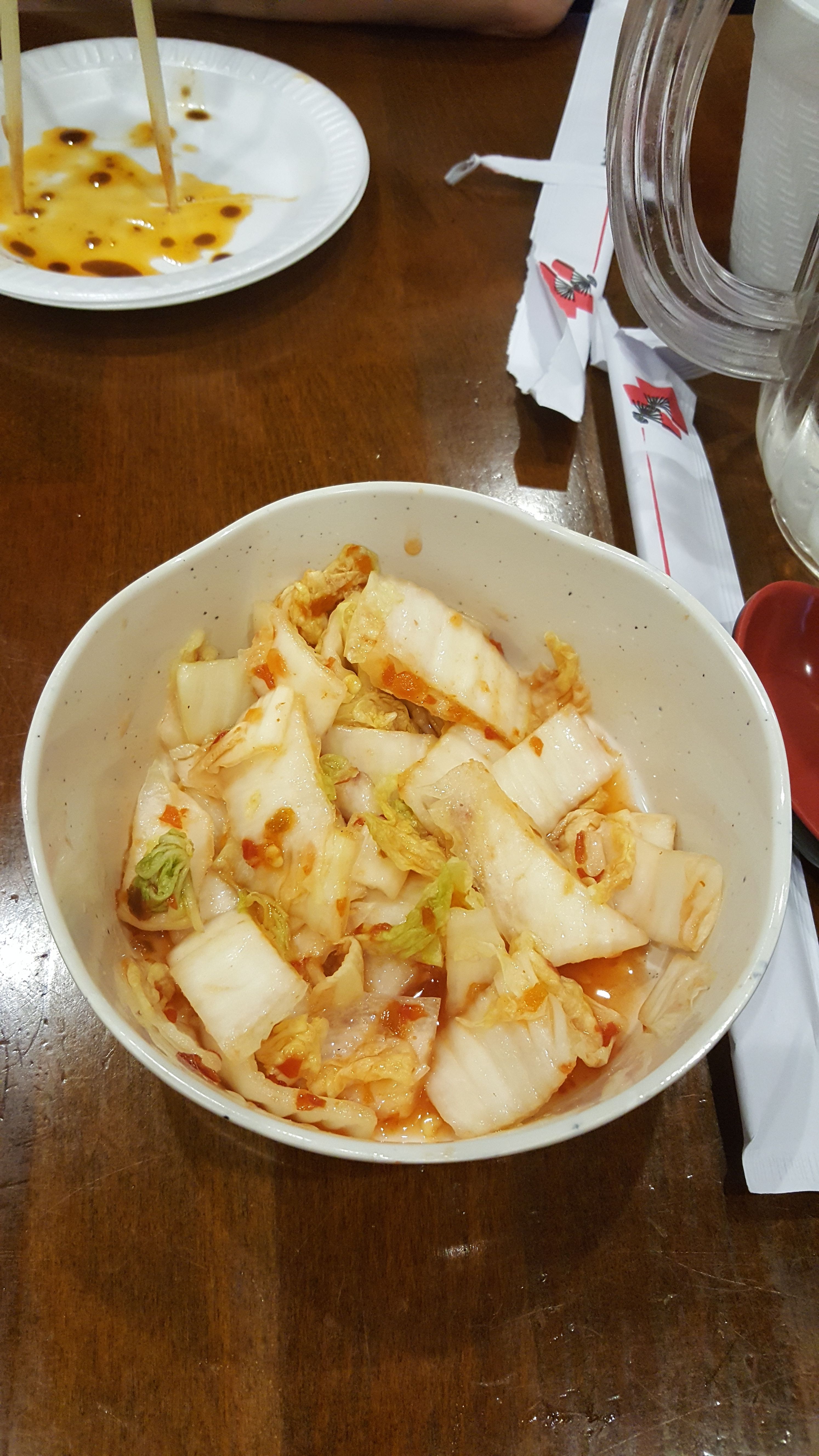 There aren't the fried ones we ordered because we ate them too fast but another steamed order they brought out: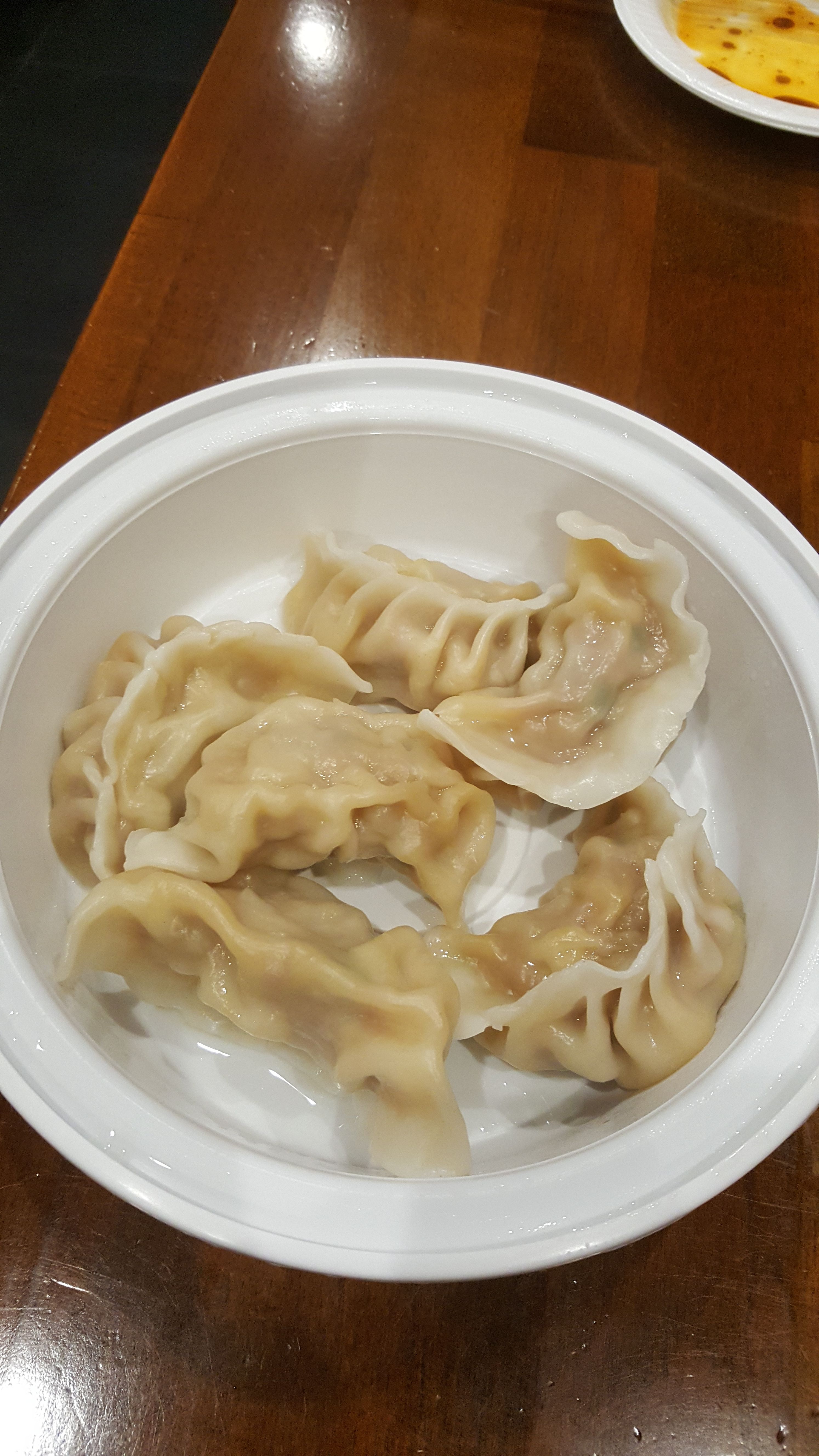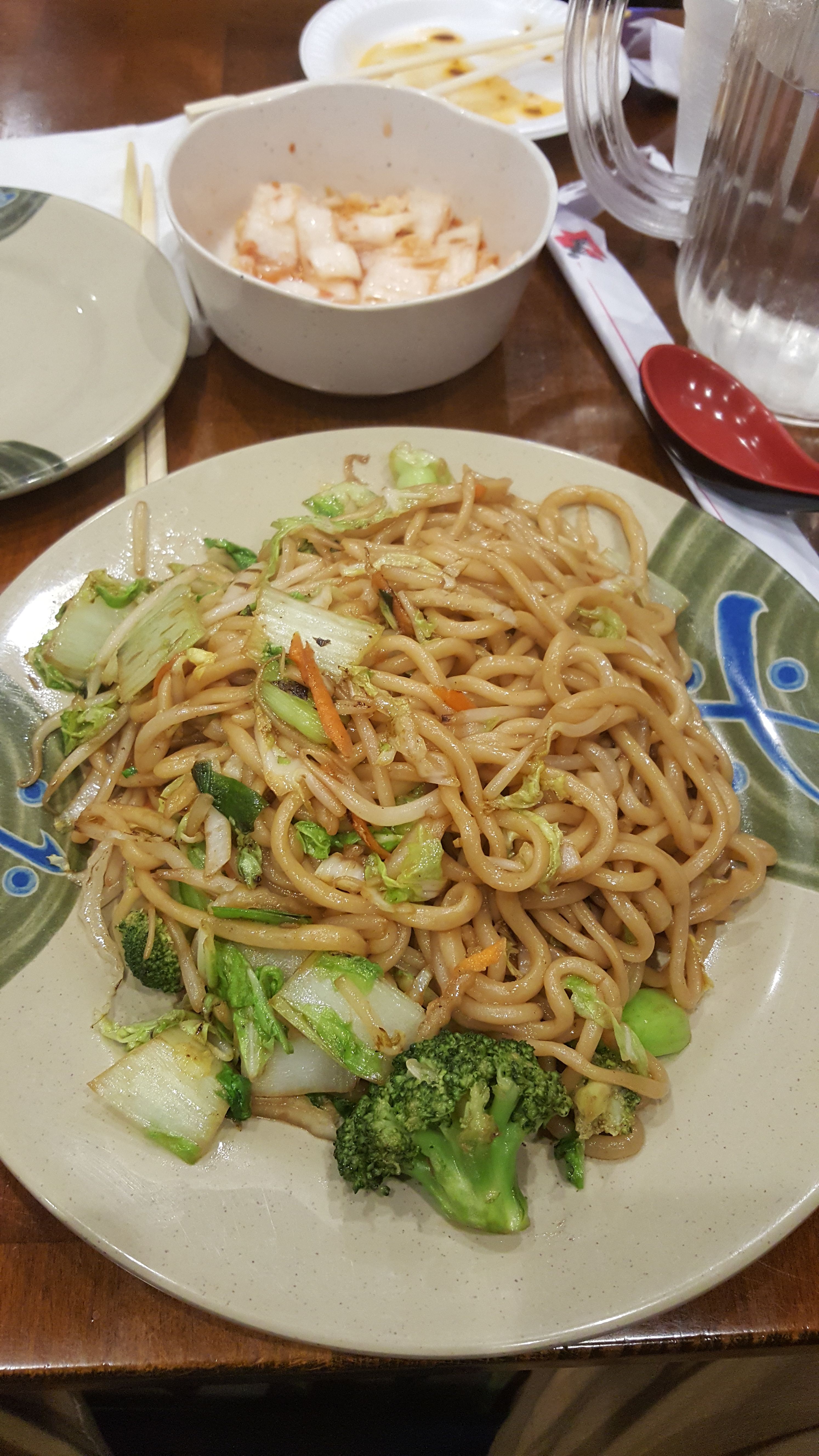 I got to spend the next day, Thursday with my favorite uncle who's been ailing and suffering from dementia.  He recognized me straight off and the nurses were astonished.  Made me feel good.  My nephew (his son Josh) and I brought him some Chinese food from a great place on the Upper West Side called Han Dynasty at 85th and Broadway but no pics from that as we ate in the cafeteria at the nursing home and you know, private time.  It may be the last time I see him.
But for all my old friends from NYC I glad to report my nephew is keeping the old Hippie Treehouse alive and well and nothing has changed in 30 years.  Hell, nothing has hardly changed in 50 years there!  Dig: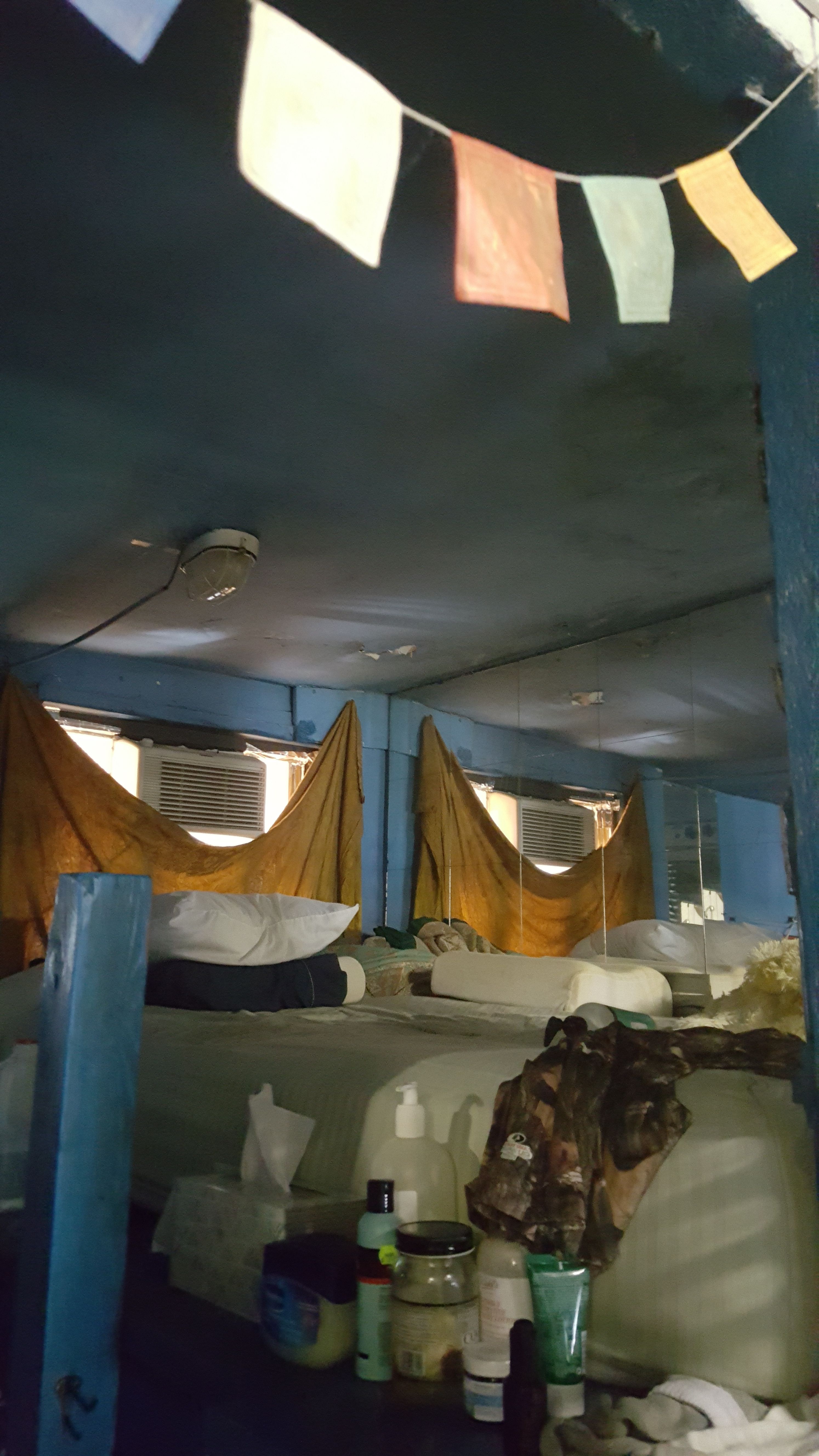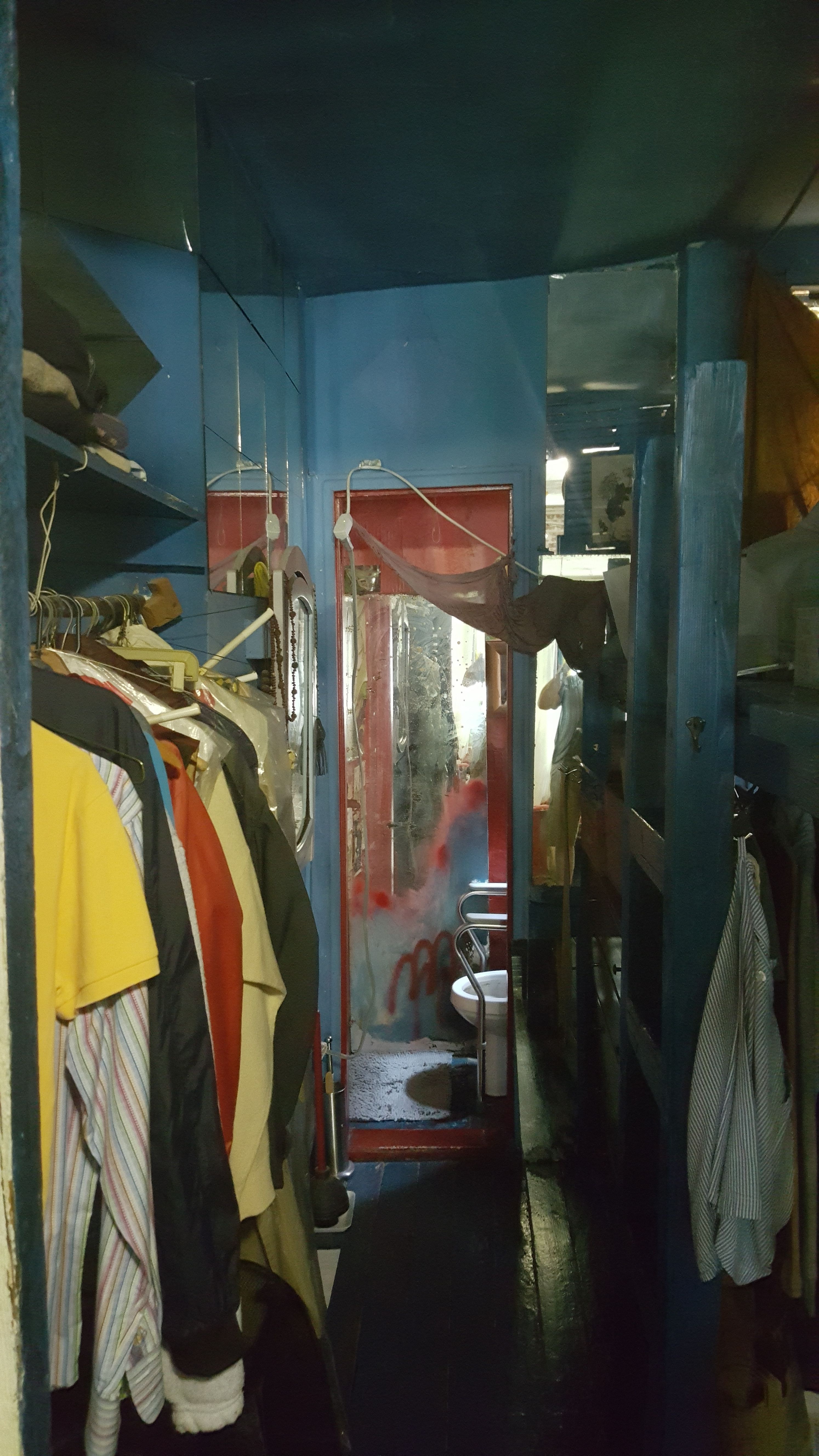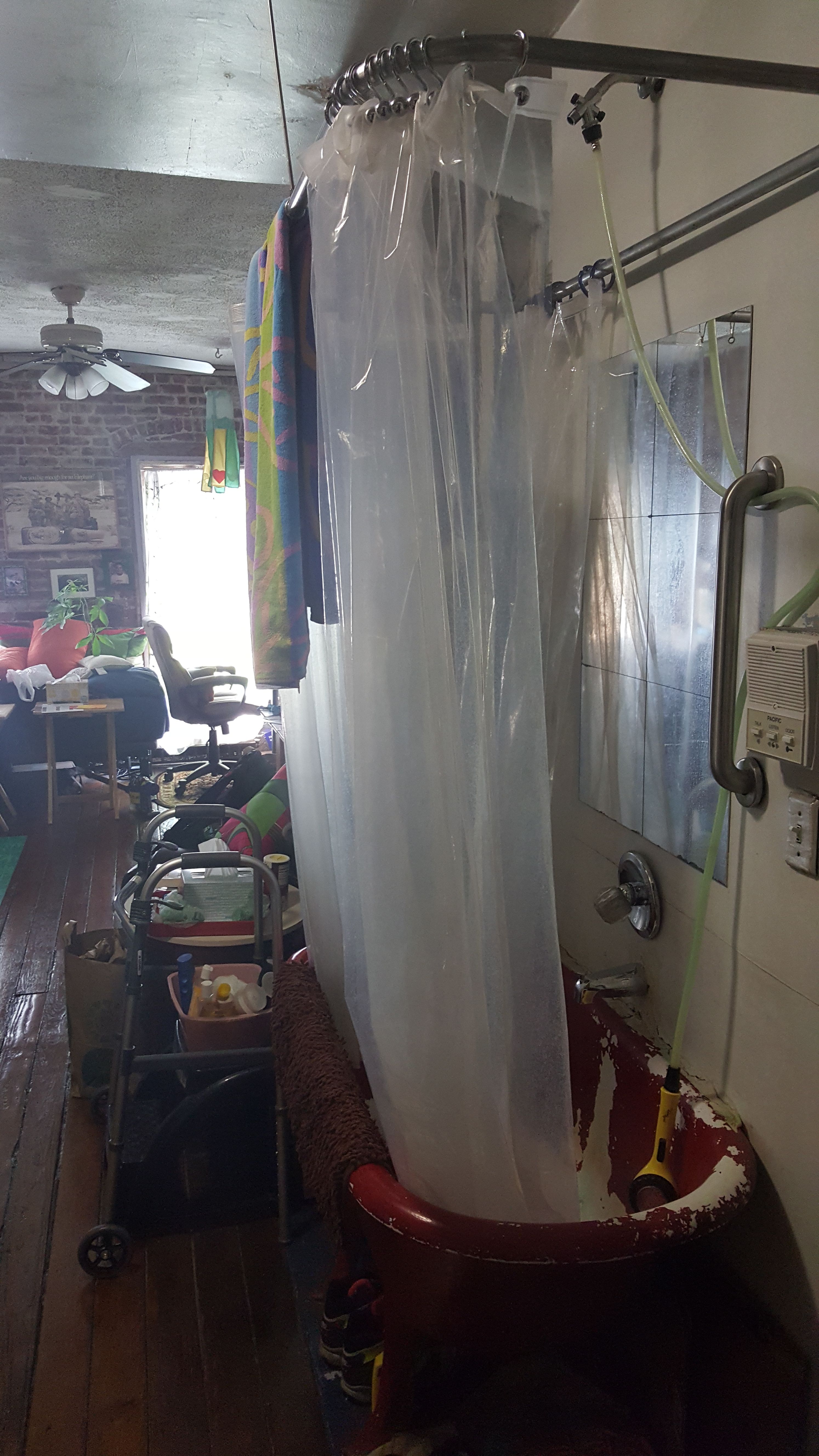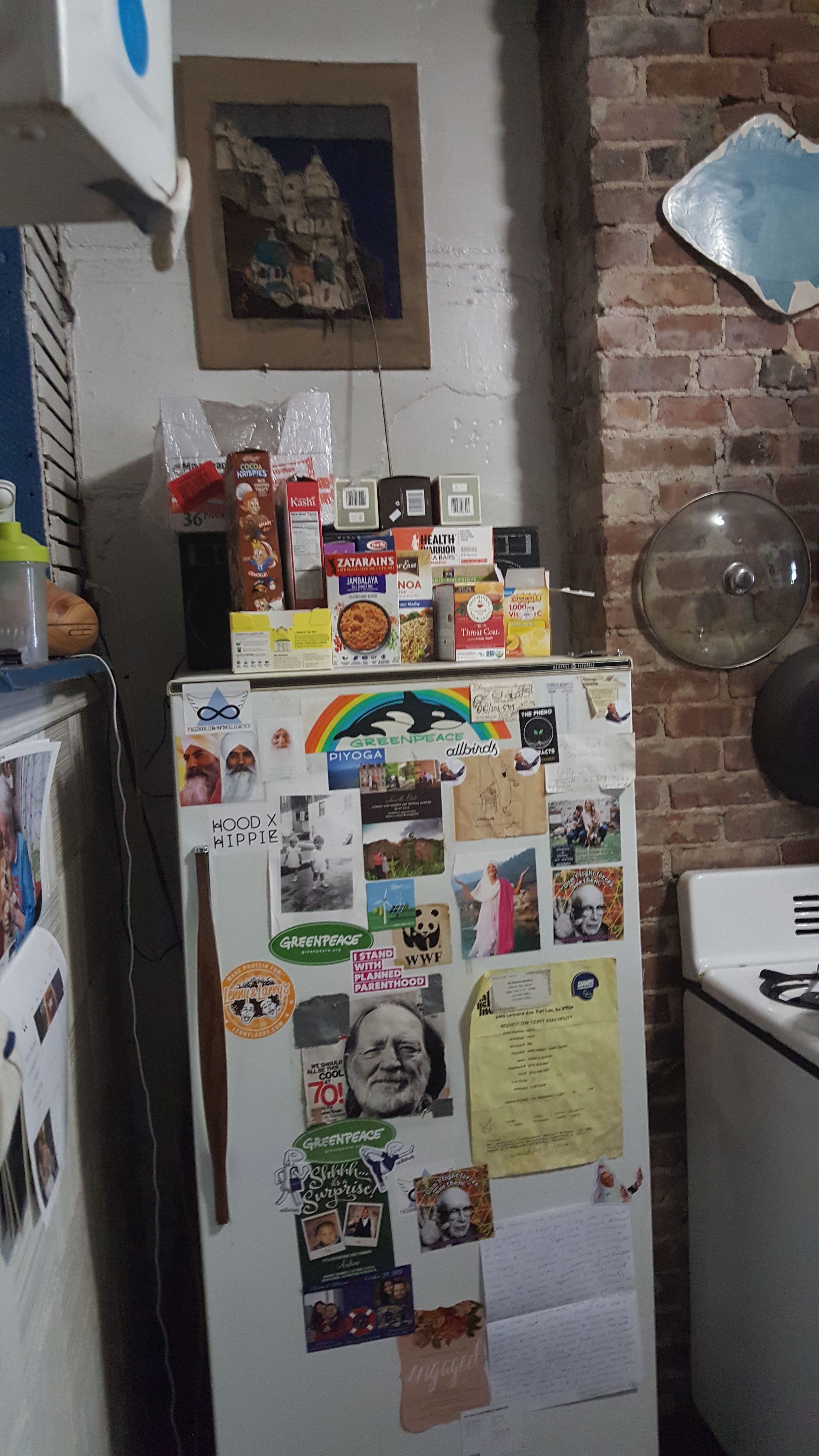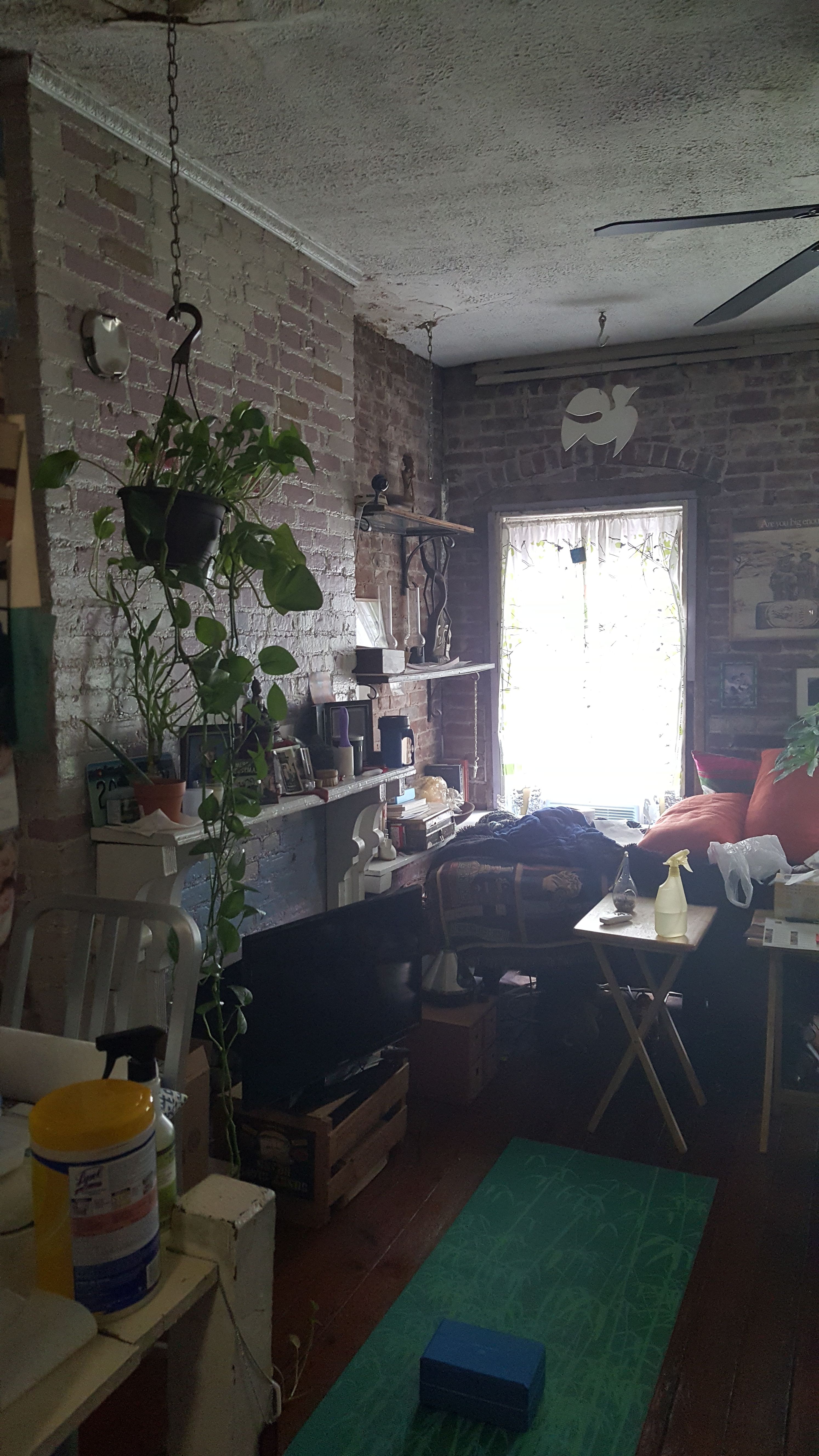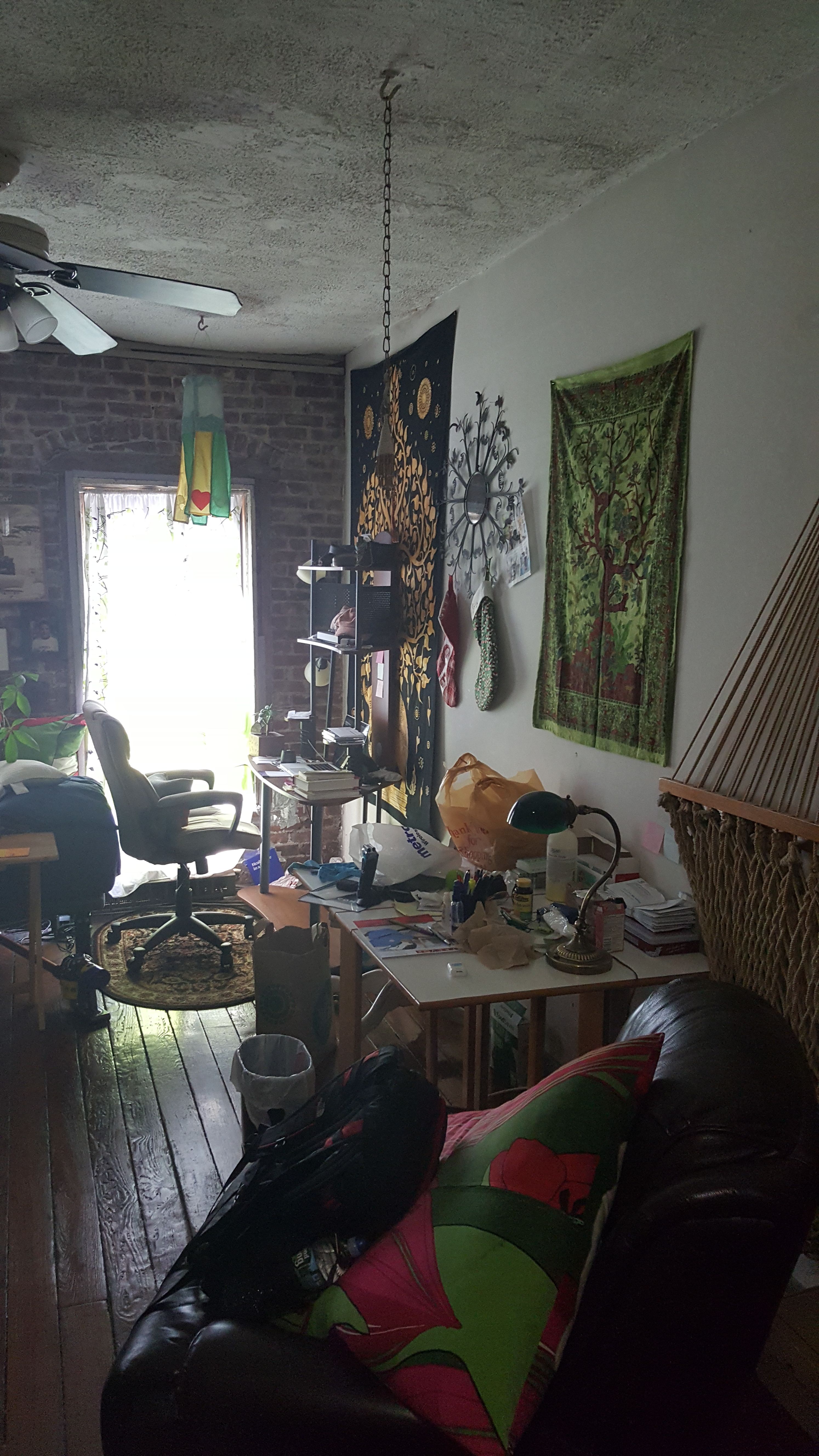 Dang, I miss that place.  Hell's Kitchen is one of the few neighborhoods in NYC that haven't changed that much.  It's changed some of course but any improvement to a place named Hell's Kitchen (and it really used to be HELL'S KITCHEN) can't be all bad.  It's still feels cozy to me.
Moving on back to food, Madame Vo's was next for Thursday dinner in the East Village.  Meh.  Highly touted but not any better than an average Vietnamese place and I love Vietnamese.  We're lucky to have a few great ones in Nashville.  Madame Vo's Pho broth was excellent though as was the papaya salad.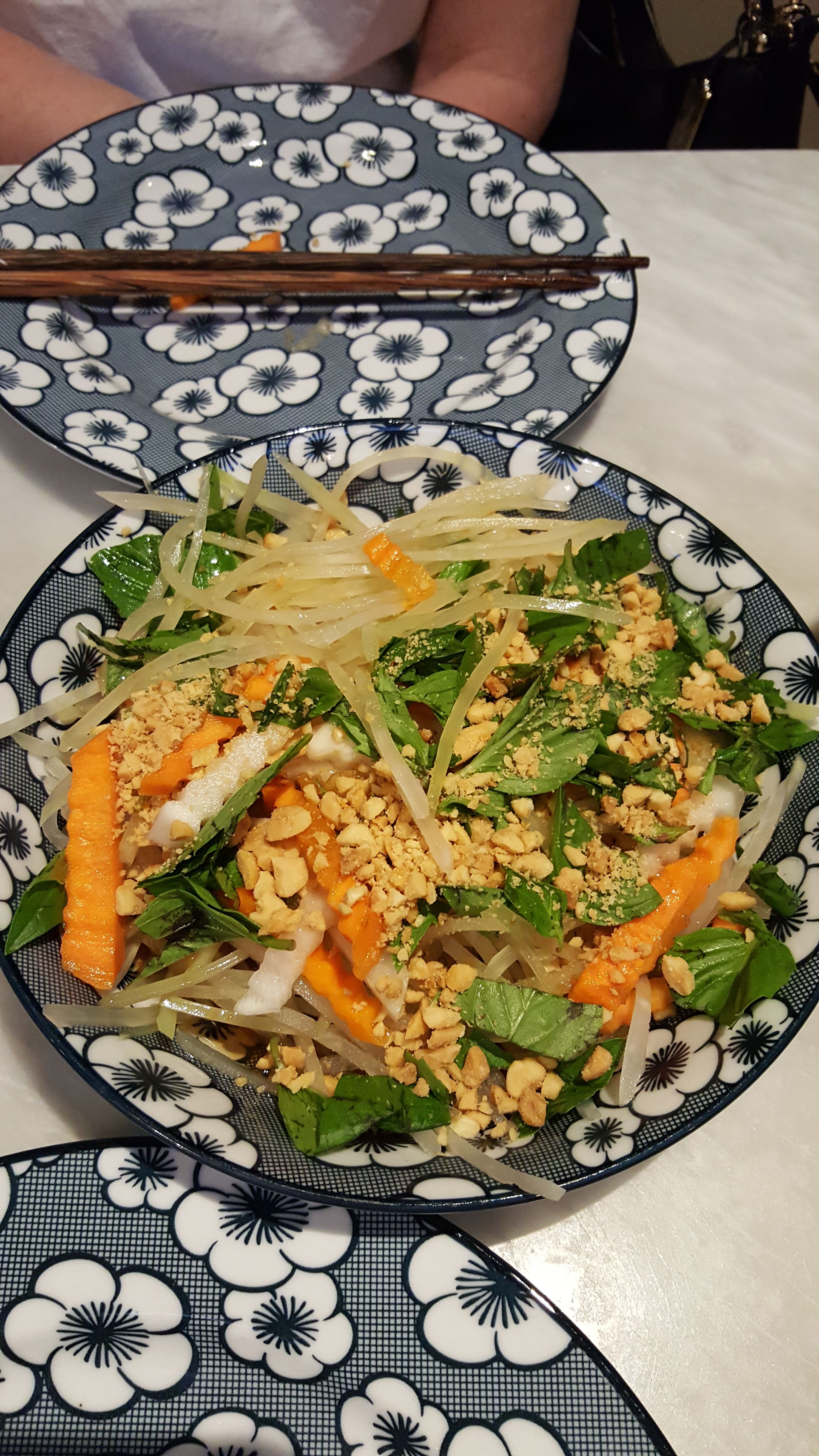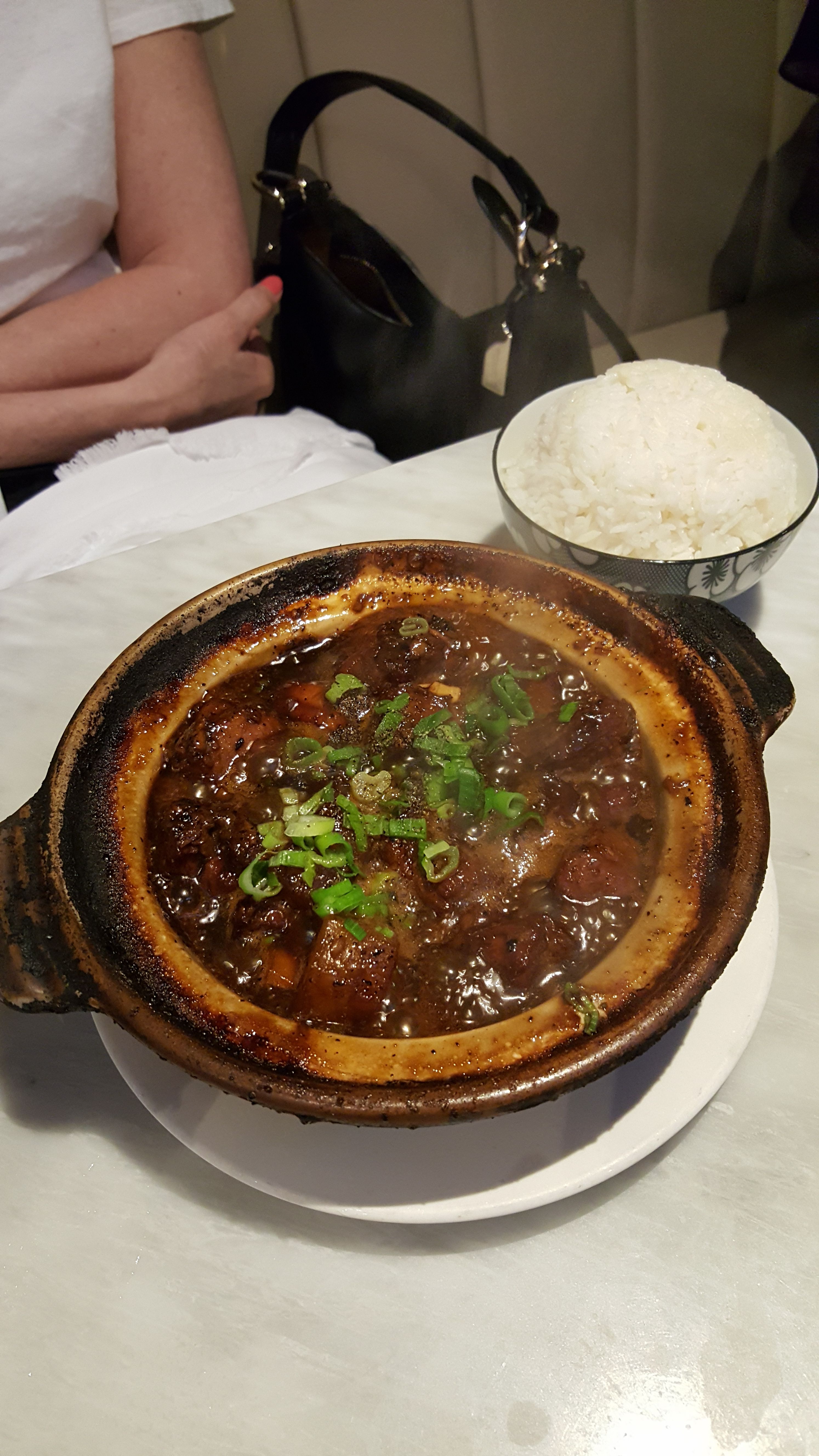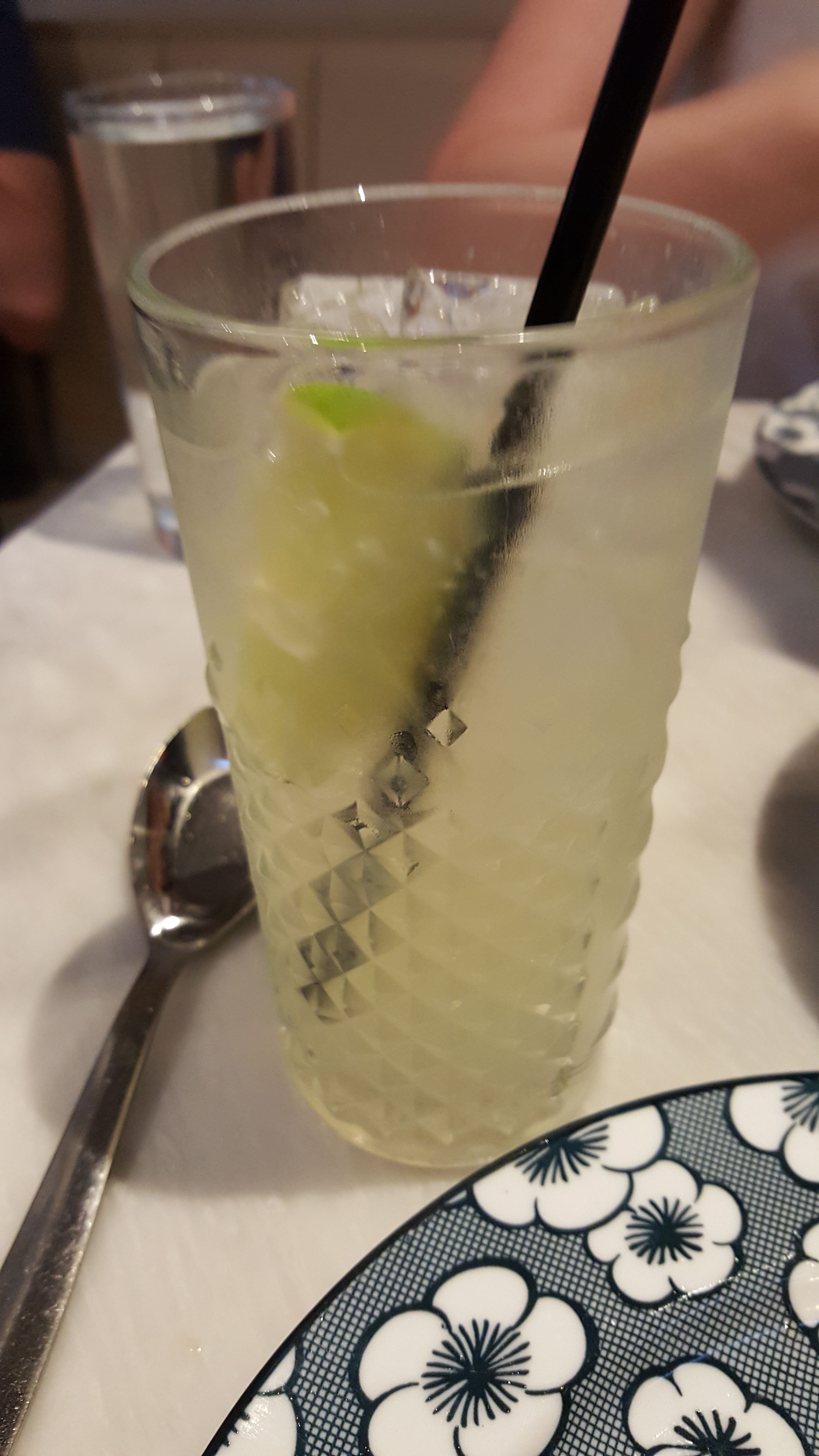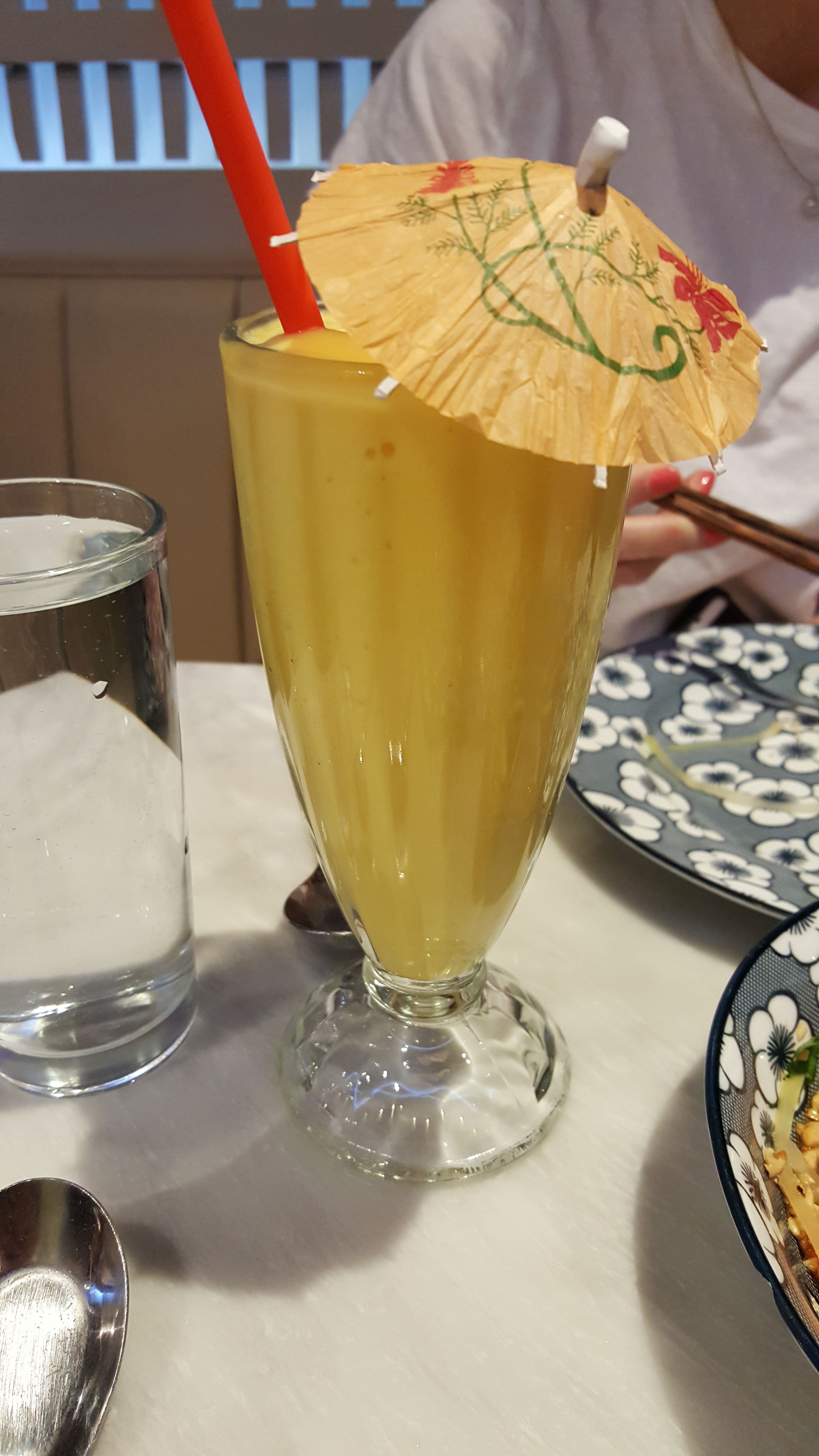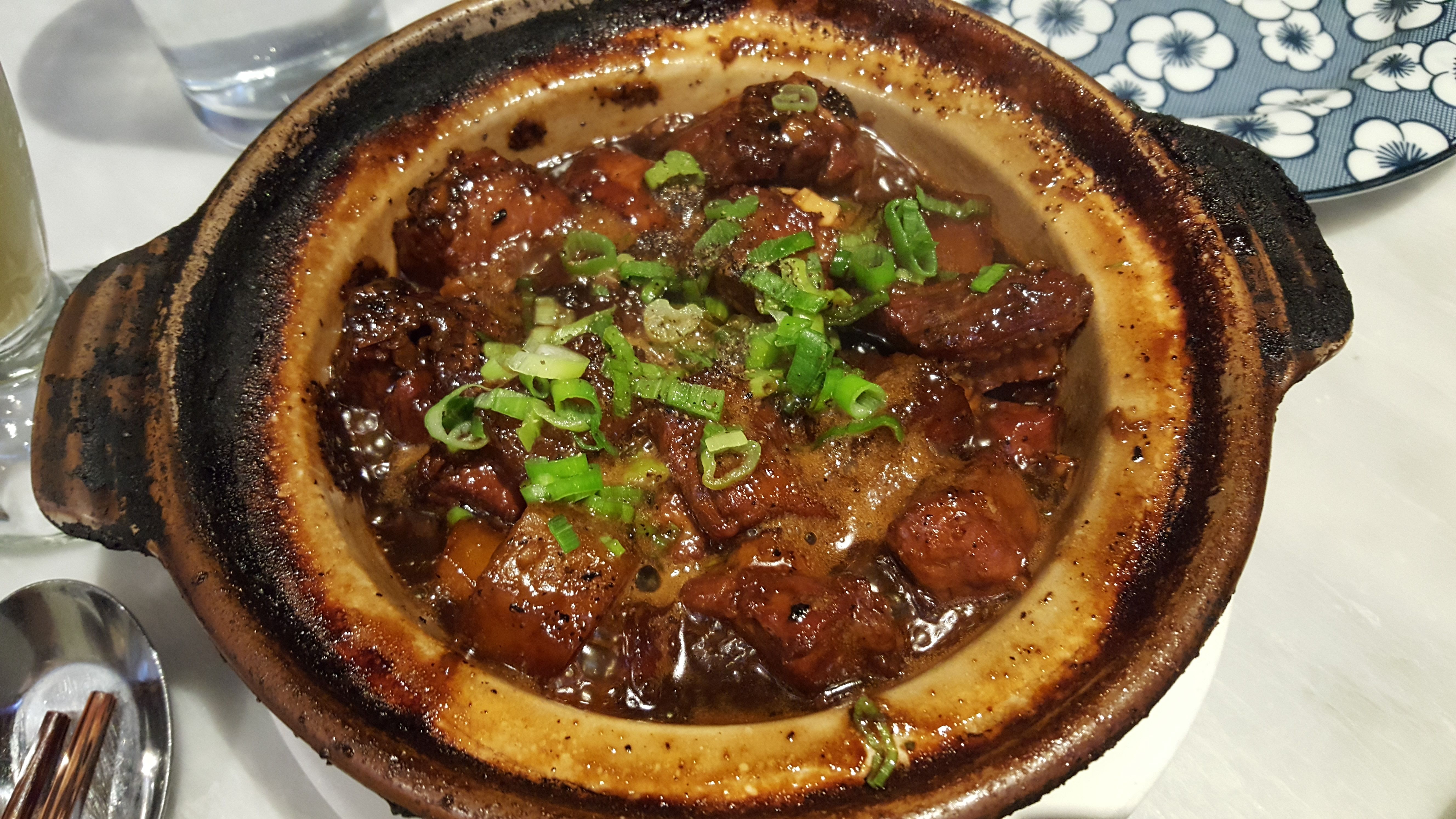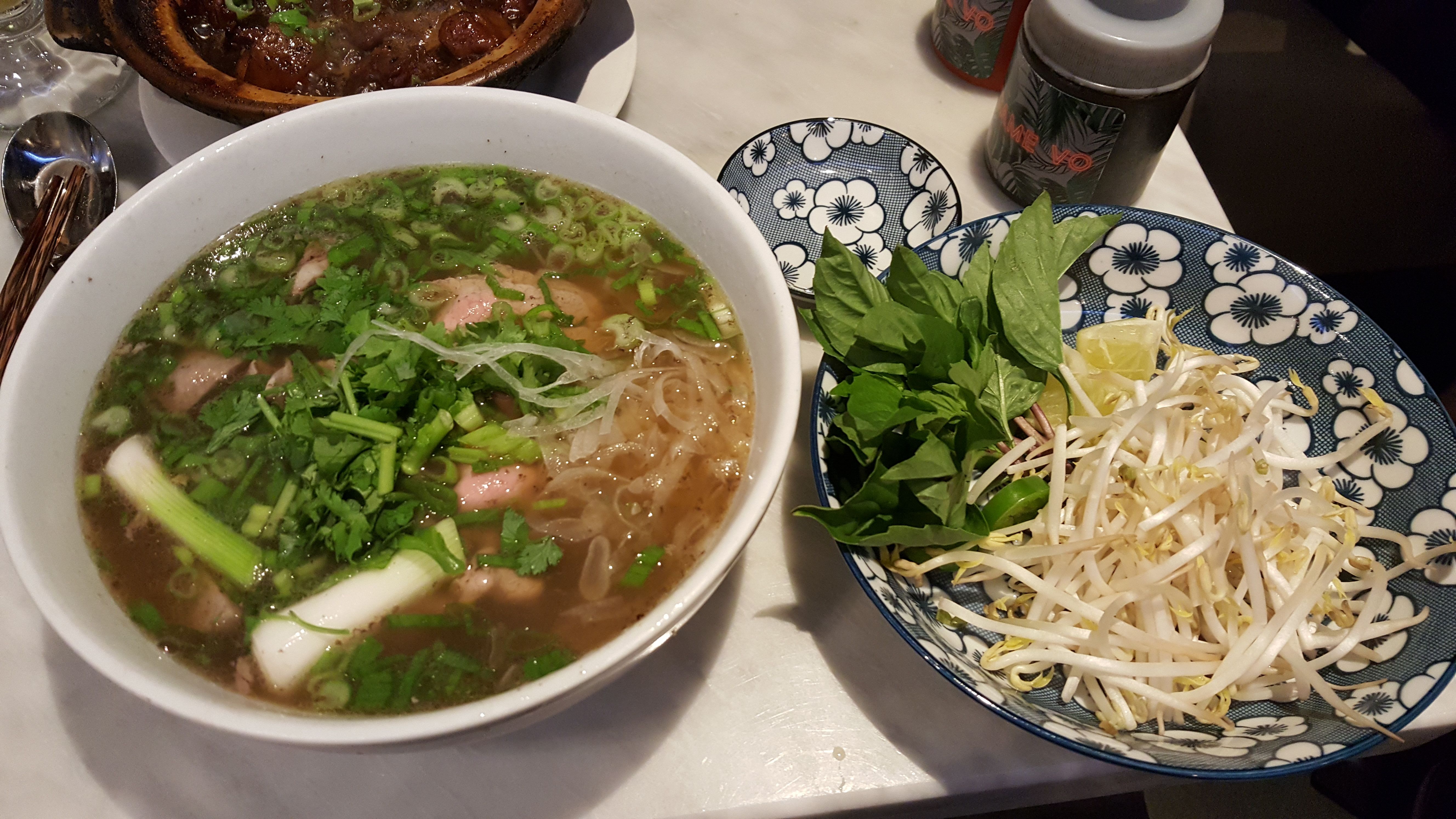 Had some fancy but in the end just okay Gelato at Amorino at 60 University Pl. on our way to see Gyan Riley play at the New School.  What's the obsession with Macarons lately BTW?  They were everywhere in NYC.  Anyways, some pics but I've had better gelato.  Nice people though and doing brisk business: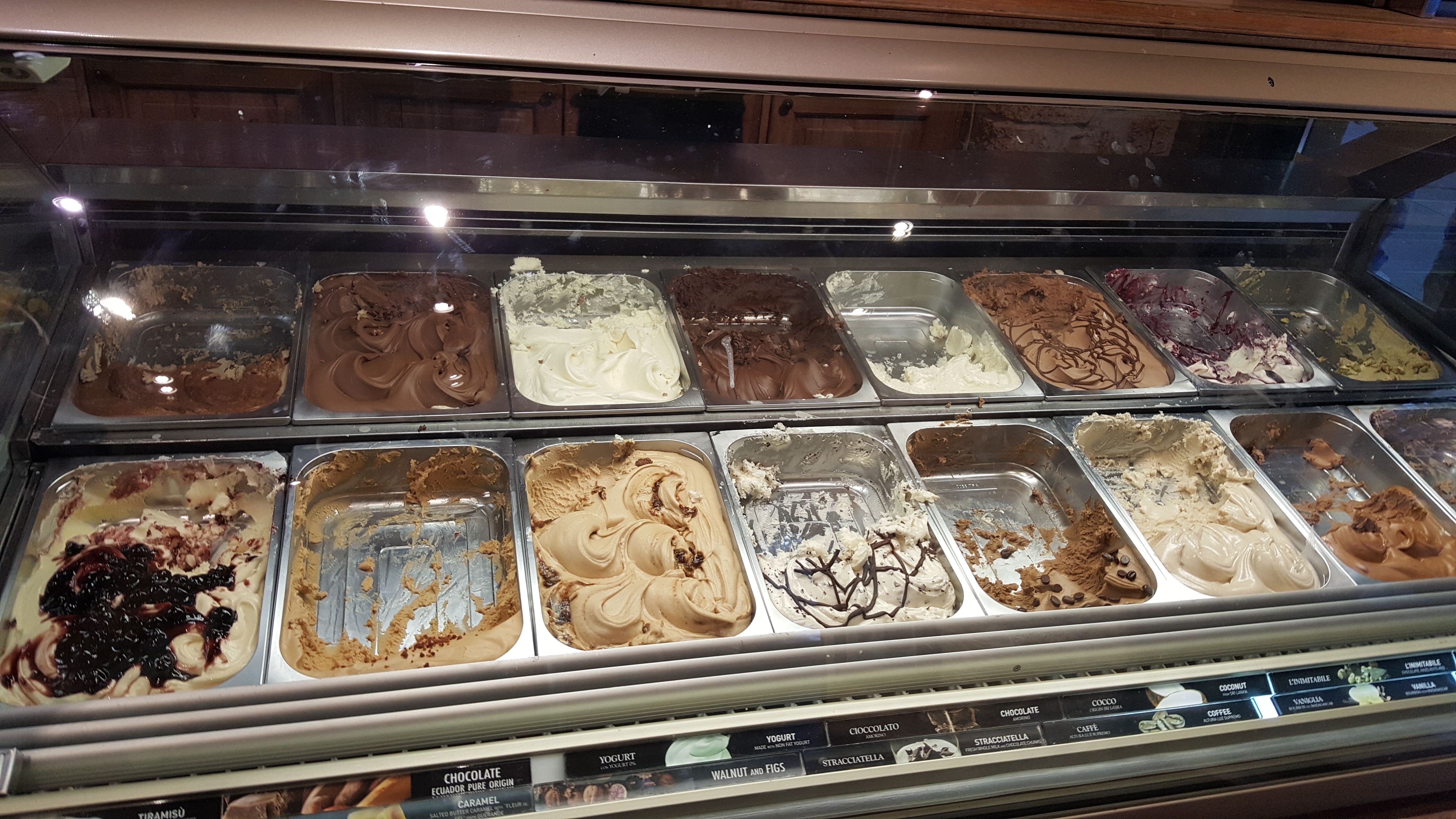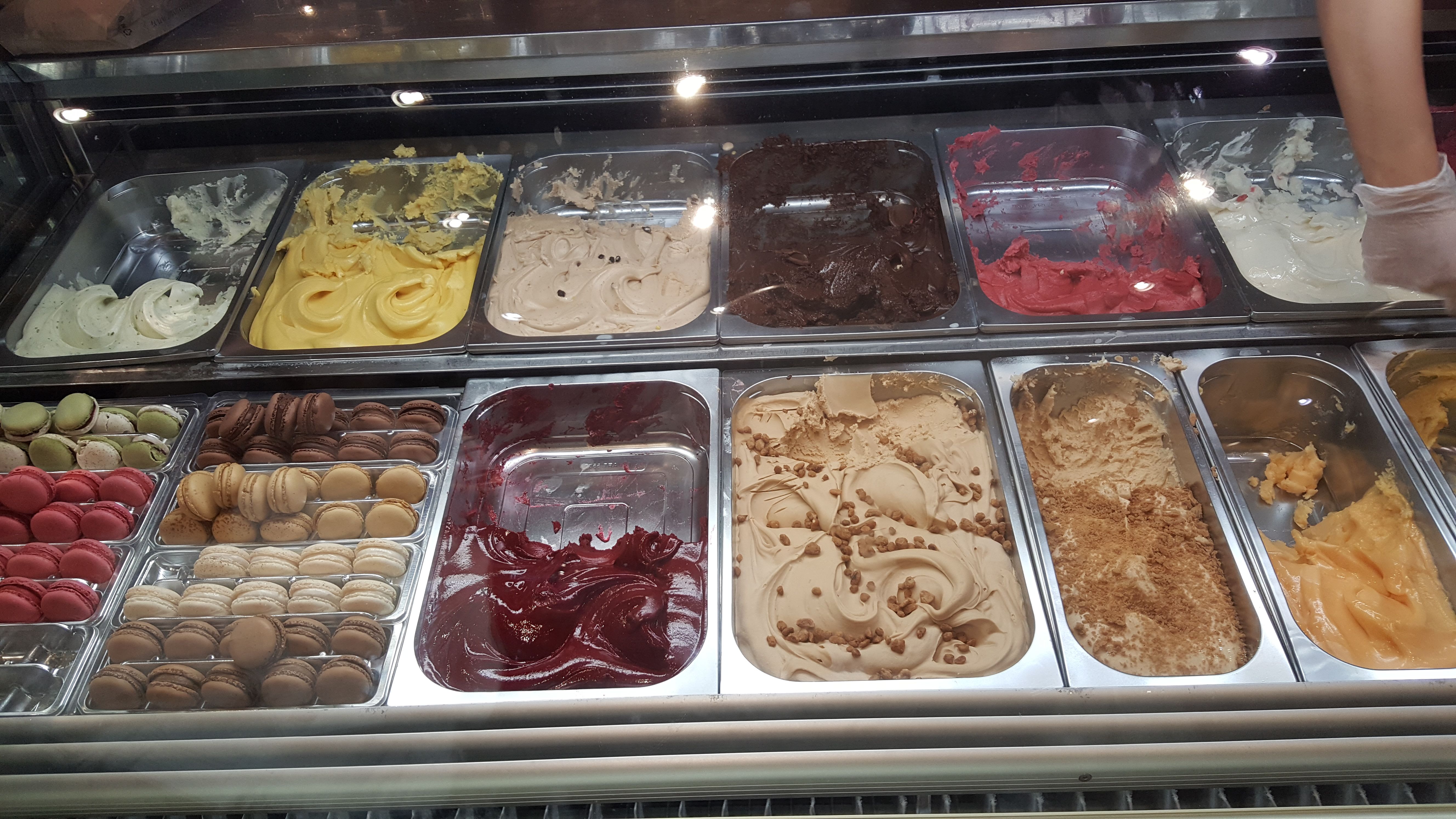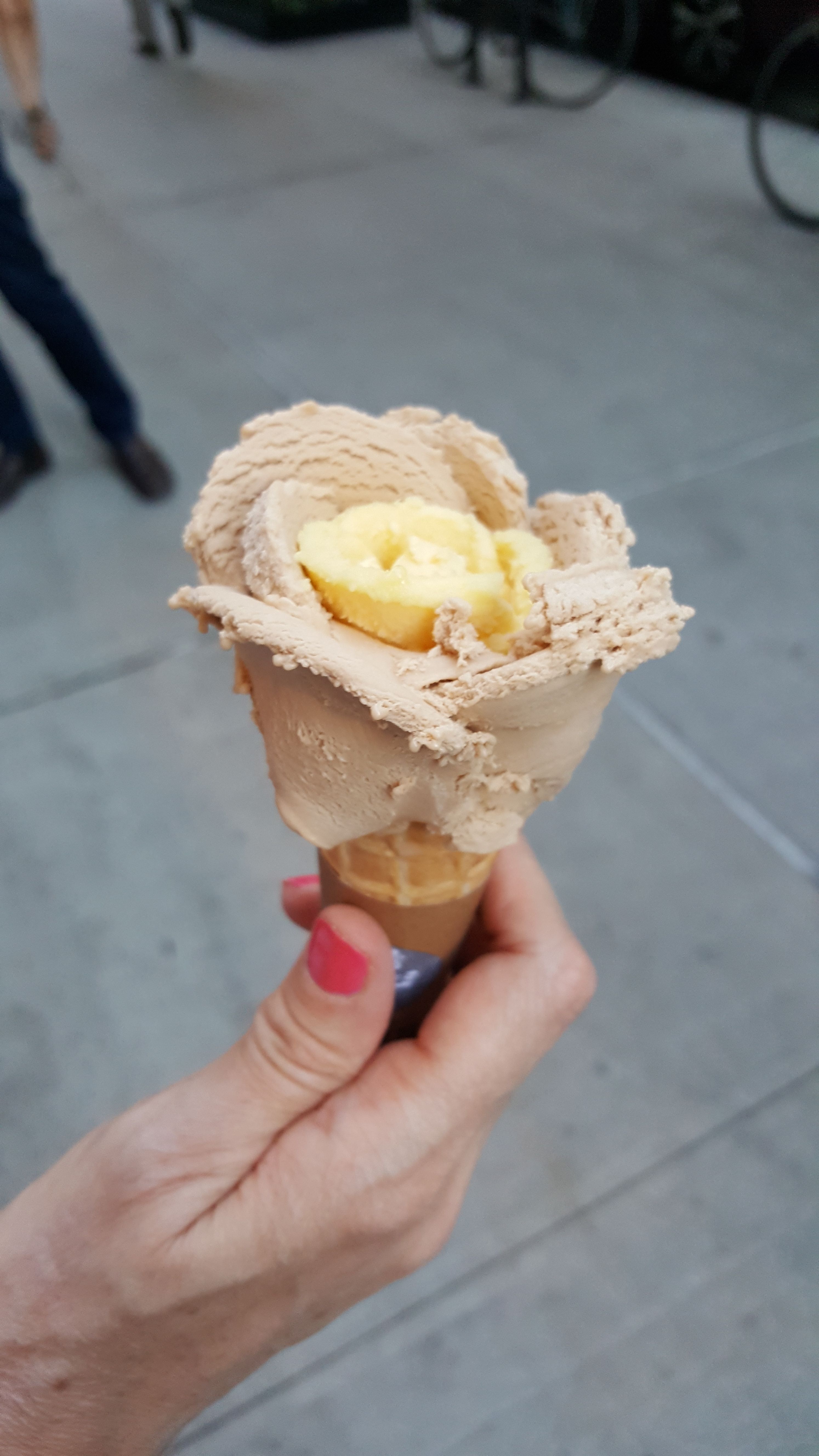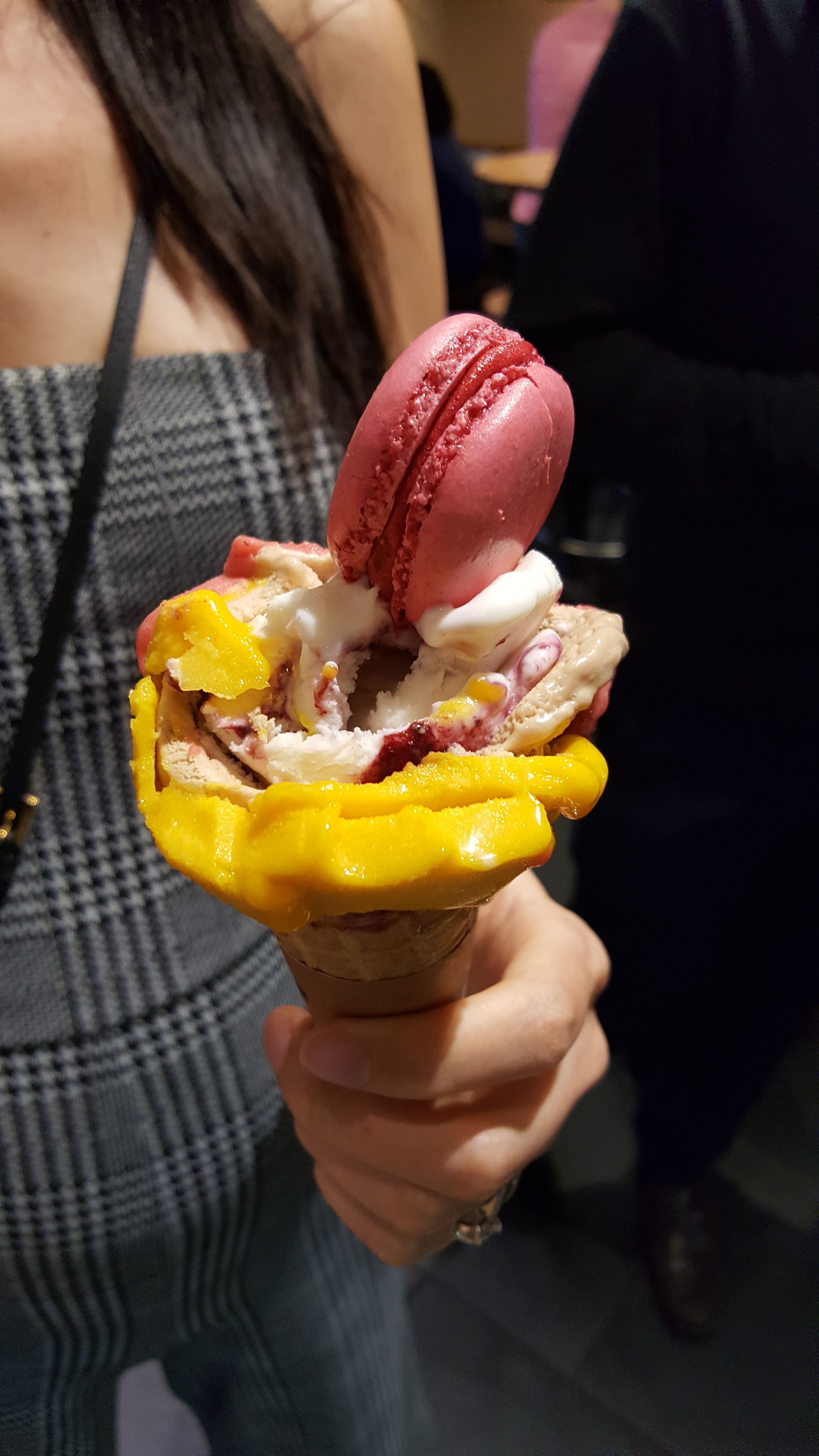 Found my new favorite casual hang on Friday though.  The Donut Pub at 14th St. and 7th Ave.  I could live here <g>.  Great variety and kind, friendly staff.  Got to hang with my buddy Jun who I haven't see in 16 years but we've been friends for 35 years we figured out (!).  Such a great guy.  We had to get outta' there or I would have burst eventually: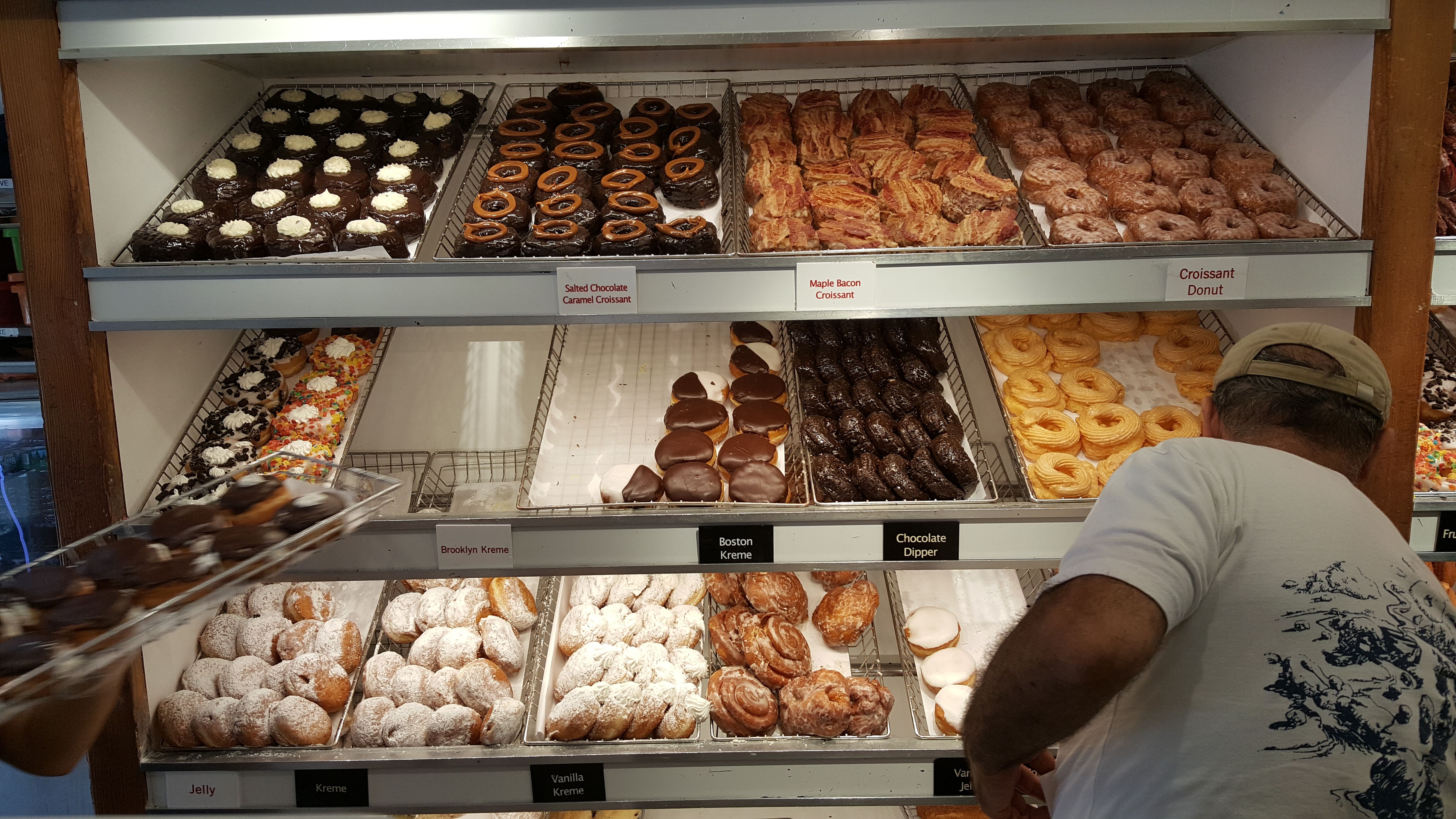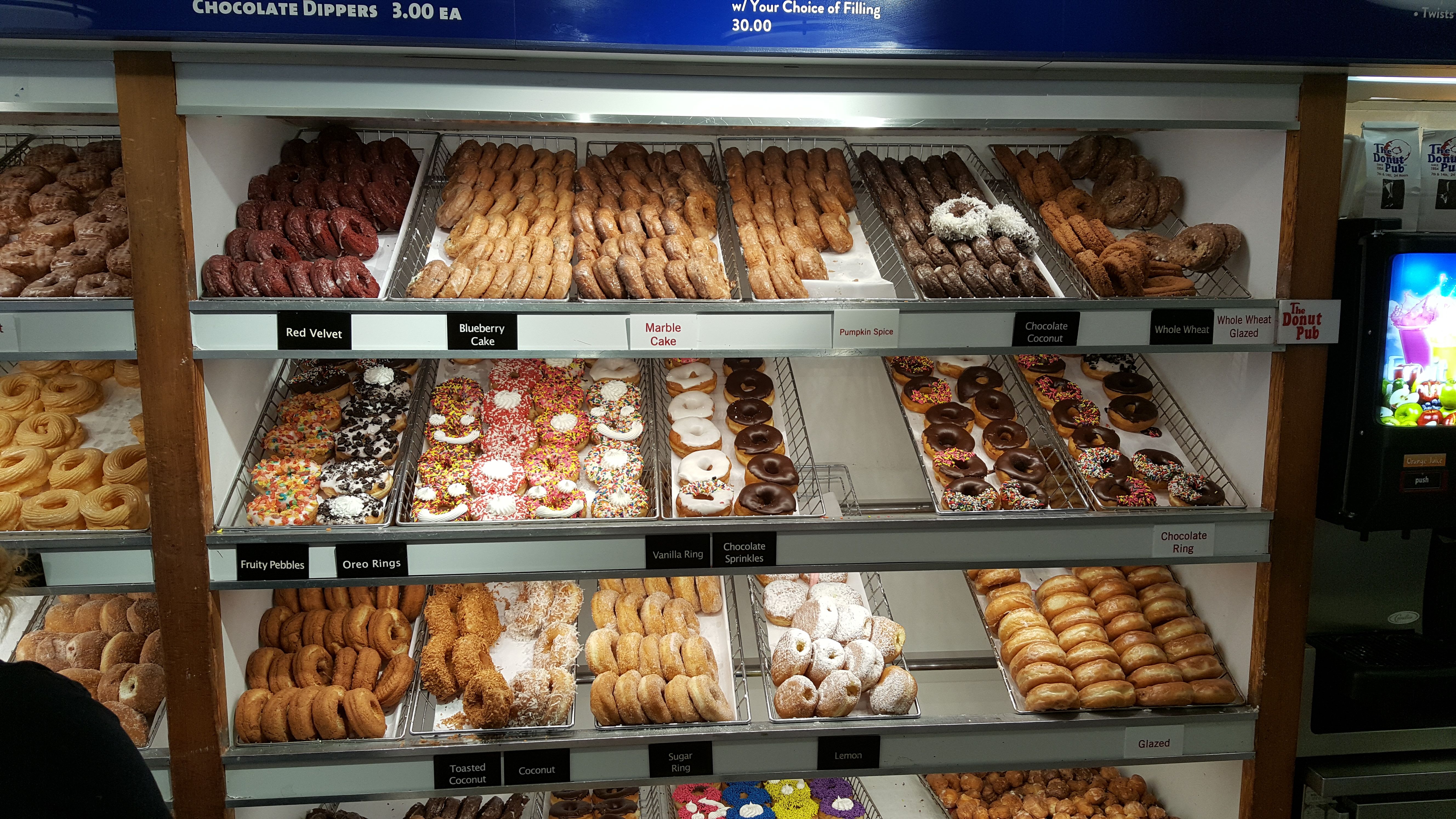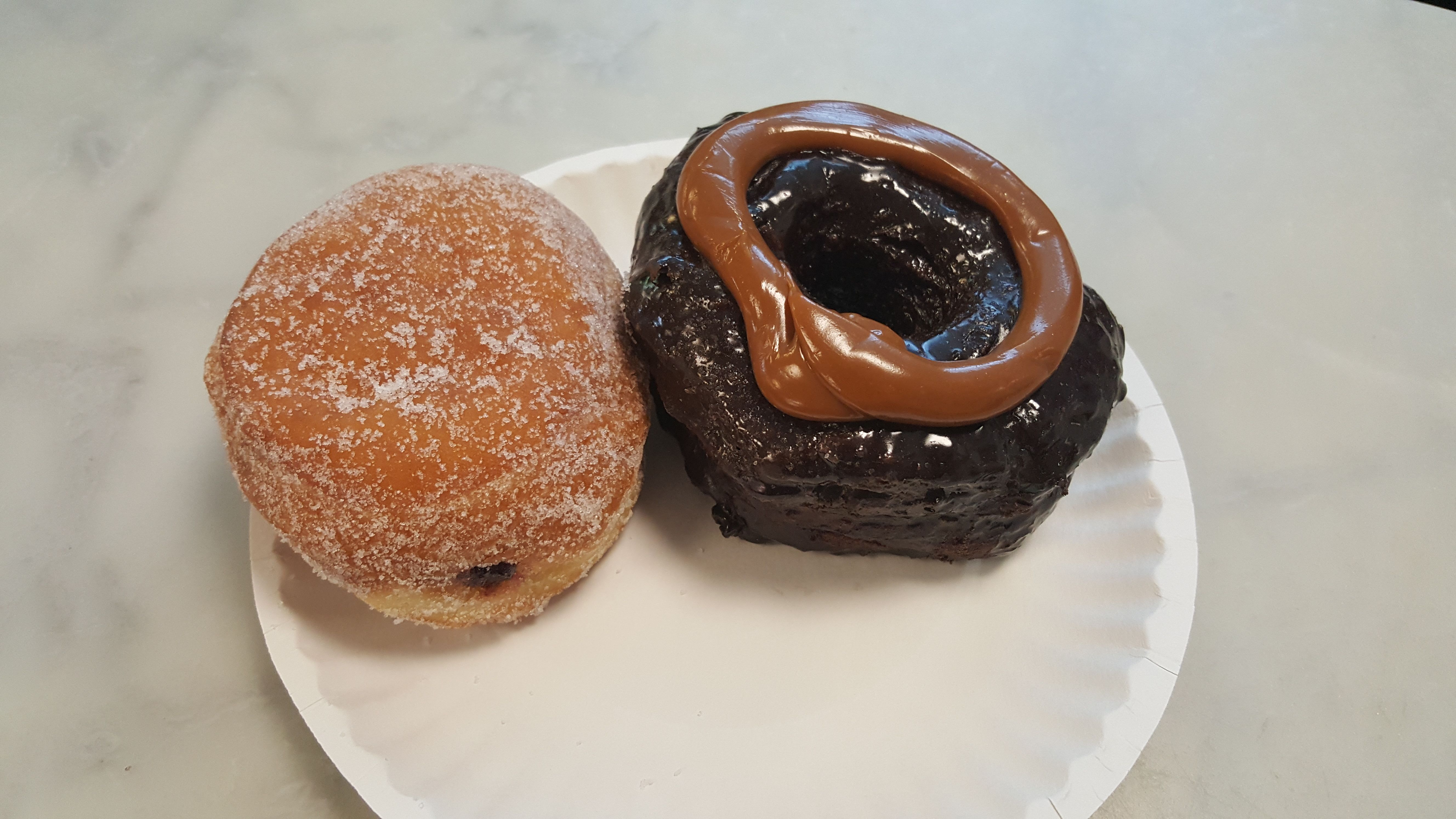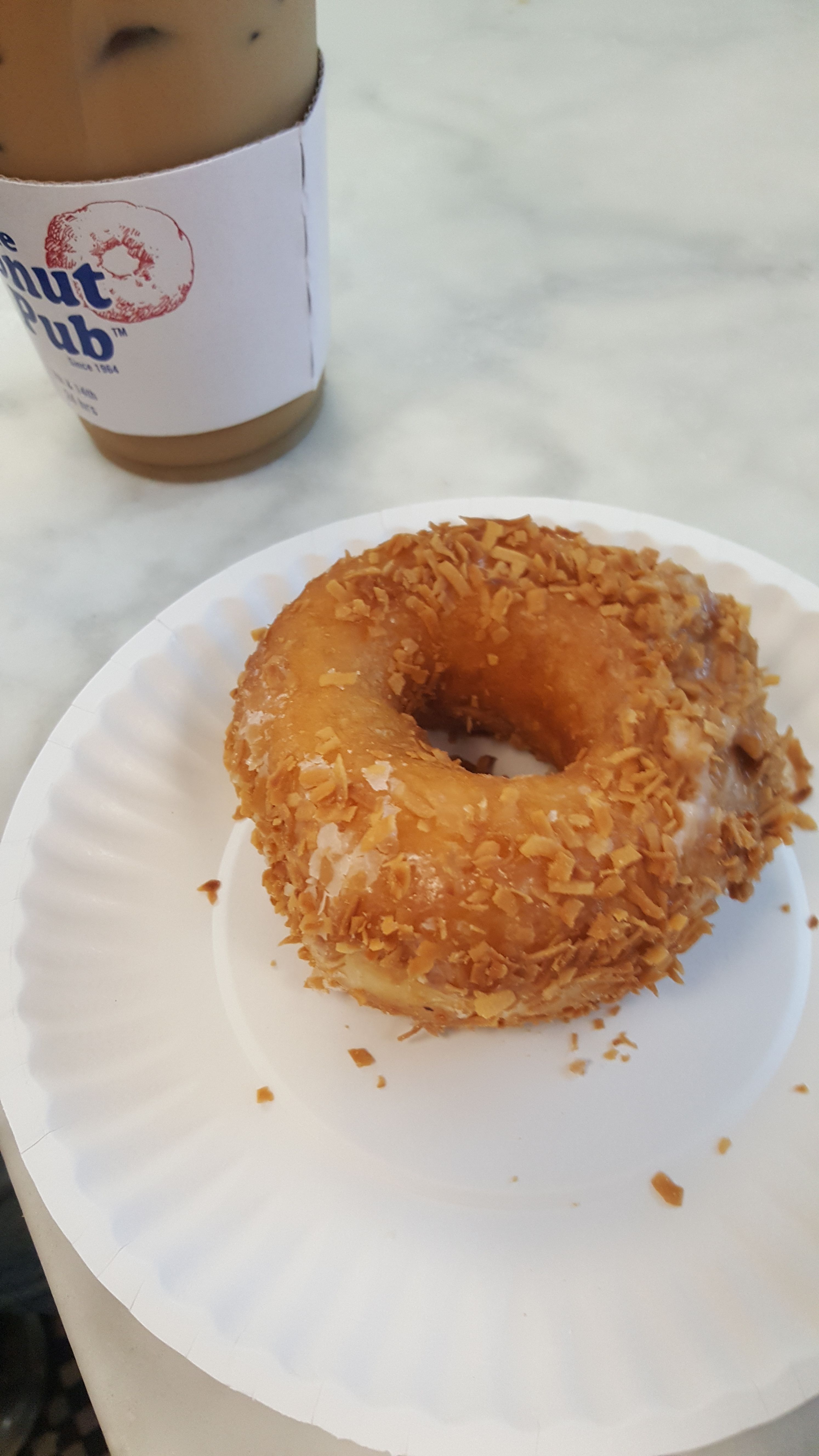 Me and Gyan.  He killed it at the Stone at the New School.  Get his new album Sprig.  It's great: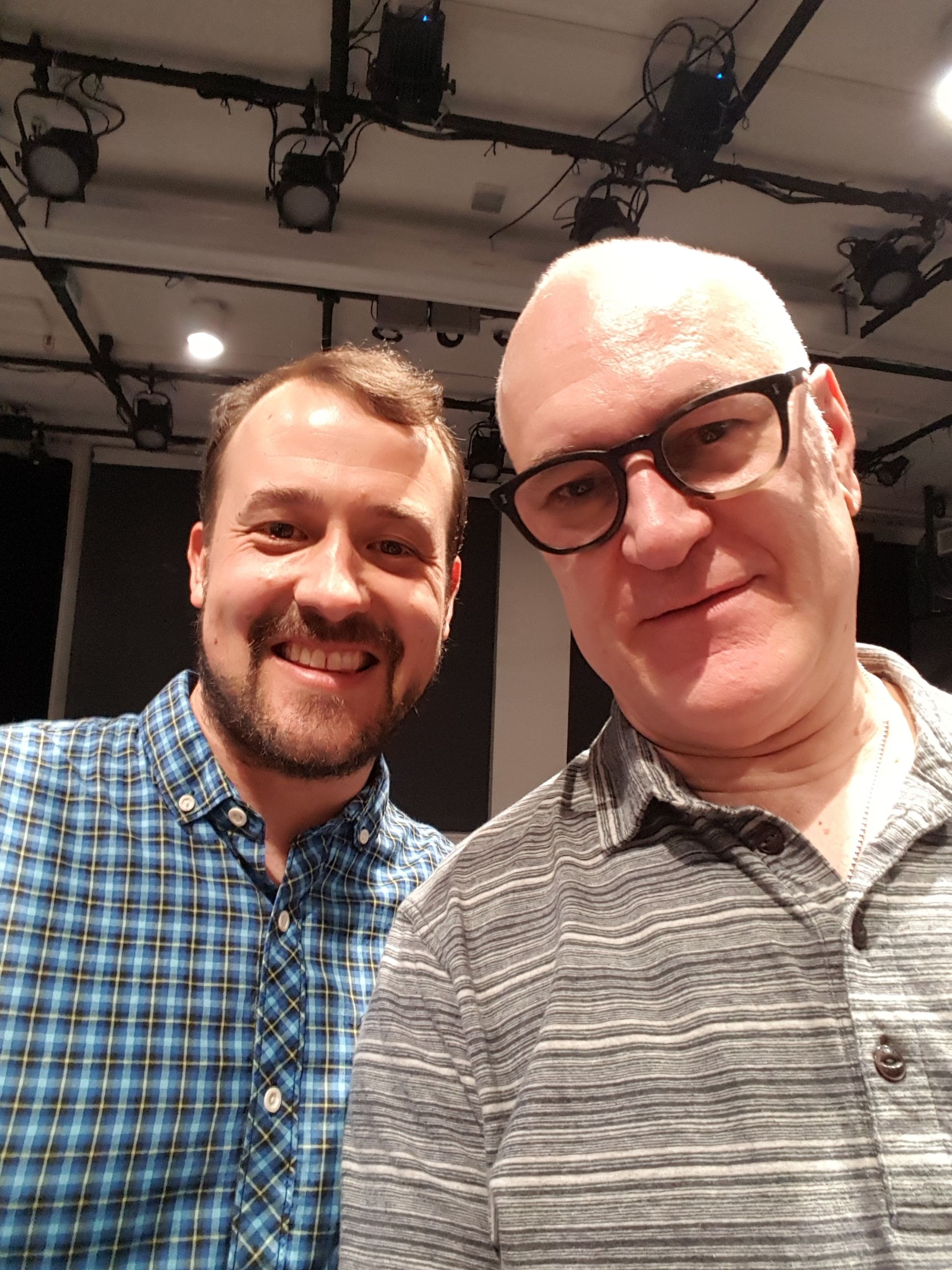 The next day we were wandering around near our hotel when we noticed some activity around a business with no name above the door but all new and shiney and lit.  Two gents who turned out to be the owners beckoned us in as it was their first night open as a new restaurant.  Venetian food.  Why not?  Too bad they didn't know a foodie who blogs was in their midst.  I felt like a spy.  Not enough to not try it though.
The place is called Attraversa ("across the street" in Italian) though none of the people working there struck me as remotely Italian with their accents but so what?  They were nice and the atmosphere was good.  The wine sucked though.  Two different tries were both sent back.  The bread was killer though, among the best I've ever had in a restaurant.  You read that right, "ever".  They told me they have it made special for them and I believe it.  The Caesar salad was capable but not sardiney enough though the fresh sardines they had in the salad were fantastic.  Just wish there were more of them (4) or more flavor from the dressing.  Super fresh Romaine though.  The beet salad with goat cheese was superb though. Both pasta entrees, light sauce with scallops and spaghetti and meatballs (a true test of any place but a regular menu item here) were killer and passed the test.  The sauce on the spaghetti and meatballs was beautiful and textured.  Lots of layers and not as heavy as a Bolognese.  No doubt they have some kinks to work out but since they have a sister restaurant across the street they will get there.  Check it out.  You might be surprised.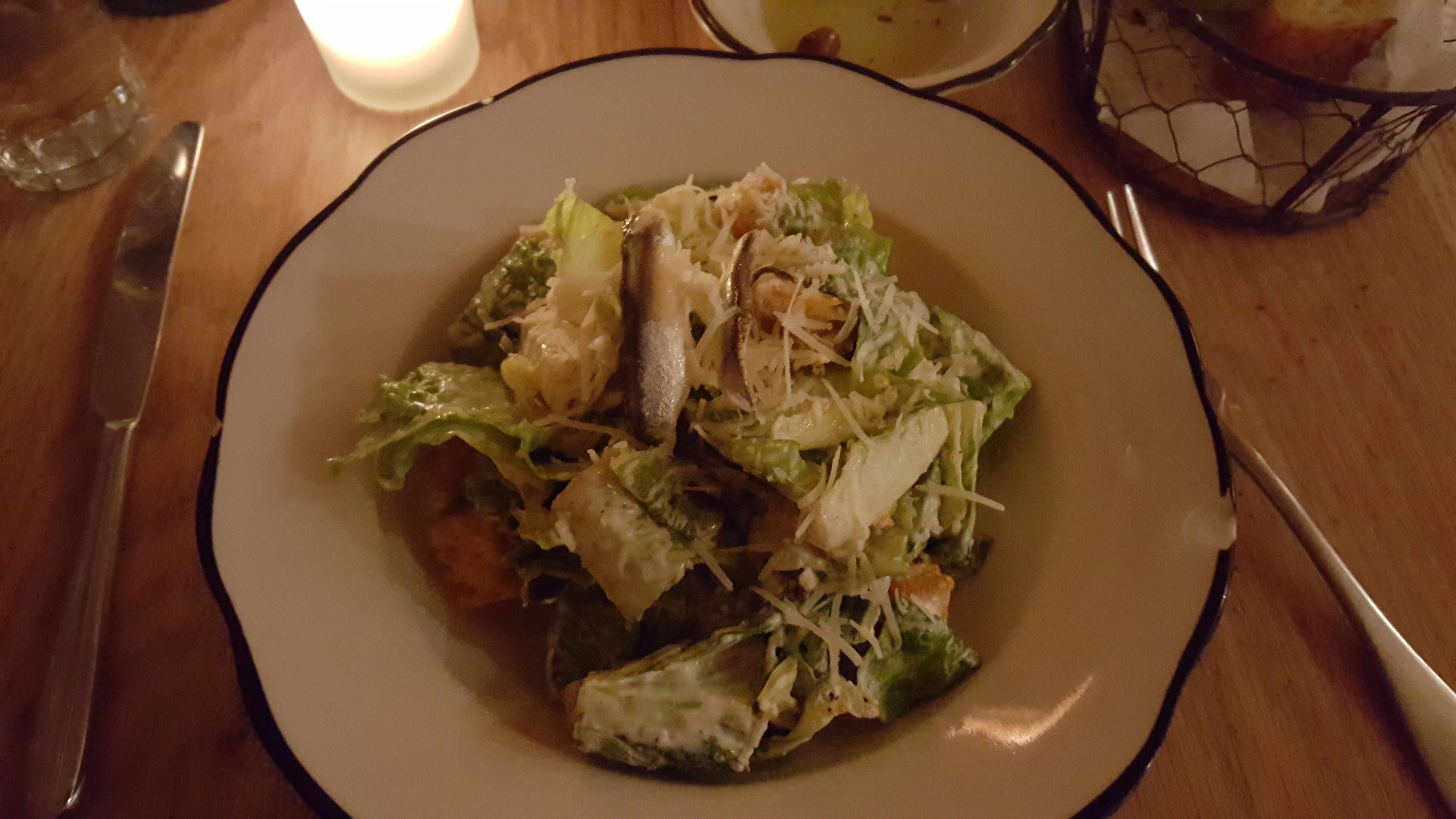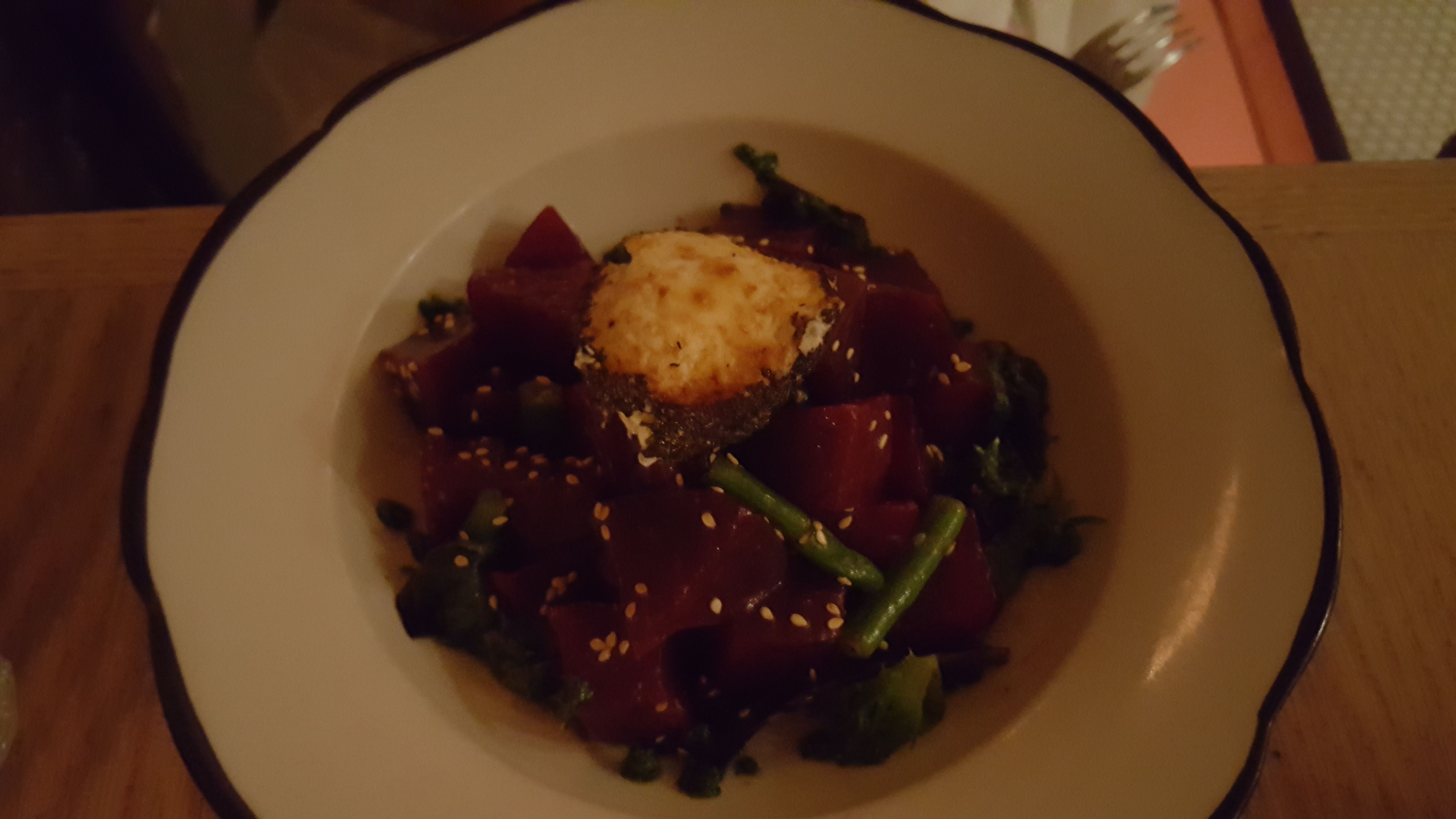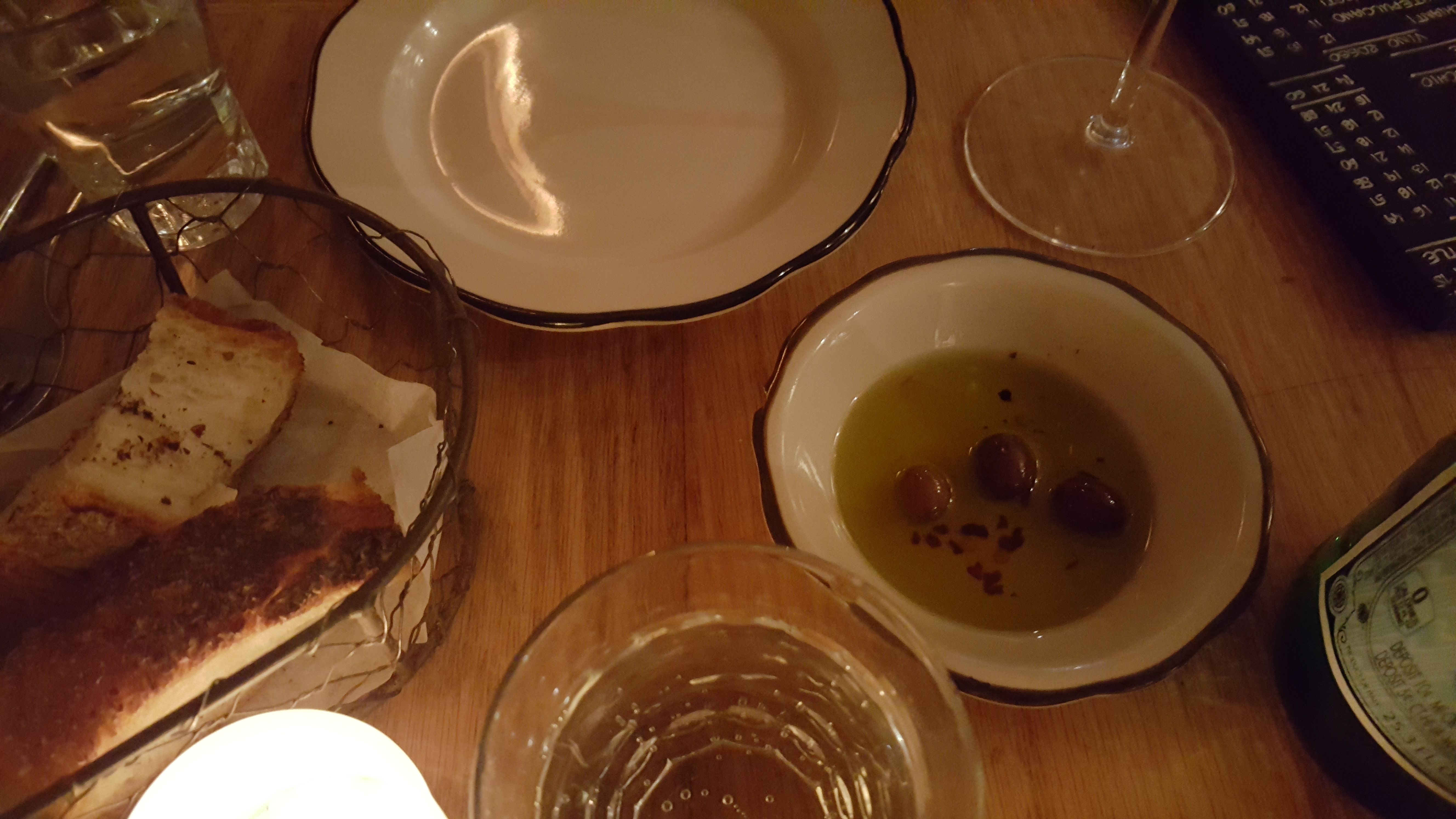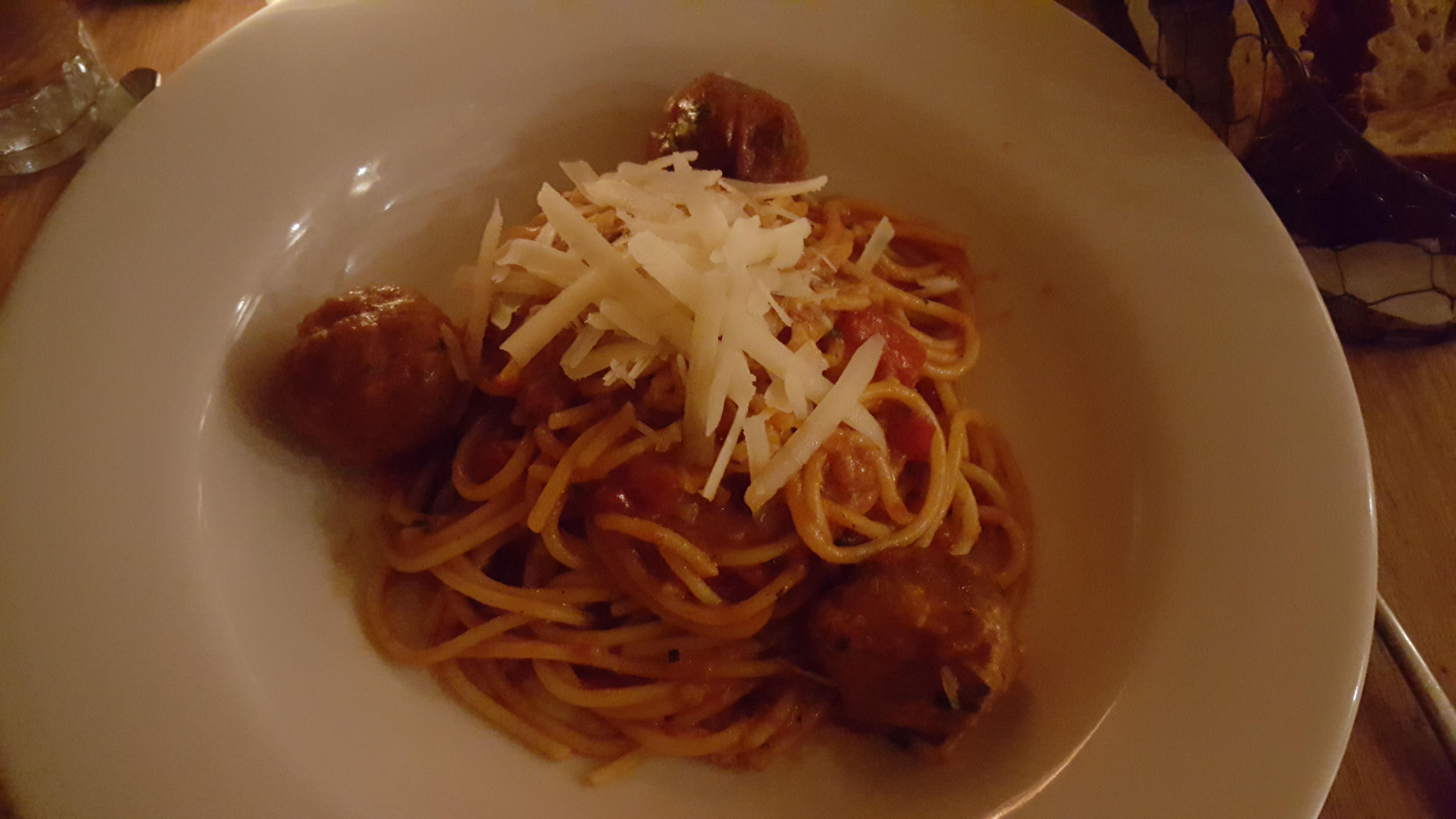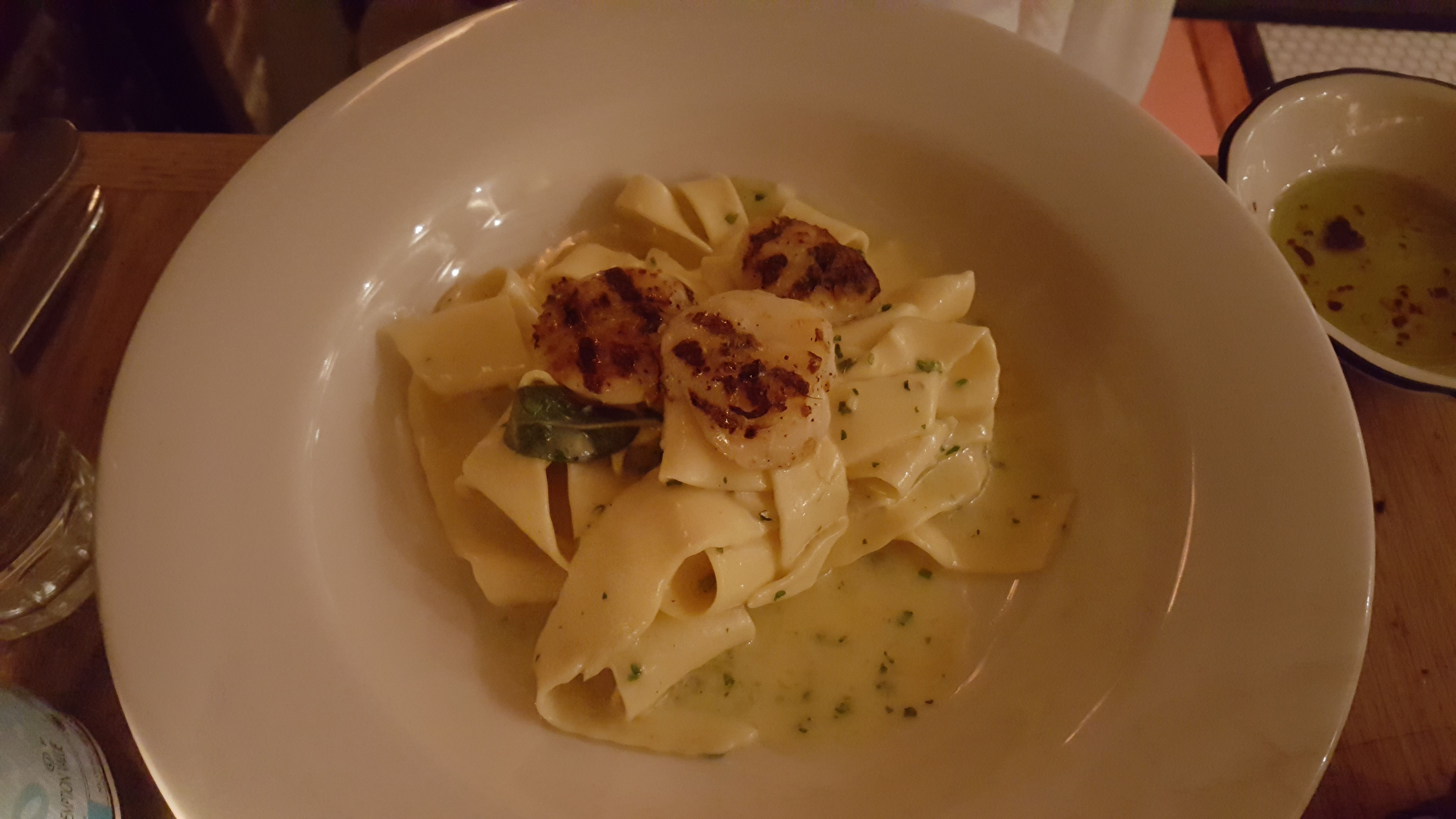 And finally Saturday we decided to relax before our flight and grab some lunch at the Roxy hotel lounge which is fairly well heralded.  For good reason it turns out.  The pan seared Brusssel sprouts were divine (I love Brussel sprouts) and my grilled cheese with avocado, tomato and bacon was excellent.  So was the seafood chowder.  Good fries as well.  Very relaxing and a nice end to the trip.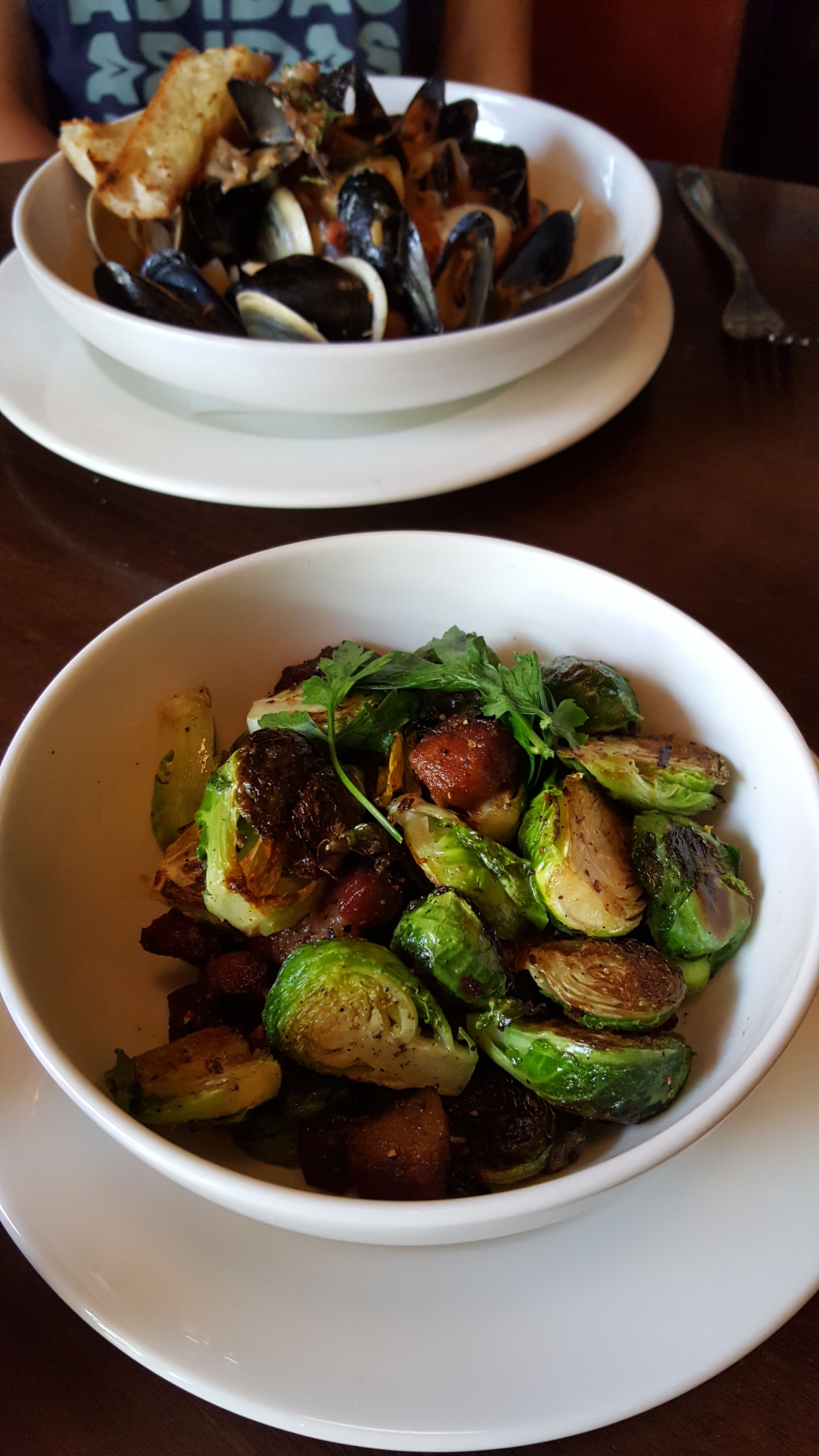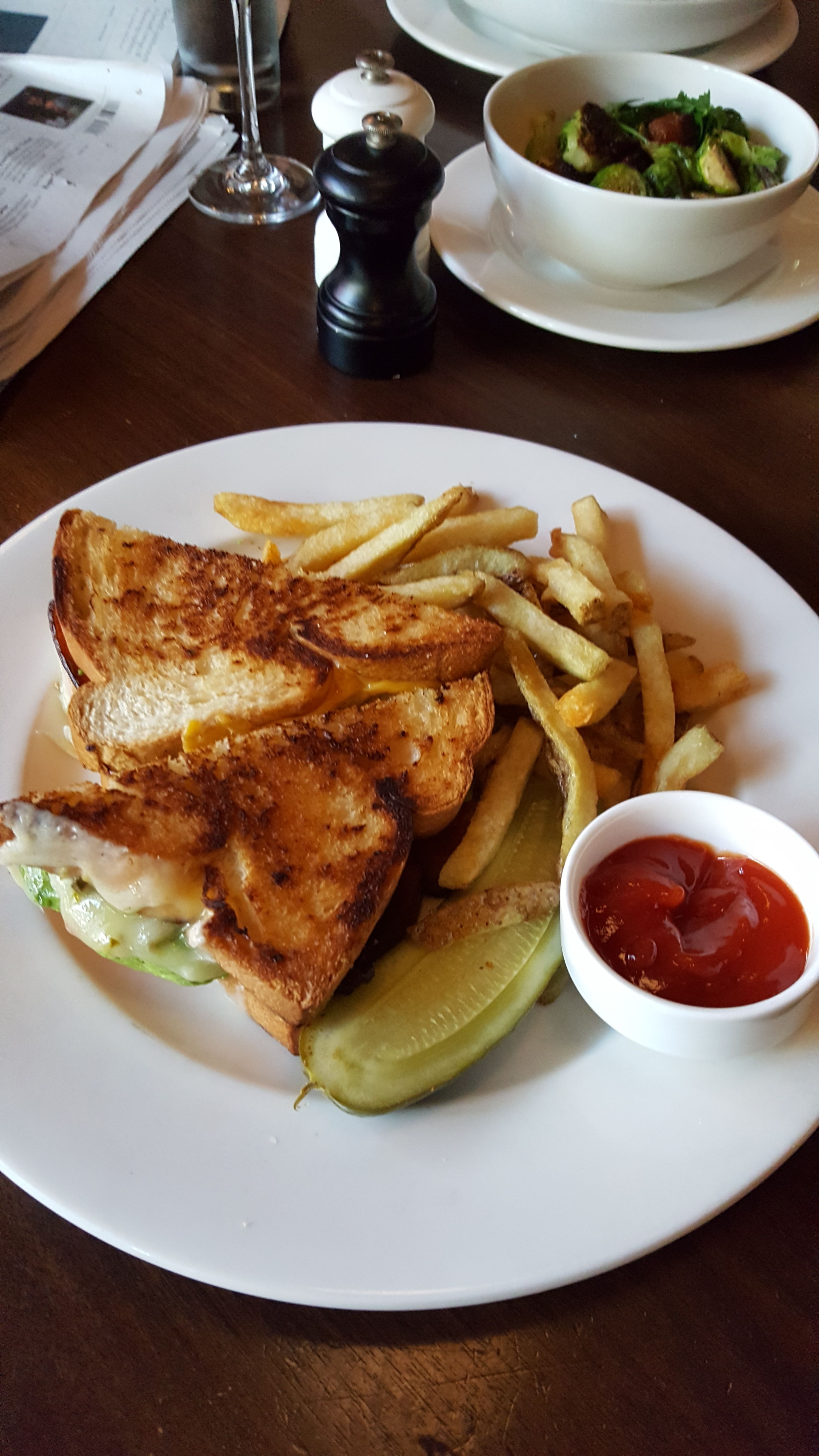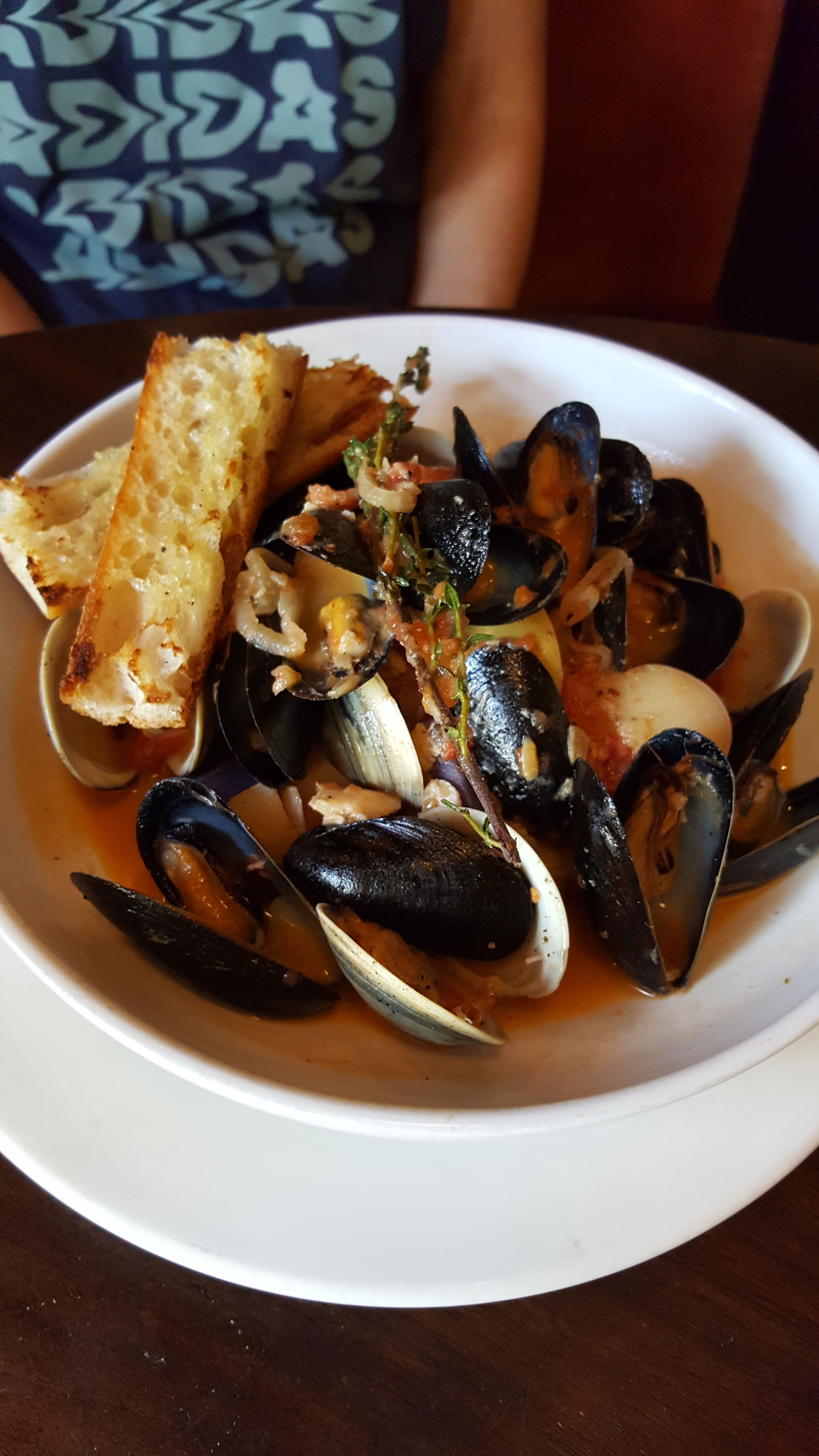 More shots of the inside lounge of the Roxy: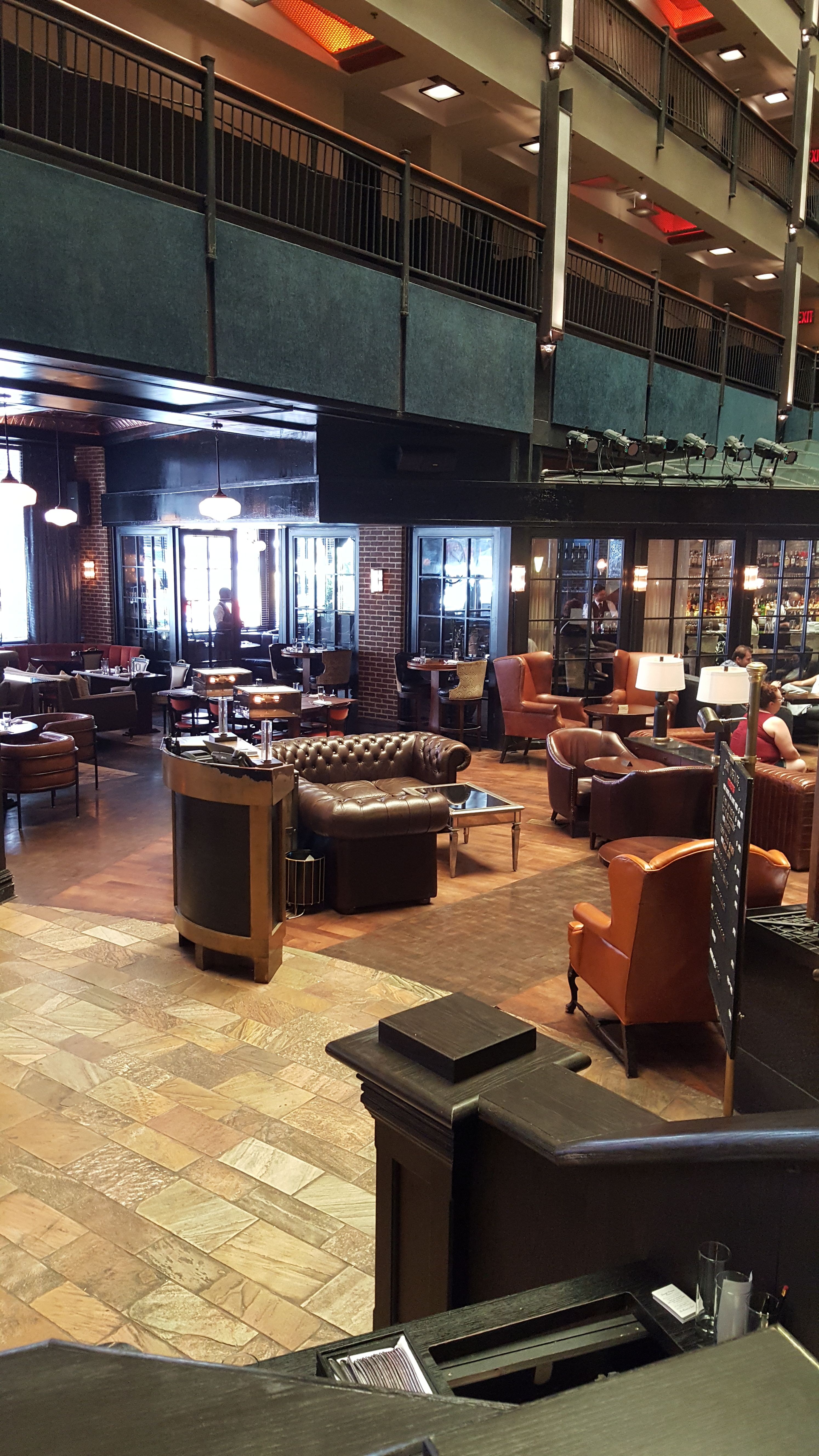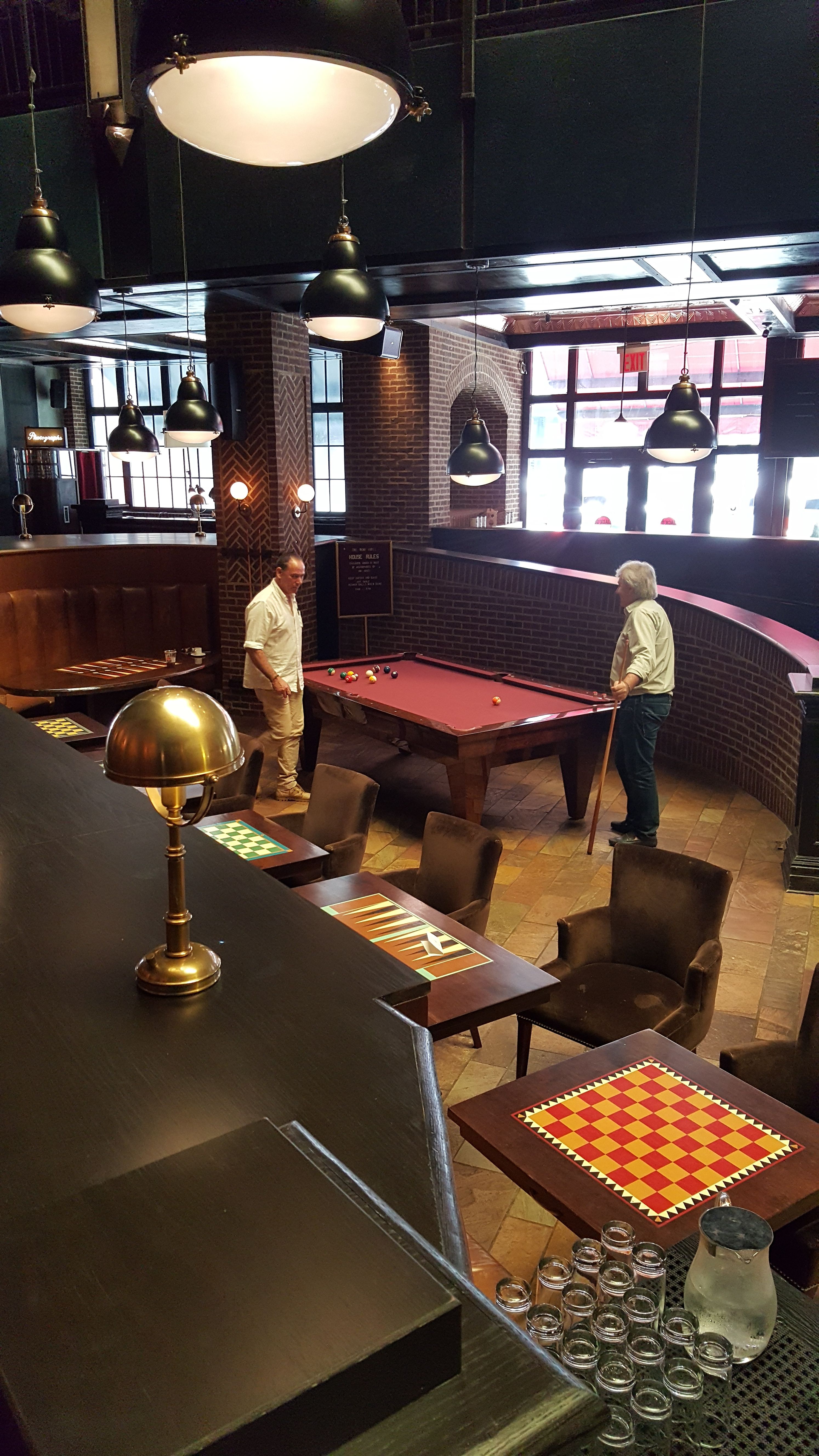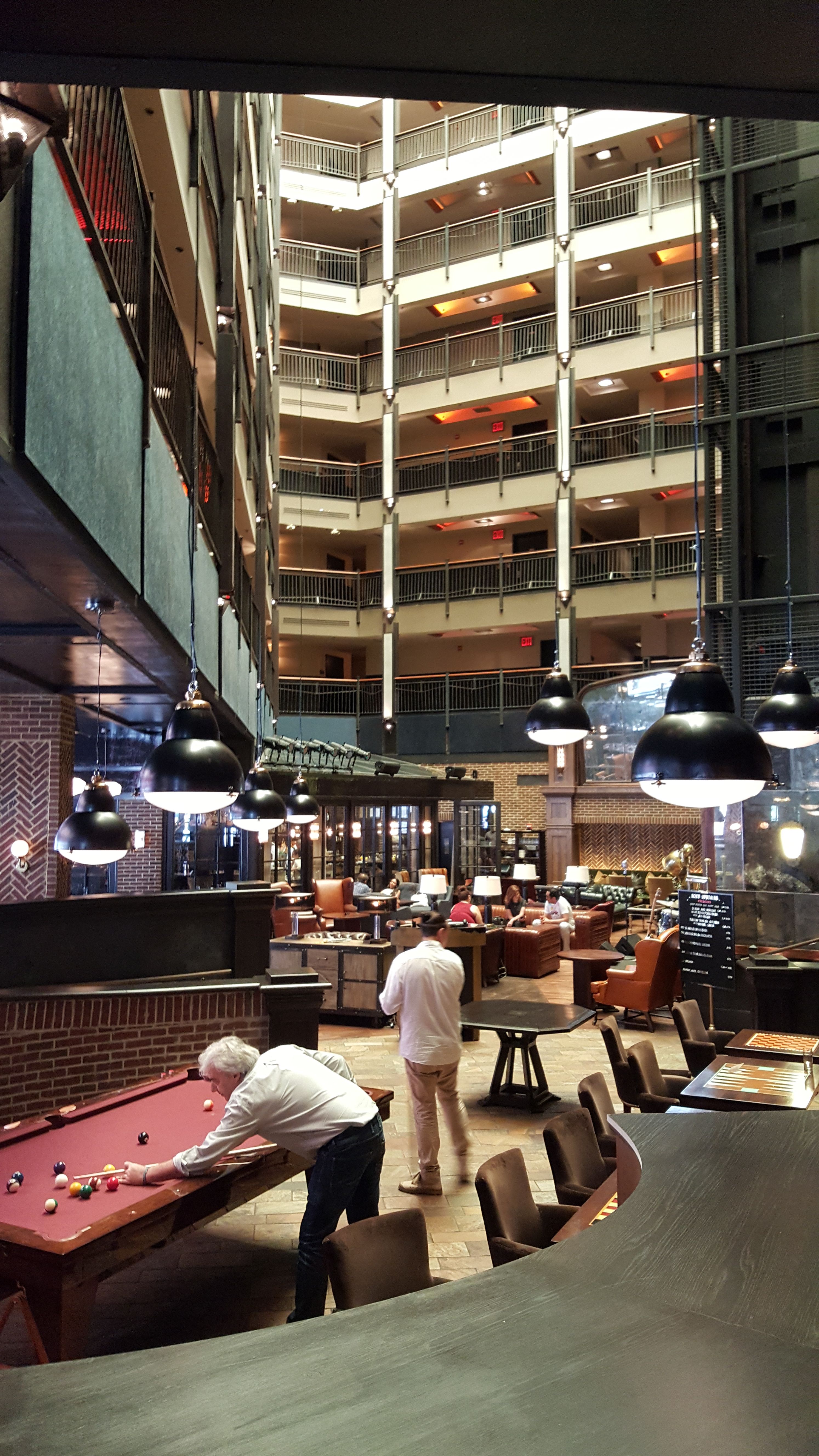 A really fun and invigorating trip.  Wish I had more time to explore and see old friends.  Next time I hope.  I also hoped maybe you gleaned something useful from this installment of my blog and what to avoid as well.  I'm somewhat torn whether to keep doing it as I don't want anyone to feel jealous or envious.  Most of my trips are for work and frankly with a few exceptions don't cost a lot.  Here's hoping you get out there yourself soon and enjoy everything the world has to offer.  Please write to me if you have any questions or comments.  'Till next time!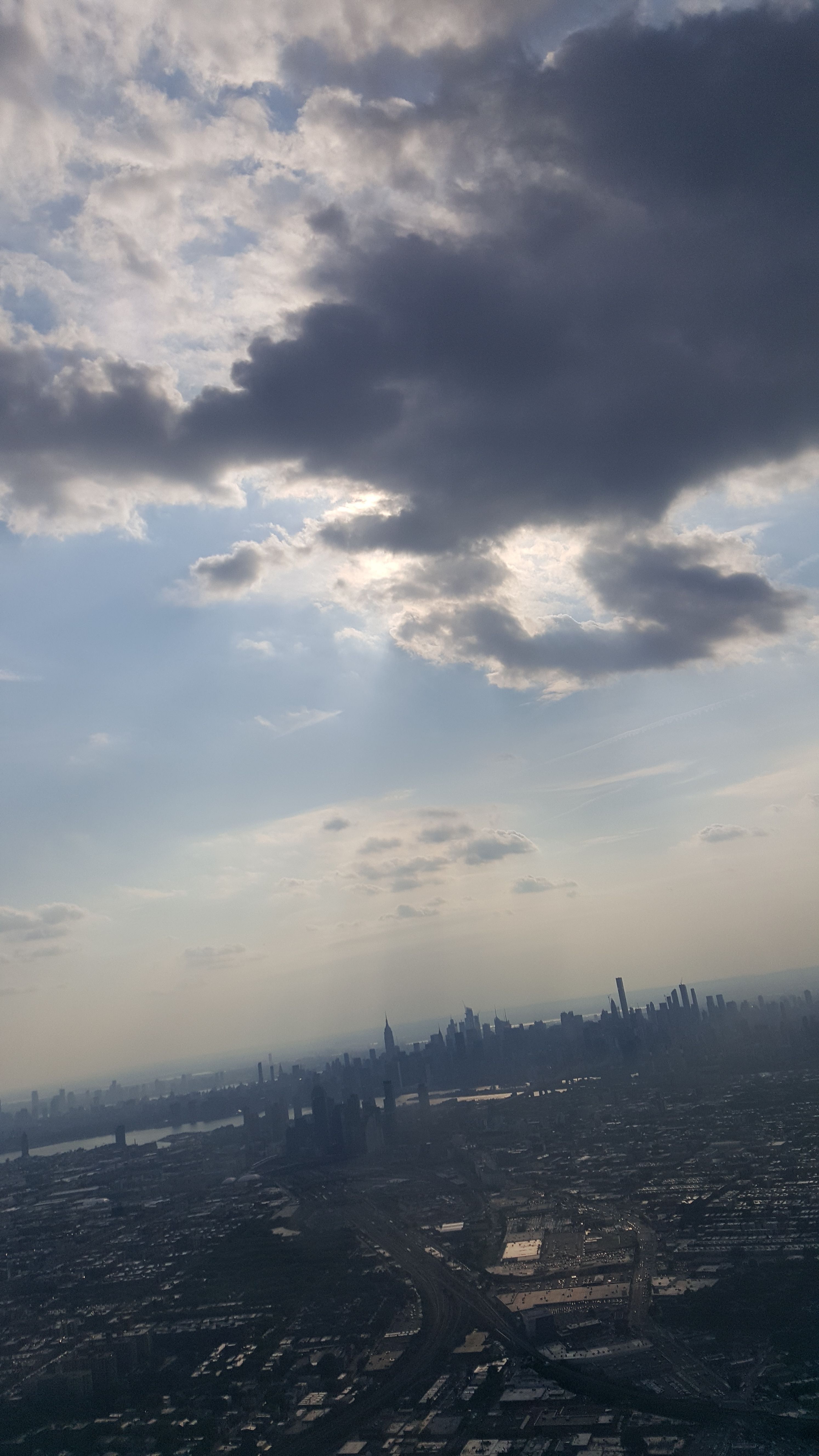 PS-There was this great pastry shop called Woops! on Worth St. near the hotel and it was a haven each morning for coffee and treats.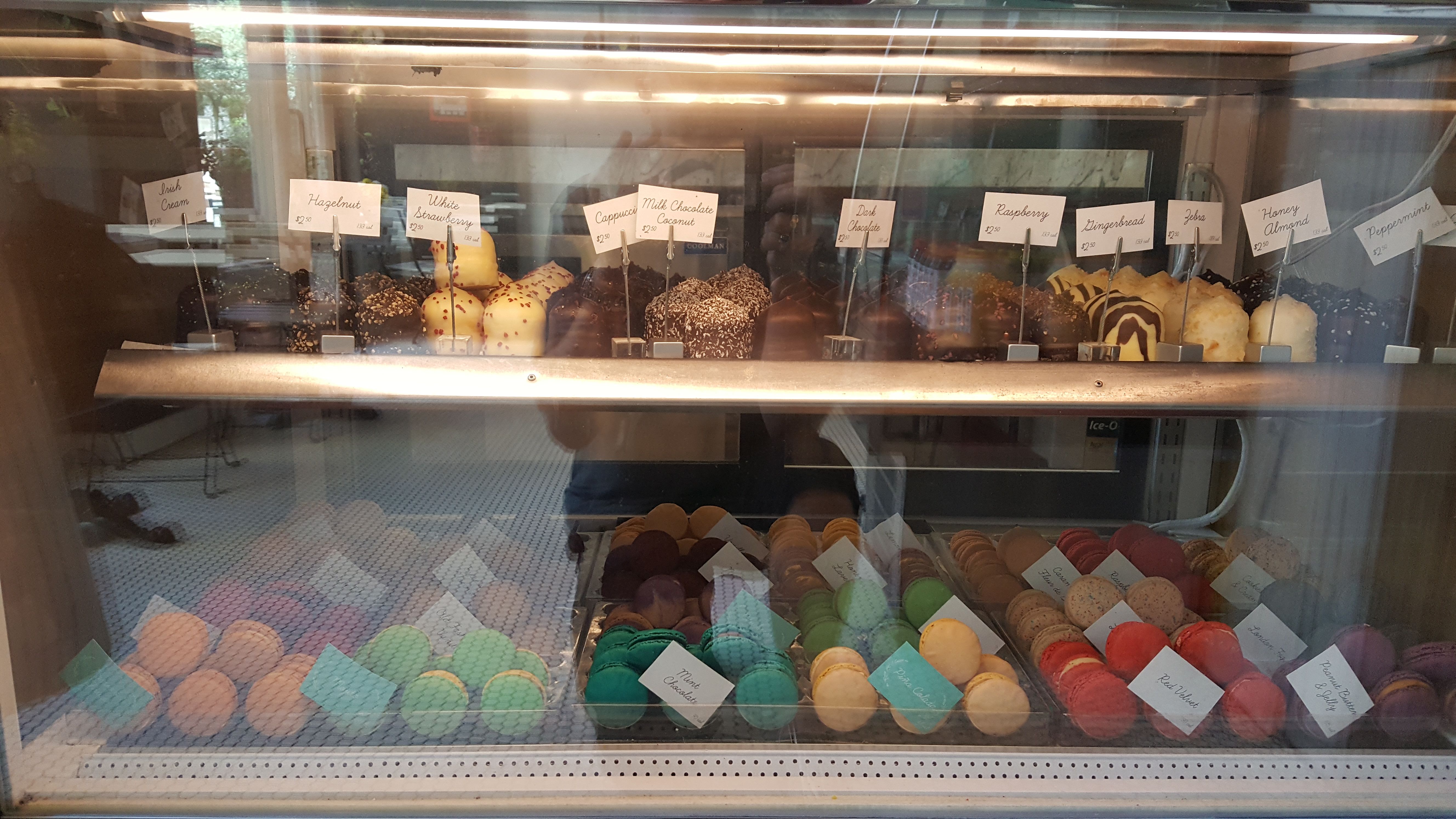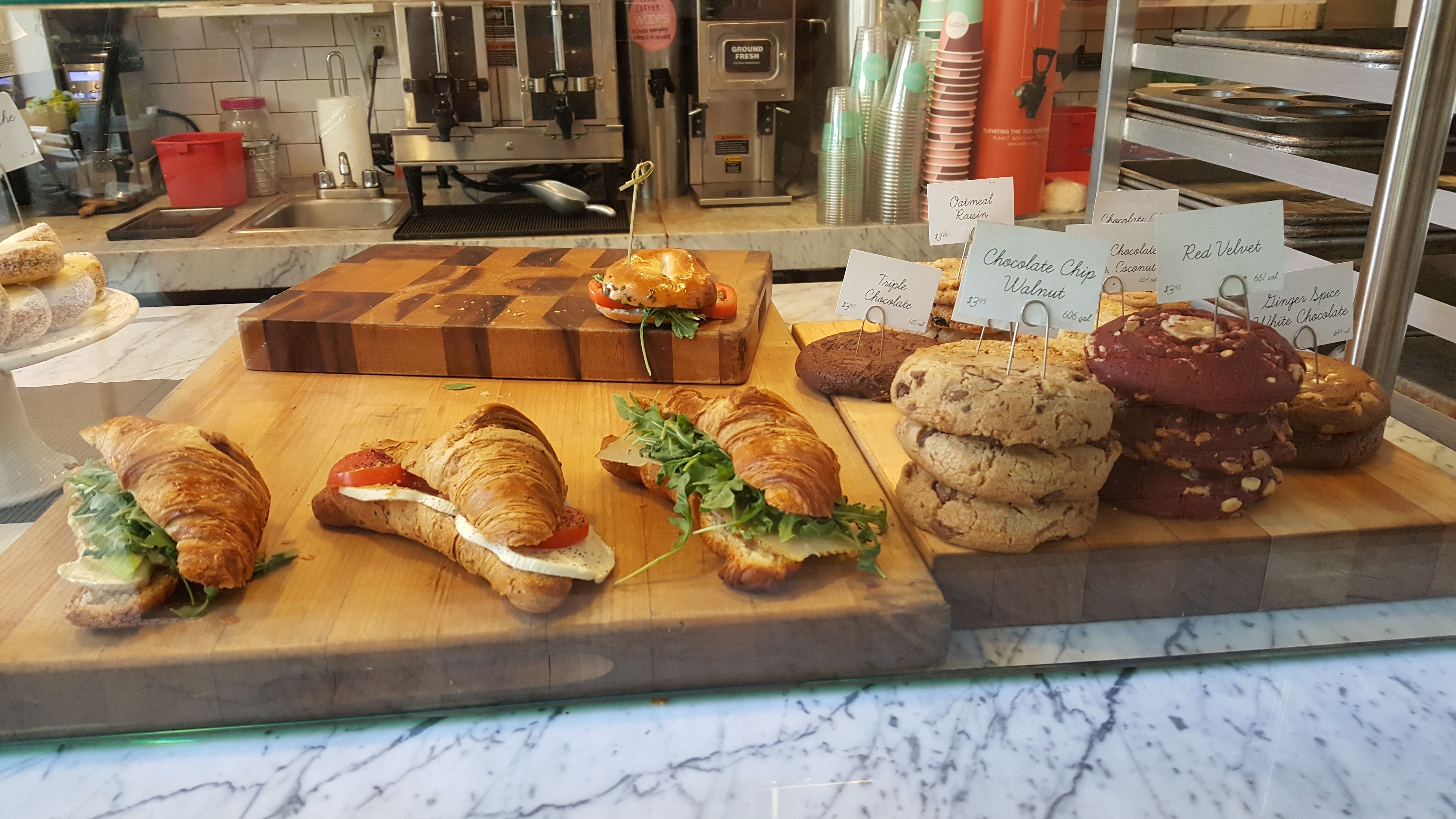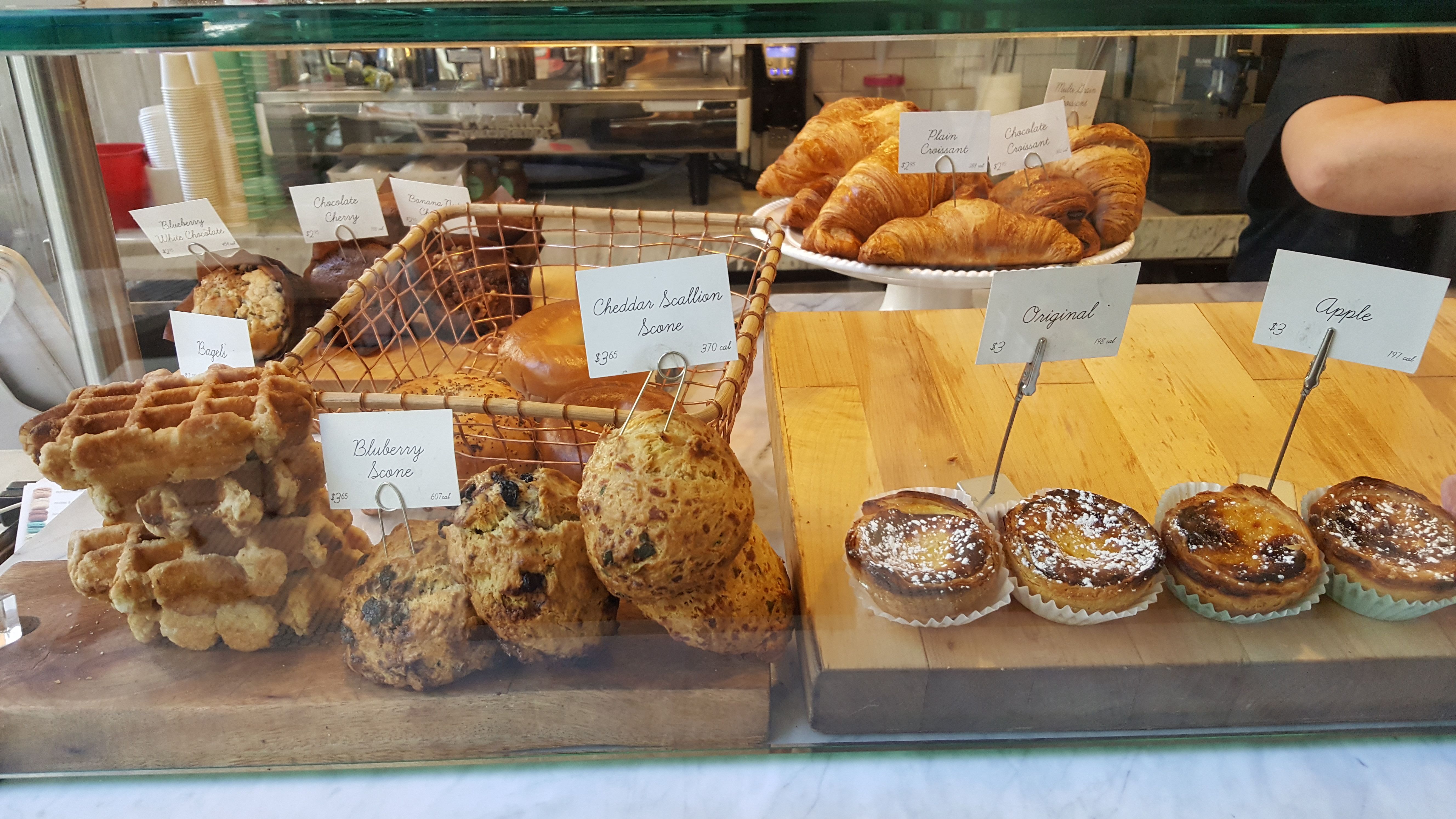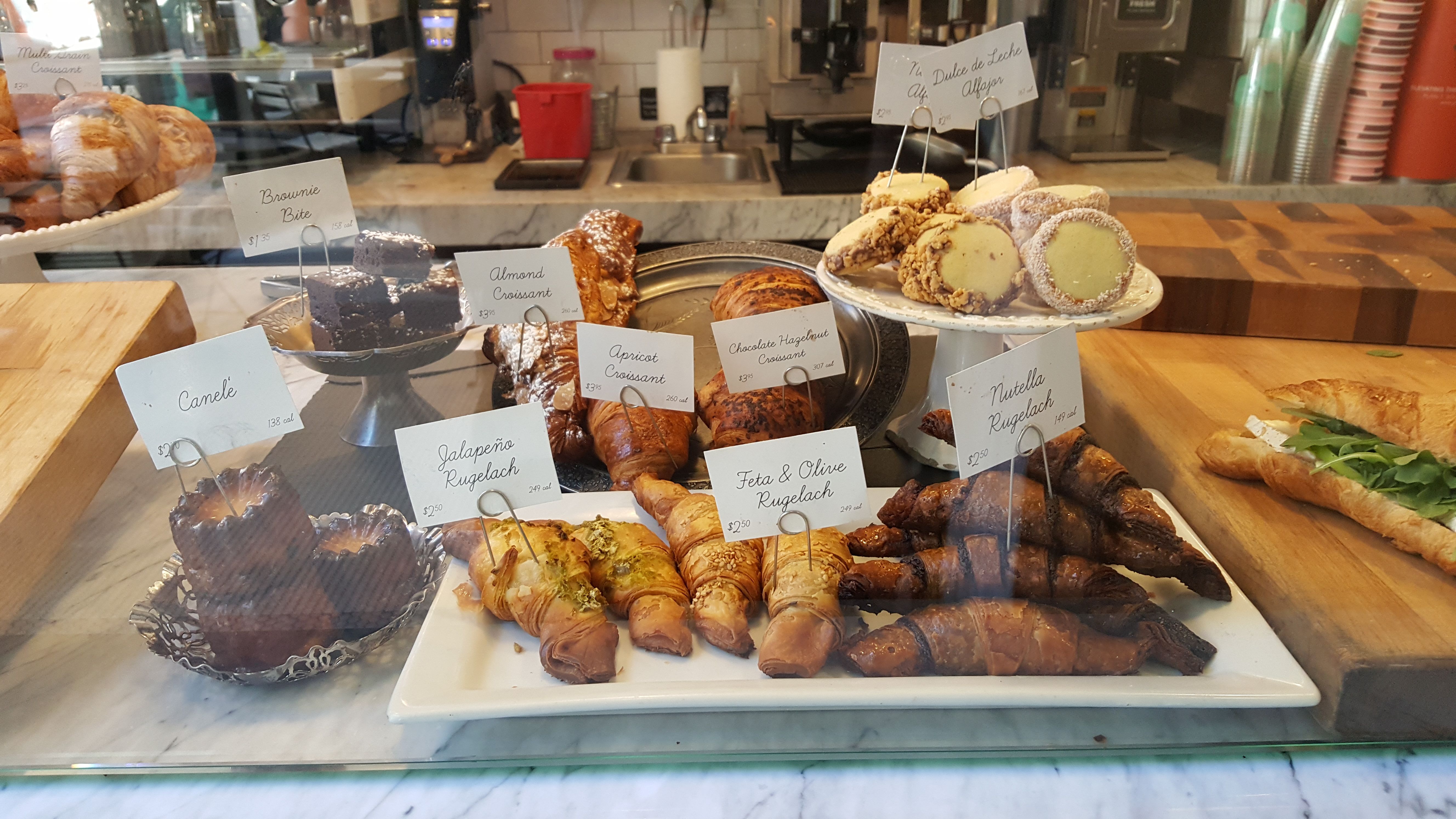 Oh and P.S.S-Go to the Whitney.  They're having a great modern American exhibit right now and it's great.  The Whitney is the only museum I never visited while living in NYC and I'm so glad I got to check it out.  Okay, now I'm really gone.  Peace!!!